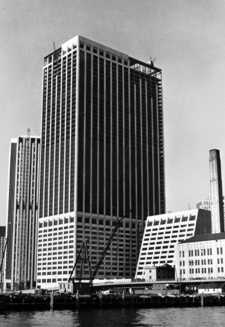 55 Water Street
(3.6 million ft2)
New York, New York (1972)
53 stories
Emery Roth & Sons with Rob Peterson and Fox, Architects. Office of James Ruderman, Engineer. Uris Building Corporation, Developer. New Water Street Corporation, Current Owner.

When opened in 1972, 55 Water Street was the largest privately owned office building in the world; today, only the Pentagon, the World Trade Center and Sears Tower surpass it in rentable area. The building's massive bulk is an outgrowth of a 1959 urban renewal plan. The City proposed purchasing the blocks surrounding Water Street and demapping smaller cross streets to create a superblock large enough to accommodate a new home for the New York Stock Exchange. When the project collapsed, individual developers were offered the superblock site at 55 Water Street in return for providing a number of public amenities, including a plaza and the renovation of an adjacent park. The unusually large lot of 3.7 acres (162,000 ft2) spawned a complex that includes a 56-story tower and a 15-story annex. With floorplates of 60,000 ft2 in the tower and 30,000 ft2 in the annex, base floors are twice as big as the World Trade Center's.

Photo courtesy Office of James Ruderman.