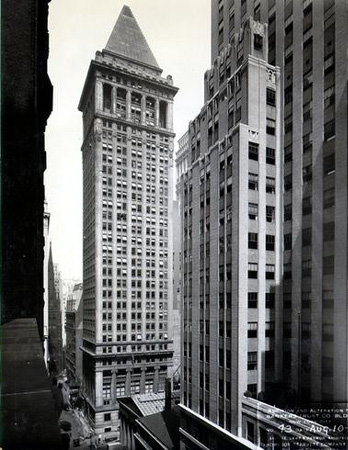 Bankers Trust Company Tower
14 Wall St.

Constructed: 1910-1912
Architect: Trowbridge and Livingston
Developer: Brown Wheelock Harris
Structural Engineer: Purdy & Henderson
MEP Engineer: Steel: Post & McCord
General Contractor: Mark Eidlitz & Son
Original Tenant: Bankers Trust Company
Current Owner: 14 Wall PT Realty Corporation
Current Tenant: Deutsche Bank, SOM, American Marine Management Services
Height: 538 ft /164 m
Floors: 37 (41)
The former Bankers Trust Building, 14 Wall Street, was one of the defining towers in the skyline of lower Manhattan when completed in 1912. Built for the Bankers Trust Company, which was connected to the powerful J. P. Morgan interests, the tower was situated at the corner of Wall, Nassau, and Broad streets, at the very center of the financial district. An 18-story skyscraper built in 1897 was demolished to make way for the tower, and the price paid for the enlarged building site was the highest ever paid per square foot for land.
In 1910, architects Trowbridge and Livingston designed what was to be the highest banking building in the world and the third tallest building in New York behind only the Singer and Metropolitan Life towers. Rising to 539 feet, it would house thirty-one floors of offices capped by a 1-story mechanical penthouse and a 7-story, windowless stepped pyramid for fireproof document storage. The design was inspired by campanile of San Marco in Venice and a variety of classical sources, including the mausoleum at Halicarnassus with its pyramidal roof.
In 1913, the company adopted the building's pyramid as its logo, advertising itself as "A Tower of Strength" and later registered an artistic rendering of the pyramid as its trademark.
In 1931-1933, an 'L' shaped addition designed by the firm Shreve, Lamb, and Harmon, architects of the Empire State Building modernized and expanded the building's floorplates. A monumental Art Deco banking hall, one of the grandest on Wall Street, continued to function as a bank until 1998, when mergers made the space redundant. In 1998-1999, the vacant hall became the temporary home of The Skyscraper Museum. It is now an Equinox Health Club, for which the glorious interior hall was destroyed.