The Skyscraper Museum is devoted to the study of high-rise building, past, present, and future. The Museum explores tall buildings as objects of design, products of technology, sites of construction, investments in real estate, and places of work and residence. This site will look better in a browser that supports web standards, but it is accessible to any browser or Internet device.
Frank Lloyd Wright: The Vertical Dimension
October 6, 2004 - January 9, 2005
Guest curator: Hilary Ballon
The first comprehensive examination of the high-rise designs of America's foremost architect, Frank Lloyd Wright: The Vertical Dimension, examines Wright's abiding interest in the re-invention of the tall building. Over the course of his long career, Wright designed a dozen high-rise buildings of which only two were built--the Johnson Research Tower in Racine, Wisconsin (1944), and the Price Tower in Bartlesville, Oklahoma (1952-56). With these designs, Wright proposed a new structure for the skyscraper, challenged prevailing building practices with his use of materials, and proposed new directions in high-rise living.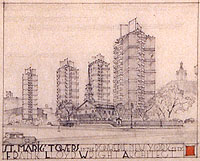 Sketch for "St. Mark's Towers in the Bouwerie, New York City". The drawings of Frank Lloyd Wright are Copyright © 2004 The Frank Lloyd Wright Foundation, Scottsdale, AZ.
Drawings from the collection of the Frank Lloyd Wright Foundation form the centerpiece of the exhibition, which is curated by architectural historian Hilary Ballon. Produced by Wright and his office, the drawings illustrate how Wright took his vision of an organic architecture, conceived for the horizontal plane, and translated it into the vertical dimension. One sketch, drawn on tracing paper with color pencil, shows an eight-foot-tall section of Wright's Mile-High Skyscraper Project of 1956 in comparison to the Pyramid of Cheops, the Eiffel Tower, and the Empire State Building. A range of other materials, including construction photographs, books by Wright, video clips of the architect, and artifacts, complete the story of Wright's fascination with the skyscraper and with American urbanism in the age of the automobile.