The Skyscraper Museum is devoted to the study of high-rise building, past, present, and future. The Museum explores tall buildings as objects of design, products of technology, sites of construction, investments in real estate, and places of work and residence. This site will look better in a browser that supports web standards, but it is accessible to any browser or Internet device.
FEBRUARY 29 through JULY 15, 2012

View the virtual exhibition!
View four hours of related lectures!
The first chapters in New York's high-rise history were written in the 1870s through the early 1900s when the city's great newspapers --the Times, Tribune, and World, among others-- erected tall towers as signature headquarters. "Newspaper Row" on the east side of City Hall Park was center stage for their architectural competition and a concentrated hub of production, transforming news into newspapers. These early skyscrapers were both ostentatious advertisements of the papers' self-proclaimed supremacy and vertical factories where on high floors, editors approved stories and compositors set type, while in the cellar and basement, steam engines or dynamos powered thundering presses that night and day rolled out tens of thousands of papers per hour.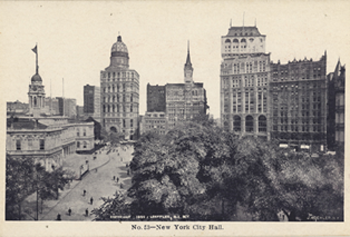 The modernity of these towers lay not in their ornate facades or structural design, but in the advanced technology of their building systems, state-of-the-art presses, and typesetting machinery. Speed was key, making possible more pages and papers printed per hour, later deadlines, and extra editions that increased the circulation to the mass audience and profits for the publishers.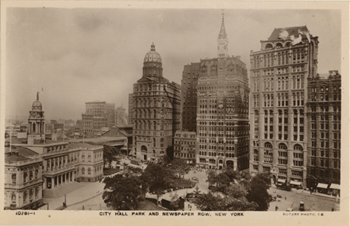 Paper persisted for centuries as the common medium of the news, but today, when media takes many forms, paper seems to some passť. This exhibition celebrates paper, the substrate of history. Photographs, architectural drawings, books, magazines, and crumbling pages of newsprint are in most cases the only surviving records of the monumental tower factories of the great metropolitan dailies --many of which themselves are now long vanished. Paper Spires attempts to create a collage of this lost or fading world.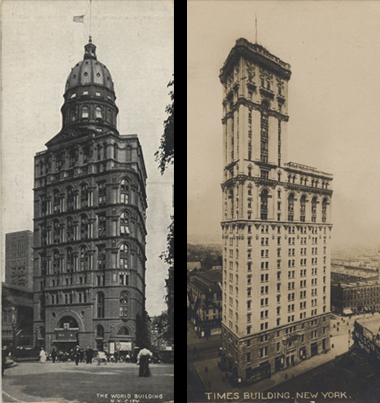 News PAPER Spires is presented with support from ELISE JAFFE + JEFFREY BROWN.
News PAPER Spires is supported, in part, by public funds from the New York City Department of Cultural Affairs in partnership with the City Council.

News PAPER Spires is supported, in part, by public funds from the New York State Council on the Arts with the support of Governor Andrew Cuomo and the New York State Legislature.