The Skyscraper Museum is devoted to the study of high-rise building, past, present, and future. The Museum explores tall buildings as objects of design, products of technology, sites of construction, investments in real estate, and places of work and residence. This site will look better in a browser that supports web standards, but it is accessible to any browser or Internet device.
MERCHANDISE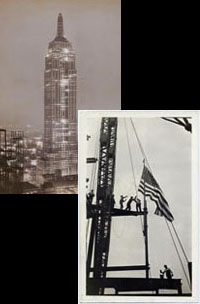 Exclusive archival prints of the Empire State Building are sold in the Museum's bookstore and can printed on request. You can view these images by visiting VIVA2, the Musuem's interactive interface providing access to The Skyscraper Museum's unique collection of more than 1,000 photographs of the construction of the Empire State Building and the World Trade Center towers. Sample images are provided below.

An exciting selection of Architectural books and gifts is now available at our Museum Bookstore. In addition to the eye catching Merchandise listed below, the Bookstore features titles by Carol Willis (the Museum's Director) as well as other noted authors. The selections range from the theoretical to the aesthetic, of interest to everyone from the novice to the connoisseur. See our publications for select titles.
MUSEUM MEMBERS receive a 10% DISCOUNT on all purchases.
Store Hours are Wednesday through Sunday 12 noon-6 pm.
The shop offers for home delivery for a nominal freight charge. If you are interested in a certain type of product but can't make it down to the Museum, call (212) 945 6324 and ask for the Gift Shop Manager. Please allow up to 10 business days for delivery depending on destination.
---
EXCLUSIVE MUSEUM ITEMS:
EMPIRE STATE BUILDING ARCHIVAL PRINTS
Archival images may be requested for personal use only for $25 per image
---
EXHIBITION POSTERS
A limited number of posters for the museum's exhibitions are available for purchase. DOWNTOWN NEW YORK is and BUILDING THE EMPIRE STATE are $25 each. Add $7.50 for shipping and handling (in U.S., international surcharge). Both posters are designed by Michael Gericke, partner in the internationally-recognized design firm PENTAGRAM. They are silk-screened on archival paper, 30 x 46 inches.

| | |
| --- | --- |
| Building the Empire State, Pentagram, 1998 | Downtown New York, Pentagram, 1996 |
---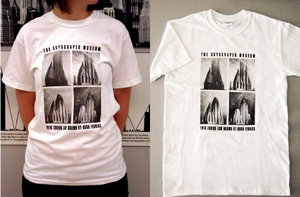 HUGH FERRISS TEES
Tee-Shirt with four drawings of Hugh Ferriss' depiction of the 1916 Zoning Law. Sizes S, M, L, XL $18.00
---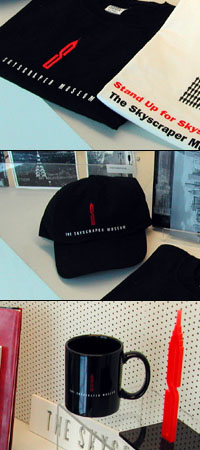 SKYSCRAPER MUSEUM T-SHIRTS!
Classic Skyscraper Museum Logo designed by Pentagram on Black Heavy weight 100% cotton Tees. Sizes S, M, L, XL $20.00
STAND UP FOR SKYSCRAPERS! TEE
Show your support for the museum in this inspired design by Pentagram on White heavy weight 100% cotton tees. Sizes S, M, L XL $20.00
SKYSCRAPER MUSEUM CAP
Classic Logo on a black twill cap with adjustable back. $19.00
SKYSCRAPER MUSEUM MUG
Stand Up For Skyscrapers! Black ceramic mug with our inspiring slogan and museum logo. $13.00
SKYSCRAPER MUSEUM BAG
Classic Skyscraper Museum Logo on a sturdy but light-weight reusable black bag. $19.95
---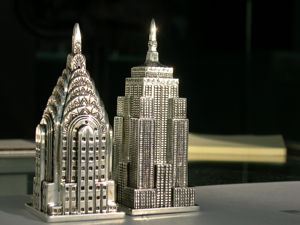 SALT AND PEPPER SHAKERS
Set of salt and pepper shakers of the Empire State Building and the Chrysler Building. $24.00 for the set
---
Call The Museum Store at 212.945.6324 to order. We accept all major credit cards. Email info[at]skyscraper[dot]org for more information. Mail check or money order sales to:
PUBLICATIONS
Carol Willis, founder and curator of The Skyscraper Museum, is the author of the following books.
---
Form Follows Finance: Skyscrapers and Skylines in New York and Chicago
Princeton Architectural Press, 1995.
In contrast to standard histories that counterpose the design philosophies of the Chicago and New York "schools," Willis shows how market formulas produced characteristic forms in each city-"vernaculars of capitalism"-that resulted from local land-use patterns, municipal codes, and zoning.
---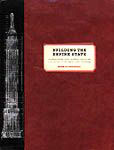 Building the Empire
State (1998)
Building the Empire State
With essays by Carol Willis and Donald Friedman. Norton Books, 1998.
A re-discovered 1930s notebook charts the construction of the Empire State Building. You can make a tax-deductible contribution by donating Building the Empire State to the library of your choice.
---
Lower Manhattan Plan
Carol Willis, editor. Essays by Ann Buttenwieser, Paul Willen and James Rossant. Princeton Architectural Press, 2002.
Representing the "1966 Vision for Downtown New York". This complete reprint of the original document has a new introduction by urban historian Ann Buttenwieser and a preface by Skyscraper Museum Director Carol Willis.
The Skyscraper Museum
The Museum Store
39 Battery Place
New York, NY 10280
USA
Shipping and handling charges apply. For posters, add an additional $5.00 for mailing tubes.