The Skyscraper Museum is devoted to the study of high-rise building, past, present, and future. The Museum explores tall buildings as objects of design, products of technology, sites of construction, investments in real estate, and places of work and residence. This site will look better in a browser that supports web standards, but it is accessible to any browser or Internet device.
Alex Garvin Book Talk
PUBLIC PARKS: THE KEY TO LIVABLE COMMUNITIES
(W.W. Norton & Company 2010)
Click here to watch Museum Director Carol Willis' introductory remarks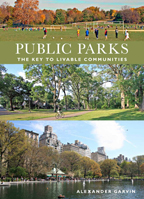 What, exactly, is a park? What role have parks played in cities historically, and what will they need to be in 21st-century America? In his newest book, Alex Garvin offers a treatise on everything that citizen activists, public officials, landscape architects, architects, and planners need to know about the critical role that public parks play in creating livable communities. To develop an agenda that fits the contemporary American economics and expectations, Garvin has studied the details of successful parks and open space projects throughout the country, distilling a set of principles to guide the actions of public and private leaders in all aspects of park, recreation, and open space developments.
Alexander Garvin is the President and CEO of Alex Garvin & Associates, Inc., a planning and design firm in New York City. From 2002 to 2003, he served as Vice President for planning, design, and development of the Lower Manhattan Development Corporation, the agency charged with the redevelopment of the World Trade Center site. He is also an influential educator, having taught for more than 40 years at Yale University where he is Adjunct Professor of Urban Planning and Management. Alex is the author of numerous articles and books including, The American City: What Works, What Doesn't, winner of the 1996 American Institute of Architects book award in urbanism.
Visit our Programs Archive Video Index!
The exhibitions and programs of The Skyscraper Museum are supported by public funds from the New York City Department of Cultural Affairs and the New York State Council on the Arts, a State Agency.