The Skyscraper Museum is devoted to the study of high-rise building, past, present, and future. The Museum explores tall buildings as objects of design, products of technology, sites of construction, investments in real estate, and places of work and residence. This site will look better in a browser that supports web standards, but it is accessible to any browser or Internet device.
Alice Alexiou Book Talk
THE FLATIRON: The New York Landmark and the Incomparable City That Arose with It
(Thomas Dunne Books 2010)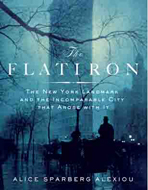 Alice Alexiou's marvelously written new book chronicles the story of the famous building that signaled the start of a new era in New York—and the unusual characters who played a part in its creation. Critics hated it. The public feared it would topple over. Passersby were knocked down by the winds. But even before it was completed, the Flatiron Building had become an unforgettable part of New York City. Built by the Fuller Company to be their New York headquarters, their president, Harry Black, was never able to make the public call it the Fuller Building. Head of the country's largest real estate firm, Black made a fortune and lived out a high-profile, ostentatious life that led to divorce, collapse and at last, suicide.
The Flatiron chronicles not just the construction of the building, but the changing technology and culture that characterized New York at the dawn of the 20th century: Madison Square Park shifted from a promenade for rich women to gay prostitutes, photography became an art, motion pictures came into existence; jazz came to the forefront of popular music—all within steps of one of the city's best loved buildings.
Alice Sparberg Alexiou is the author of Jane Jacobs: Urban Visionary. She has been an editor of Lilith magazine and has written for The New York Times and Newsday, among others. She is a graduate of Columbia University Graduate School of Journalism and has a Ph.D. in classics from Fordham University. She lives in North Bellmore, New York.
Visit our Programs Archive Video Index!
The exhibitions and programs of The Skyscraper Museum are supported by public funds from the New York City Department of Cultural Affairs and the New York State Council on the Arts, a State Agency.