The Skyscraper Museum is devoted to the study of high-rise building, past, present, and future. The Museum explores tall buildings as objects of design, products of technology, sites of construction, investments in real estate, and places of work and residence. This site will look better in a browser that supports web standards, but it is accessible to any browser or Internet device.
Andrew Blum
TUBES: A JOURNEY TO THE CENTER OF THE INTERNET
August 7, 2012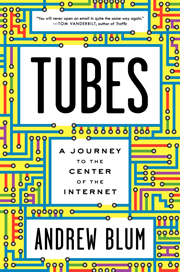 Everyone thinks they know the Internet. The most powerful information network ever conceived—an indispensable tool and constant companion in both our professional and personal lives. We're all connected but connected to what? In TUBES: A Journey to the Center of the Internet by Andrew Blum, acclaimed young journalist Andrew Blum takes readers on a fascinating journey to find out.
Andrew Blum writes about architecture, infrastructure and technology for many publications, including The New Yorker, the New York Times, Bloomberg BusinessWeek,, Slate, and Popular Science. He is a correspondent for Wired, a contributing editor to Metropolis, and lives in his hometown of New York City.
Visit our Programs Archive Video Index!
The exhibitions and programs of The Skyscraper Museum are supported by public funds from the New York City Department of Cultural Affairs and the New York State Council on the Arts, a State Agency.