The Skyscraper Museum is devoted to the study of high-rise building, past, present, and future. The Museum explores tall buildings as objects of design, products of technology, sites of construction, investments in real estate, and places of work and residence. This site will look better in a browser that supports web standards, but it is accessible to any browser or Internet device.
Anthony Hamboussi
NEWTOWN CREEK: A PHOTOGRAPHIC SURVEY OF NEW YORK'S INDUSTRIAL WATERWAY
(Princeton Architectural Press 2010)
April 12, 2011
Anthony Hamboussi's presentation appears here in slide-show format.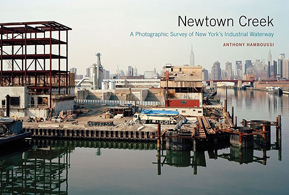 A tributary of New York's East River that forms part of the border between Brooklyn and Queens, Newtown Creek has long been at the heart of the city's "industrial backyard," serving as home to numerous industries and as a dumping ground for unwanted byproducts and toxic waste. Photographer Anthony Hamboussi followed the creek through the neighborhoods of Hunter's Point, Greenpoint, and Bushwick, shooting over fences and gates where he could not gain access, to record the bare industrial landscape. From the ruins of Morgan Oil and the Newtown Metal Corporation, to the construction of the new water treatment facility, to the footprints of the former Maspeth gas holders, Hamboussi captures these sites in the process of change, providing a glimpse into the history of industrial New York.
Newtown Creek: A Photographic Survey of New York's Industrial Waterfront is an extensive documentation of this forgotten landscape that shows the evolution of the built environment over five years in more than 230 images. An essay by Paul Parkhill puts Hamboussi's work into context.
Anthony Hamboussi is a photographer who lives in Brooklyn, New York. He is a recipient of numerous fellowships and has exhibited internationally.
Visit our Programs Archive Video Index!
The exhibitions and programs of The Skyscraper Museum are supported by public funds from the New York City Department of Cultural Affairs and the New York State Council on the Arts, a State Agency.