The Skyscraper Museum is devoted to the study of high-rise building, past, present, and future. The Museum explores tall buildings as objects of design, products of technology, sites of construction, investments in real estate, and places of work and residence. This site will look better in a browser that supports web standards, but it is accessible to any browser or Internet device.
Kate Ascher:
THE HEIGHTS: ANATOMY OF A SKYSCRAPER
December 1, 2011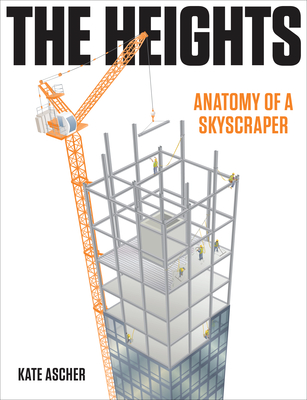 The skyscraper is perhaps the most recognizable icon of the modern urban landscape. Providing offices, homes, restaurants, and shopping to thousands of inhabitants, modern skyscrapers function as small cities- with infrastructure not unlike that hidden beneath our streets. Clean water is provided to floors thousands of feet in the sky; elevators move people swiftly and safely throughout the building; and telecom networks allow virtual meetings with people on other continents. How are these services-considered essential, but largely taken for granted- possible in such a complex structure? What does it really take to sustain human life at such enormous heights?
Exploring the interconnected systems that make life livable in the sky is the task of Kate Ascher's stunningly illustrated The Heights: Anatomy of a Skyscraper. Ascher examines skyscrapers from around the world to learn how these incredible structures operate. Along the way, The Heights introduces the reader to every type of person involved in designing, building, and maintaining a skyscraper: the designers who calculate how weight and weather will affect their structures, the workers who dig the foundations and raise the lightning rods, the crews who clean the windows and maintain the air ducts, and the firefighters whose special equipment allows blazes to be fought at unprecedented heights.
Kate Ascher is author of The Works: Anatomy of a City. She received her M.Sc. and Ph.D. in government from the London School of Economics and her B.A. in political science from Brown University. She formerly served as assistant director of the Port at the Port Authority of New York and New Jersey and worked overseas in corporate finance, before her previous position as executive vice president of the Economic Development Corporation for City of New York. Currently, she is a Principal at Happold Consulting in New York and in fall 2011 will begin to serve as the new Milstein Professor of Urban Development at Columbia University, GSAPP.
Visit our Programs Archive Video Index!
The exhibitions and programs of The Skyscraper Museum are supported by public funds from the New York City Department of Cultural Affairs and the New York State Council on the Arts, a State Agency.