The Skyscraper Museum is devoted to the study of high-rise building, past, present, and future. The Museum explores tall buildings as objects of design, products of technology, sites of construction, investments in real estate, and places of work and residence. This site will look better in a browser that supports web standards, but it is accessible to any browser or Internet device.
Ken Jackson Book Talk
THE ENCYCLOPEDIA OF NEW YORK CITY: Second Edition
(Yale University Press 2010)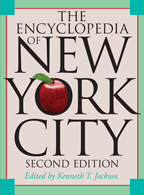 Exhaustive in its range of information about the five boroughs, the first edition of The Encyclopedia of New York City (1995) became an instant classic, earning worldwide acclaim, awards for reference excellence, and selling out its first printing before it was officially published. But in the ever-evolving New York City, change is the constant. The new edition covers both the unpredictable events of 9/11 and the unlikely three-term mayoralty of a billionaire businessman, and documents the slower shifts of urban regeneration of many city neighborhoods. The revised edition includes 800 new entries, with new material that includes broader coverage of subject areas and new maps and illustrations. Virtually all existing entries - spanning architecture, politics, business, sports, the arts, and more - have been updated to reflect the impact of the past two decades.
Kenneth T. Jackson is the Jacques Barzun Professor of History at Columbia University, where he has taught New York City history for four decades. Author of the prize-winning Crabgrass Frontier: The Suburbanization of the United States, he is also General Editor of the Columbia History of Urban Life and a former president of the Urban History Association, the Society of American Historians, the Organization of American Historians, and the New-York Historical Society.
Lisa Keller is Associate Professor of History at SUNY Purchase where she specializes in trans-Atlantic (England and the U.S.), women's, and urban history. Her book Triumph of Order: Democracy and Public Space in New York & London was published by Columbia University Press in 2008.
Visit our Programs Archive Video Index!
The exhibitions and programs of The Skyscraper Museum are supported by public funds from the New York City Department of Cultural Affairs and the New York State Council on the Arts, a State Agency.