The Skyscraper Museum is devoted to the study of high-rise building, past, present, and future. The Museum explores tall buildings as objects of design, products of technology, sites of construction, investments in real estate, and places of work and residence. This site will look better in a browser that supports web standards, but it is accessible to any browser or Internet device.
Samuel C. Florman:
GOOD GUYS, WISEGUYS, AND PUTTING UP BUILDINGS: A LIFE IN CONSTRUCTION
May 23, 2012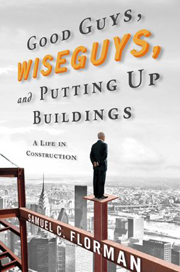 After more than five decades as a general contractor in New York City, Samuel Florman, chairman of Kreisler Borg Florman General Construction Company, has many stories to tell. An engineer with a gift for prose, he has published six books, including The Existential Pleasures of Engineering and The Introspective Engineer, as well as more than 250 articles. His new autobiographical volume Good Guys, Wiseguys, and Putting Up Buildings: A Life in Construction, recounts his career from the 1950s, amidst the rise of the notorious Mafia families and evolution of the Civil Rights Movement. Along with the rousing adventures, Florman writes of his enchantment with seeing architecture made real and the pride of creating housing, hospitals, schools, places of worship—shelter for the body and nourishment for the spirit. After a conversation about his career with the museum's director, Carol Willis, Florman engaged in Q & A with the audience.
Samuel Florman is the chairman of Kreisler Borg Florman General Construction Company.
Visit our Programs Archive Video Index!
The exhibitions and programs of The Skyscraper Museum are supported by public funds from the New York City Department of Cultural Affairs and the New York State Council on the Arts, a State Agency.