The Skyscraper Museum is devoted to the study of high-rise building, past, present, and future. The Museum explores tall buildings as objects of design, products of technology, sites of construction, investments in real estate, and places of work and residence. This site will look better in a browser that supports web standards, but it is accessible to any browser or Internet device.
Domino: Old and New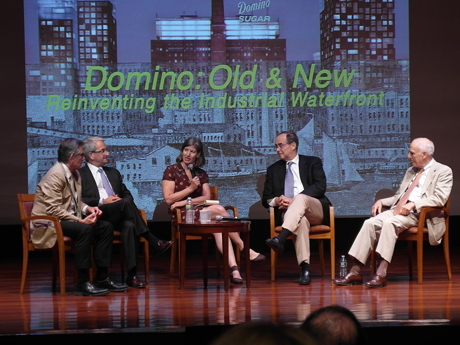 June 20 2011 | DOMINO: OLD AND NEW
Museum of Jewish Heritage
36 Battery Place
New York, NY 10005
A program on reinventing Williamsburg's historic industrial waterfront.
In the ongoing reinvention of Williamsburg's richly historic industrial waterfront into a burgeoning residential neighborhood, the massive Domino Sugar complex remains the greatest challenge and opportunity. With a site of 11.2 acres and a potential for 2200 residential units, including 30 percent of subsidized affordable housing, more than four acres of public open space, and the restoration and adaptive reuse of the landmarked refinery buildings, the Domino site is key to both the past and the future of this evolving neighborhood.