This site will look much better in a browser that supports web standards, but it is accessible to any browser or Internet device.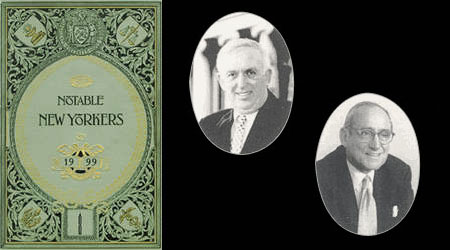 (l) Kenneth T. Jackson The Encyclopedia of New York City (r) Robert A. M. Stern New York 1900, New York 1930, and New York 1960
* * * * *
NOTABLE NEW YORKERS
Two hundred notable New Yorkers gathered at The Skyscraper Museum on the evening of February 11th to honor Kenneth T. Jackson and Robert A. M. Stern, recipients of the first annual "Making New York History" Award, for their distinguished books on the city's history.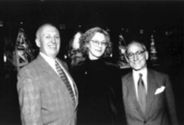 The evening's leading men, Mr. Stern and Mr. Jackson.
Dean of Yale University Graduate School of Architecture and principal of Robert A. M. Stern Architects, Mr. Stern authored the three volumes New York 1900, New York 1930, and New York 1960. Mr. Jackson, Chairman of the Department of History at Columbia University, is the editor of The Encyclopedia of New York City. Both men are trustees of The Skyscraper Museum.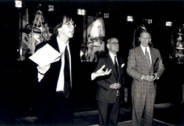 Filmmaker Ric Burns toasts the New York scholars.
Director Carol Willis welcomed guests to the opulent Art Deco banking hall at 16 Wall Street - site of the museum's exhibition Building the Empire State - and introduced the evening's honorees. Documentary Filmmaker Ric Burns offered a toast to the achievements of the two New York scholars. Following the presentation of awards, board member Philip Aarons announced the museum's permanent home in Millennium partner's 38-story tower in Battery Park City. Set to open in 2001, the museum will occupy a rent-free space at the base of the building designed by Gary Handel and the Polshek Partnership.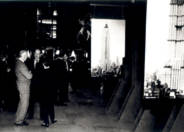 Guests tour the museum's second exhibition, Building the Empire State.
The event, which raised over $25,000 for the museum, was made possible by generous contributions from museum friends, including Bull Run Restaurant, Monacelli, Rizzolli, Yale University Press, Kevin Daley, Douglas Bowmen, and Andy Sniderman. We are grateful to everyone who made the evening a grand success, and we look forward to the 2nd annual celebration in 2000!