The Skyscraper Museum is devoted to the study of high-rise building, past, present, and future. The Museum explores tall buildings as objects of design, products of technology, sites of construction, investments in real estate, and places of work and residence. This site will look better in a browser that supports web standards, but it is accessible to any browser or Internet device.
SKYSCRAPER SEMINAR
Tuesday, April 24, 2018 6:30-8:00 pm

Jae In Choi and Stephen DeSimone
125 Greenwich Street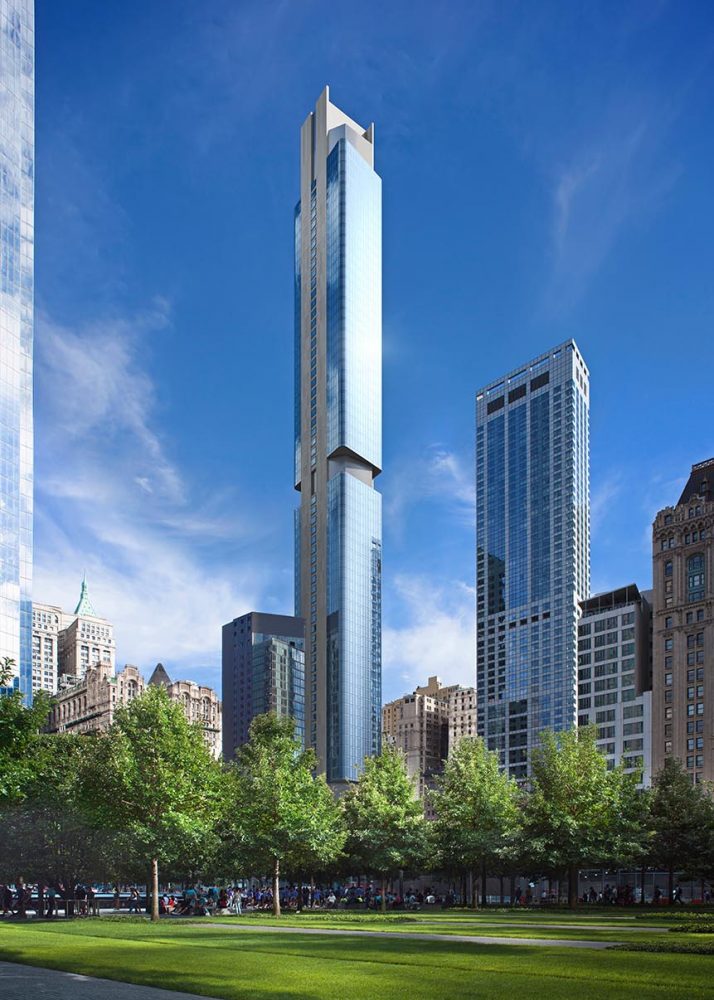 The one constant in the evolution of the design of the 912-foot tall, super-slender condominium at 125 Greenwich Street, just south of the World Trade Center site in lower Manhattan, is its postage-stamp site, barely 83' x 119 ft. After several early schemes, which ranged in height from 1,100 to nearly 1,400 ft., the tower now under construction will top out at 912 ft./ 278 meters. Offering insights into their strategies of design and structural engineering of the skyscraper are Jae In Choi, the project architect from Rafael Vinoly Architects, and structural engineer Stephen DeSimone of DeSimone Consulting Engineers.

In the changing market for luxury units and the evolving Downtown demographics, the developer's continuing analysis led to a rethinking of the mix of apartments and placement of amenity floors and, thus, a revised structural approach and expression in the tower's form. Choi and DeSimone will detail how the current design answers the challenges of mixed floor plans, maximized views, and wind engineering, among other issues.

125 Greenwich Street is being developed by Bizzi & Partners, a global real estate firm with offices in Milan, New York, San Paolo and Tallinn. In addition to Rafael Vinoly Architects and DeSimone Consulting Engineers, consultants to the project include Reginald D. Hough Associates, Cosentini Associates, and Robert Schwartz & Associates.

Join the speakers for another program in the Museum's continuing series of Skyscraper Seminars, exploring subjects of theory and practice for design professionals.
Jae In Choi, AIA, NCARB is a Project Manager at Rafael Vinoly Architects, where is managing 125 Greenwich Street. He has worked at RVA since 2010, where he has been the Project Manager for 432 Park Avenue, among other buildings.

DeSimone Consulting Engineers was established in New York in 1969. Stephen V. DeSimone joined the firm in 1988 and is now President and CEO. In addition to the specialty of super-slender towers in Manhattan that DeSimone has designed, including 220 Central Park South, 50 West Street, 111 Murray, and 45 E. 22 Street, the firm works on a wide range of building types nationally and internationally.
Tower rendering: &copy March
Reservations are required, and priority is given to Members and Corporate Member firms and their employees.
All guests MUST RSVP to [email protected] to assure admittance to the event. Not a member? Become a Museum member today!
---
The exhibitions and programs of The Skyscraper Museum are supported by public funds from the New York City Department of Cultural Affairs and the New York State Council on the Arts, a State Agency.