The Skyscraper Museum is devoted to the study of high-rise building, past, present, and future. The Museum explores tall buildings as objects of design, products of technology, sites of construction, investments in real estate, and places of work and residence. This site will look better in a browser that supports web standards, but it is accessible to any browser or Internet device.
Vishaan Chakrabarti Book Talk
A COUNTRY OF CITIES: A MANIFESTO FOR AN URBAN AMERICA
February 4, 2014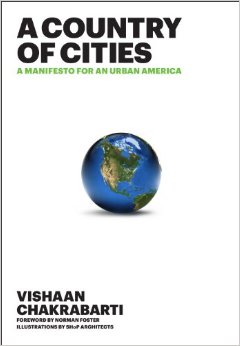 In A Country of Cities, Vishaan Chakrabarti argues that well-designed cities are the key to solving America's great national challenges: environmental degradation, unsustainable consumption, economic stagnation, rising public health costs and decreased social mobility. If we develop them wisely in the future, our cities can be the force leading us into a new era of progressive and prosperous stewardship of our nation. Through clear, accessible prose and a distinct visual language of original illustrations created by SHoP Architects, Chakrabarti delivers a wealth of information about cities, suburbs and exurbs, looking at how they developed across the 50 states and their roles in prosperity and globalization, sustainability and resilience, and heath and joy.
Vishaan Chakrabarti, AIA, is the director of Columbia University's Center for Urban Real Estate (CURE). An architect and planner, Chakrabarti has worked in both the public and private sectors: as a director at the New York City Planning Commission; an associate partner at Skidmore, Owings & Merrill; a transportation planner for the Port Authority of New York and New Jersey and as an executive at the Related Companies. In March 2012, Chakrabarti became a partner at SHoP Architects.
Visit our Programs Archive Video Index!
The exhibitions and programs of The Skyscraper Museum are supported by public funds from the New York City Department of Cultural Affairs and the New York State Council on the Arts, a State Agency.