The Skyscraper Museum is devoted to the study of high-rise building, past, present, and future. The Museum explores tall buildings as objects of design, products of technology, sites of construction, investments in real estate, and places of work and residence. This site will look better in a browser that supports web standards, but it is accessible to any browser or Internet device.
Susan Tunick and Andrew S. Dolkart:
ALMOST ANONYMOUS & UBIQUITOUS:
THE SPECULATIVE ARCHITECTURE OF GEORGE & EDWARD BLUM
October 9, 2012 6:30PM-8PM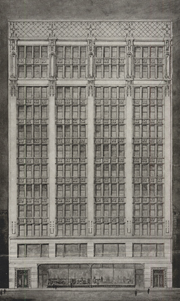 In the 1910s and 1920s, the prolific architectural firm of George & Edward Blum worked closely with speculative builders to design a large number of New York City's apartment buildings and commercial structures. The Blum brothers were among the most active architects in the Garment District, designing nineteen lofts.
Susan Tunick and Andrew Dolkart, guest curator for URBAN FABRIC, are co-authors of George & Edward Blum: Texture and Design in New York Apartment House Architecture (1986). They expand their close study of the firm's characteristic aesthetics, focusing in this illustrated lecture on their commercial loft buildings.
Susan Tunick is a national spokesperson for the preservation of architectural terra cotta and an established artist living and working in New York. She is the president of the Friends of Terra Cotta and has written extensively on terra cotta and tile, contributing to a renewed interest in the use and preservation of architectural ceramics. She is the author of Terra-Cotta Skyline (Princeton Architectural Press, 1997), which won that year's New York Society Library Award: Best Book on NYC.
Visit our Programs Archive Video Index!
The exhibitions and programs of The Skyscraper Museum are supported by public funds from the New York City Department of Cultural Affairs and the New York State Council on the Arts, a State Agency.