The Skyscraper Museum is devoted to the study of high-rise building, past, present, and future. The Museum explores tall buildings as objects of design, products of technology, sites of construction, investments in real estate, and places of work and residence. This site will look better in a browser that supports web standards, but it is accessible to any browser or Internet device.
In conjunction with its exhibition SKY HIGH & the logic of luxury,
The Skyscraper Museum presents a series of lectures and panel discussions by the architects, engineers, and developers of New York's new characteristic form of super-slender ultra luxury residential towers.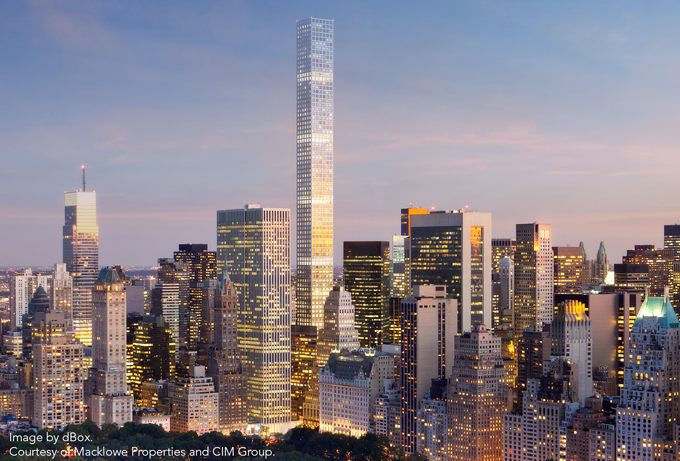 432 Park Avenue by dBox. Courtesy of Macklowe Properties and CIM Group.
Rafael Viñoly Lecture
432 PARK AVENUE and other towers
February 24, 2014 6:30-8PM
To see Museum Director Carol Willis' introduction to the lecture, click here.
This lecture was held in the auditorium of the National Museum of the
American Indian, Alexander Hamilton U.S. Custom House, 1 Bowling Green
Rafael Viñoly is the founding principal of Rafael Viñoly Architects PC, a New York-based firm with an international practice. Viñoly's award-winning designs include museums, performing arts centers, convention centers, and numerous research and academic buildings and complexes. His commercial high-rise work began in the 1980s, and he explored innovative forms and structural strategies in several projects, including the post-9/11 WTC competition, in which the collaborative design of the THINK team for a World Cultural Center was a finalist.
Taller than the rooftop of either the original or current 1 WTC, 432 Park Avenue will top out in 2015 at 1,396 feet, making it–in the words of its developers Macklowe Properties and the CIM Group–the loftiest residence "in the Western Hemisphere." Exemplifying "the logic of luxury," the tower's soaring height is predicated on its compact 93-foot square floor plate and extra-high ceilings, which produce its slenderness ratio of 1:15. The emphatic white grid of the concrete frame, divided into six sections by open mechanical floors, represents an integration of the elegant architectural concept and structural logic that sets 432 Park Avenue apart from curtain-wall contemporaries.
Rafael Viñoly discussed the design of 432 Park Avenue in the context of his high-rise work and design philosophy.
There was a Q & A after the talk moderated by Cathleen McGuigan, editor in chief of Architectural Record.
This lecture is presented with the
generous support of Enclos.


SKY HIGH & the logic of luxury and this program are supported, in part, by public funds from the New York City Department of Cultural Affairs in partnership with the City Council.

This program is made possible by the New York State Council on the Arts with the support of Governor Andrew Cuomo and the New York State Legislature.