The Skyscraper Museum is devoted to the study of high-rise building, past, present, and future. The Museum explores tall buildings as objects of design, products of technology, sites of construction, investments in real estate, and places of work and residence. This site will look better in a browser that supports web standards, but it is accessible to any browser or Internet device.
Carol Willis:
BUILDING / TYPE: NEW YORK'S NEWSPAPER TOWERS
March 19, 2012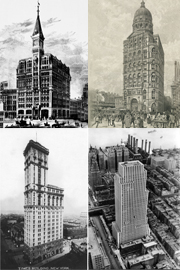 Curator Carol Willis reflects on the research for the exhibition News PAPER Spires and proposes that New York's early newspaper headquarters represent an extraordinary new form of high-rise: vertical urban factories that exploit technological advances in both printing and building construction to multiply the real estate advantages of prime locations. The lecture traces the rise of the signature towers of "Newspaper Row," on the east side of City Hall Park, from the 1870s through the early 1900s, then the migration uptown that spawned both Times Square and the E. 42nd Street axis with the headquarters of the Daily News.
Carol Willis is the founder and director of the Skyscraper Museum and a professor of Urban Studies at Columbia University's Graduate School of Architecture, Preservation and Planning. She is also the author of Form Follows Finance and co-author of Building the Empire State with Donald Friedman.
Visit our Programs Archive Video Index!
The exhibitions and programs of The Skyscraper Museum are supported by public funds from the New York City Department of Cultural Affairs and the New York State Council on the Arts, a State Agency.