The Skyscraper Museum is devoted to the study of high-rise building, past, present, and future. The Museum explores tall buildings as objects of design, products of technology, sites of construction, investments in real estate, and places of work and residence. This site will look better in a browser that supports web standards, but it is accessible to any browser or Internet device.
Richard Hassell:
WOHA: BREATHING ARCHITECTURE
October 15, 2012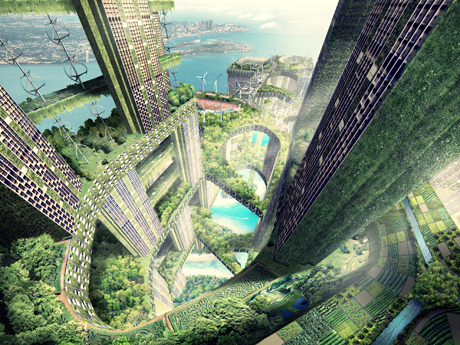 The Skyscraper Museum introduced a new lecture series WHAT'S UP? which highlights innovative high-rise architecture around the world. The series started with the work of WOHA, an internationally-acclaimed practice based in Singapore, established in 1994 by Richard Hassell and Wong Mun Summ. With a particular focus on Asia and the tropics, WOHA explores architectural strategies in response to contemporary issues of urbanization, density, sustainability, and climate. Their award-winning 69-story skyscraper in the heart of Bangkok, The Met, is a naturally-ventilated green tower that employs both public and private sky terraces and gardens in a new model for high-density urbanism.
Richard Hassell, co-Founding Director of WOHA, discussed Breathing Architecture, an overview of the firms recent work, from high-rise public housing to a visionary city of 5 million on just 45 square kilometres. The title refers to the climate-based approaches to sustainable design explored in the firms recent monograph and in a travelling exhibition of their work organized by the Deutsches Architekturmuseum in Frankfurt, Germany.
Comment: Cathleen McGuigan, Editor in Chief, Architectural Record
Visit our Programs Archive Video Index!
The exhibitions and programs of The Skyscraper Museum are supported by public funds from the New York City Department of Cultural Affairs and the New York State Council on the Arts, a State Agency.