The Skyscraper Museum is devoted to the study of high-rise building, past, present, and future. The Museum explores tall buildings as objects of design, products of technology, sites of construction, investments in real estate, and places of work and residence. This site will look better in a browser that supports web standards, but it is accessible to any browser or Internet device.
BOOK TALKS ARCHIVE
The Skyscraper Museum sponsors and presents lectures, book talks, walking tours, workshops, and other public programming. For information on upcoming programs, click here. Click here for the digital archive of all past programs and events.
2010
2009
2008
2007
2006
2005



2010 Book Talks

FEBRUARY 23, 2010
Andrew Dolkart
THE ROW HOUSE REBORN:
Architecture and Neighborhoods in New York City, 1908-1929
(The Johns Hopkins University Press 2009)
CLICK HERE FOR ANDREW DOLKART VIDEO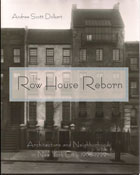 In the decades just before and after World War I, a group of architects, homeowners, and developers pioneered innovative and affordable housing alternatives. They converted the deteriorated and bleak row houses of old New York neighborhoods into modern and stylish dwellings. This movement -- an early example of what has become known as "gentrification" -- dramatically changed the physical character of these neighborhoods. It also profoundly altered their social makeup as change priced poor and largely immigrant households out of the area.
In
The Row House Reborn
, Dolkart traces this aesthetic movement from its inception in 1908 with architect Frederick Sterner's complete redesign of his home near Gramercy Park to a wave of projects for the wealthy on the East Side to the faux artist's studios for young professionals in Greenwich Village. This significant development in the history of housing and neighborhoods in New York has never before been investigated.
The Row House Reborn
will interest architectural and urban historians, as well as general readers curious about New York City architecture and neighborhood development.
Andrew S. Dolkart is the James Marston Fitch Professor of Historic Preservation at Columbia University's Graduate School of Architecture of Architecture, Planning, and Preservation. He has written extensively about the architecture and development of New York, including the award-winning
Morningside Heights: A History of Its Architecture and Development and the Guide to New York City Landmarks
. He has curated numerous exhibitions and is well-known for his walking tours of New York City neighborhoods.
JANUARY 12
Judith Stonehill
NEW YORK'S UNIQUE & UNEXPECTED PLACES
(Universe Publishing 2009)
CLICK HERE FOR JUDITH STONEHILL VIDEO
New York's Unique & Unexpected Places
is written for adventurers who want to explore the city's uncommon, yet fascinating, less familiar sites. This beguiling book will intrigue urban enthusiasts, New Yorkers, and the countless tourists determined to discover-and sometimes rediscover-these fifty memorable destinations. Visit an innovative center for architecture, a Dutch farmhouse surprisingly perched on Broadway, the sublime chapel designed by Louise Nevelson, idiosyncratic museums dedicated to finance and firefighting and subway cars, the historic home of Louis Armstrong, a spectacular garden overlooking the Hudson, and the one-and-only Skyscraper Museum!
Judith Stonehill is the author of
Greenwich Village: A Guide to American's Legendary Left Bank
(Universe 2002) and
Brooklyn: A Journey Through the City of Dreams
(Universe 2004). She was the co-owner of New York Bound Bookshop and vice president of the South Street Seaport Museum.
2009 Book Talks
DECEMBER 8
David Owen
GREEN METROPOLIS:
Why Living Smaller, Living Closer, and Driving Less are the Keys to Sustainability
(Riverhead Books 2009)
CLICK HERE FOR DAVID OWEN PODCAST AND VIDEO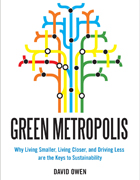 In a persuasive and provocative challenge to established environmental thinking, David Owen's GREEN METROPOLIS challenges much of the conventional wisdom about being green and shows how the greenest place in the United States isn't Portland, Oregon, or Snowmass, Colorado, but New York, New York. Owen states that while most Americans view congested cities as environmental calamities, with their pollution, garbage, and gridlock, residents of dense urban environments individually drive, pollute, consume, and throw away less than other Americans. Residents of New York City-the most densely populated community in the U.S.-consume less electricity than the average inhabitants of any other part of the country, generate greenhouse gases at a level far below the national average, and rank last in gasoline consumption and first in use of public transportation.
David Owen's GREEN METROPOLIS redefines what it means to be green, and offers vital insights into how to make our way to a more sustainable future: instead of depending on the acquisition of fancy new "green" gadgetry or the advent of new energy-related technologies, we should look to the lo-fi solutions already at work in dense cities around the globe.
David Owen has been a staff writer for
The New Yorker
since 1991. Before joining
The New Yorker
, he was a contributing editor at
The Atlantic Monthly
, and prior to that, a senior writer at
Harper's
and a frequent contributor to
Esquire
. He is also a contributing editor at
Golf Digest
and the author of several previous nonfiction books. He lives in northwest Connecticut with his wife, writer Ann Hodgman, and their two children.
DECEMBER 1
Randall Mason
THE ONCE AND FUTURE NEW YORK:
Historic Preservation and the Modern City
(University of Minnesota Press 2009)
CLICK HERE FOR RANDALL MASON VIDEO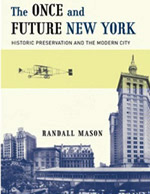 The controversial 1963 demolition of Pennsylvania Station is generally cited as the event that gave birth to New York City's historic preservation movement. But as historian Randall Mason reveals in
The Once and Future New York
, preservation has been a persistent force in the development of New York since the late nineteenth century, when the city's leading politicians, planners, and architects first recognized the need to protect some measure of the past in the rapidly evolving city. Between 1890 and 1920, preservationists saved and restored buildings, parks, and monuments throughout the city. Mason argues that these efforts created a "memory infrastructure" that established a framework for New York's collective memory and fused celebrations of the city's past with optimism about its future.
Rich with archival research,
The Once and Future New York
focuses on three major projects-the restoration of City Hall Park, the ultimately failed attempt to save historic St. John's Chapel, and the construction of the Bronx River Parkway. Challenging several myths about historic preservation, Mason asserts that preservationists were not simply antiquarians concerned only with architecturally significant buildings, but that many were social reformers interested in recovering the city's collective history. He demonstrates that, rather than being fundamentally opposed to growth, historic preservation in this period was integral to modern urban development.
Randall Mason is associate professor in the School of Design at the University of Pennsylvania and coeditor of
Giving Preservation a History: Histories of Historic Preservation in the United States.
NOVEMBER 23
Paul Goldberger
BUILDING UP AND TEARING DOWN: Reflections on the Age of Architecture (The Monacelli Press 2009) and
WHY ARCHITECTURE MATTERS
(Yale University Press 2009)
CLICK HERE FOR PAUL GOLDBERGER VIDEO AND PODCAST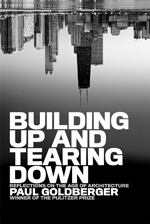 Paul Goldberger
Building Up and Tearing Down
(The Monacelli Press 2009)
The prolific architectural critic and journalist Paul Goldberger will discuss highlights from two collections of his essays released this fall by Monacelli and Yale University Press.
Building Up and Tearing Down
brings together more than fifty essays, from Goldberger's writings for the
New Yorker
,
Metropolis
,
The New York Times
, and other publications that range across architectural and urban issues from Havana to Beijing to Bilbao, Chicago to Las Vegas, and beyond. Dissecting projects from skyscrapers by Norman Foster and museums by Tadao Ando to airports, monuments, suburban shopping malls, and white-brick apartment houses, these essays cover a comprehensive account of the best -and the worst- of the "age of architecture."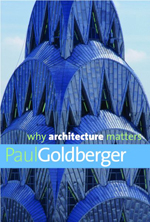 Paul Goldberger
Why Architecture Matters
(Yale University Press 2009)
In Why Architecture Matters
, Paul Goldberger examines "how things feel to us when we stand before them, with how architecture affects us emotionally as well as intellectually." In examples ranging from a small Cape Cod cottage, the Prairie houses of Frank Lloyd Wright, and the Lincoln Memorial, to Borromini's Church of Sant'Ivo in Rome, Goldberger raises the awareness of fundamentals-proportion, scale, space, texture, materials, shapes, light, and memory -engaging the reader to learn a new way of seeing and experiencing the built world.
Paul Goldberger is the architecture critic for
The New Yorker
, where since 1997 he has written the magazine's celebrated "Sky Line" column. He holds the Joseph Urban Chair in Design and Architecture at The New School in Manhattan. He began his career at
The New York Times
, where in 1984, he received the Pulitzer Prize for Distinguished Criticism.
OCTOBER 1
Anthony Flint
WRESTLING WITH MOSES:
How Jane Jacobs Took on New York's Master Builder and Transformed the American City
(Random House 2009)
CLICK HERE FOR ANTHONY FLINT VIDEO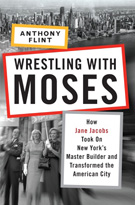 To a young Jane Jacobs, Greenwich Village, with its winding cobblestone streets and diverse makeup, was everything a city neighborhood should be. The activist, writer, and mother of three grew so fond of her bustling community that it became a touchstone for her landmark 1961 book
The Death and Life of Great American Cities
. But consummate power broker Robert Moses saw things differently: neighborhoods such as Greenwich Village were in need of "urban renewal." Notorious for exacting enormous human costs, Moses's plans had never before been halted-not by governors, mayors, or FDR himself, and certainly not by a housewife from Scranton.
Wrestling with Moses
is the tale of a local battle with far-ranging significance. By confronting Moses and his vision, Jacobs forever changed the way Americans understood the city, and inspired citizens across the country to protest destructive projects in their own communities.
Anthony Flint is author of
Wrestling with Moses: How Jane Jacobs Took on New York's Master Builder and Transformed the American City
, and director of public affairs for the Lincoln Institute of Land Policy in Cambridge. He has been a journalist for over 20 years, primarily at The Boston Globe, where he covered development, urban design, housing, and transportation. His first book,
This Land: The Battle over Sprawl and the Future of America
, was published by Johns Hopkins University Press. He has been a visiting scholar and Loeb Fellow at Harvard University's Graduate School of Design, and a policy adviser in Massachusetts state government, and is a Citistates Associate. He is a graduate of Middlebury College and Columbia University's Graduate School of Journalism.
SEPTEMBER 22
Ann Buttenwieser
GOVERNORS ISLAND: The Jewel of New York Harbor
(Syracuse University Press 2009)
CLICK HERE FOR ANN BUTTENWIESER VIDEO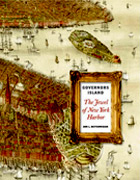 Governors Island today blends a sense of nostalgia with 21st-century amenities. The pristine setting showcases the island's rich history, including the vital role it played in the country's armed forces. From its early days as the site of a British fort in the 1700s and its longstanding role as a station for the U.S. Army and the Coast Guard, to its function as a venue for political events, the island has hosted a dazzling parade of the brave and the dignified. Governors Island encompasses more than military history-it offers a vivid reflection of historic events in New York City and the world at large.
Records from Castle Williams reveal an evolving national penal system, while those from the hospital tell the story of worldwide contagion and local sanitation. Accounts of the lives of the island's female residents offer insight into ethnic assimilation and the changing roles of women in the military, and a compendium of military and civilian recreational life on the island illuminates the changing meanings of open space and recreation over time. Ann L. Buttenwieser brings this rich legacy to life, creating a striking portrait of the island through never-before-published photographs, blueprints, architectural plans, and interviews with former residents.
Ann L. Buttenwieser is an urban planner and waterfront historian and the author of
Manhattan Water-Bound: Manhattan's Waterfront from the Seventeenth Century to the Present.
She serves on The Skyscraper Museum Board of Directors.
AUGUST 4
Jane King Hession and Debra Pickrel
FRANK LLOYD WRIGHT IN NEW YORK: The Plaza Years, 1954-1959
(Gibbs Smith 2007)
Click here for Podcast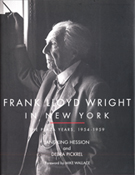 A recipient of the 2008 Independent Publisher Book Awards' Gold Medal in Architecture,
Frank Lloyd Wright in New York: The Plaza Years, 1954-1959
, examines the momentous five-year period when one of the world's greatest architects and one of the world's greatest cities dynamically coexisted. Authors Jane Hession and Debra Pickrel explore the fascinating contradiction between Wright's often-voiced disdain of New York and his pride and pleasure in living in one of the city's great landmarks: the Plaza Hotel. From his suite, or "Taliesin the Third," as it became known, Wright supervised construction of the Guggenheim, sparred with the New York press, and received many famous visitors such as Marilyn Monroe and Arthur Miller.
Jane King Hession, a native of Nyack, New York, received her M.Arch. from the University of Minnesota.  An architectural writer and historian with interests in Frank Lloyd Wright and mid-century modernism, she is the coauthor of
Ralph Rapson: Sixty Years of Modern Design
. Hession resides in Alexandria, Virginia.
Debra Pickrel is a New York journalist who has written on architecture and design for Architectural Record, House Beautiful, Metropolis, and Preservation. She is also the author of
A Day in Turtle Bay
, a walking tour of her Manhattan neighborhood with a foreword by Walter Cronkite. A former board member of the Frank Lloyd Wright Building Conservancy, Pickrel is a journalism graduate of the University of North Carolina at Chapel Hill and received her M.A. in Historic Preservation from Goucher College. She is a native of Richmond, Virginia.
JULY 14
Loretta Lorance
BECOMING BUCKY FULLER
(The MIT press 2009)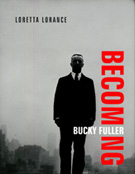 Buckminster Fuller's fame reached its peak in the 1960s and 1970s, when his visionary experiments struck a chord with the counterculture and his charismatic personality provided the media with a good story-that of a genius who could play the role of artist, scientist, and entrepreneur all at once. In
Becoming Bucky Fuller
, Loretta Lorance shows that Fuller's career did not begin with the lofty goals hailed by his admirers and that, in fact, Fuller's image as guru and prophet was as carefully constructed as a geodesic dome.
Drawing on a close reading of Fuller's personal papers (in particular, the multivolume scrapbook,
Chronofile
), Lorance looks at Fuller's first independent project, the Dymaxion House, and finds that what really happened differs from the authorized version. According to Fuller himself and most secondary sources, after a series of personal crises in the 1920s-including the death of his young daughter, thoughts of suicide, and a "year of silence" during which he pondered his purpose in life-Fuller resolved to devote himself to the betterment of society by offering the public economical, efficient, and modern manufactured housing. But the private papers tell a different story; one of his initial motivations for designing the Dymaxion House was simply to make money from its manufacture. When that didn't work, Fuller began to emphasize its possibilities rather than its practicalities. By the mid-1930s, Lorance shows, Fuller the public figure had gone from being an entrepreneur with a product to being a visionary with an idea. He had become Bucky Fuller.
Loretta Lorance is an architectural historian. She teaches in the School of Visual Arts in New York City.
JUNE 23
Scott Johnson
TALL BUILDING: Imagining the Skyscraper
(Balcony Press 2008)
Click here for Video Archive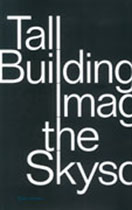 The skyscraper, whatever it may be as physical fact, looms large in our lives and as a figment of our imaginations carries with it ideas of wealth, ambition, and dominance. The image of the skyscraper has been made and remade in the news, in literature and film, and now in all forms of our now global media. Paradoxically, as the building type continues to become more complex and is designed to address fundamentally different cultural conditions, the image, that is to say, the idea, of the skyscraper in the public mind seems to become simpler, more omnipresent, and more consumable.
Scott Johnson is a partner of the distinguished Los Angeles architecture firm, Johnson/Fain, and is the newly appointed Director of the USC Graduate Architectural Program. A leader in the architectural discourse & issues of urban design in and outside of Los Angeles, he has worked on a wide range of projects including the MGM Tower, MET Lofts, and the Solano County Government Center. Johnson is also the author of Figure/Ground: A Design Conversation and The Big Idea: Criticality and Practice in Contemporary Architecture. In this book, he offers his approach to design development and neighborhood needs, his firm's decision to office in Downtown Los Angeles, and an educator's vision of architecture as culture.
MAY 19
Joanna Merwood-Salisbury

CHICAGO 1890: The Skyscraper and the Modern City
(University of Chicago Press 2009)
Click here for Video Archive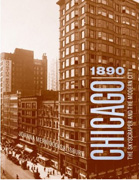 Chicago's first skyscrapers are famous for projecting the city's modernity around the world. But what did they mean at home, to the Chicagoans who designed and built them, worked inside their walls, and gazed up at their facades? Answering this multifaceted question, Chicago 1890 reveals that early skyscrapers offered hotly debated solutions to the city's toughest problems and, in the process, fostered an urban culture that spread across the country.
An ambitious reinterpretation of the works of Louis Sullivan, Daniel Burnham, and John Wellborn Root, this volume uses their towering achievements as a lens through which to view late nineteenth-century urban history. Joanna Merwood-Salisbury sheds new light on many of Chicago's defining events- including violent building trade strikes, the Haymarket bombing, the World's Columbian Exposition, and Burnham's Plan of Chicago- by situating the Masonic Temple, the Monadnock Building, and the Reliance Building at the center of the city's cultural and political crosscurrents.
While architects and property owners saw these pioneering structures as manifestations of a robust American identity, immigrant laborers and social reformers viewed them as symbols of capitalism's inequity. Illuminated by rich material from the period's popular press and professional journals, Merwood-Salisbury's chronicle of this contentious history reveals that the skyscraper's vaunted status was never as inevitable as today's skylines suggest.
Joanna Merwood-Salisbury is Director of Academic Affairs and an Assistant Professor in the School of Constructed Environments at Parsons The New School for Design.
MAY 5
Andrew Dolkart

BIOGRAPHY OF A TENEMENT HOUSE IN NEW YORK CITY:
An Architectural History of 97 Orchard Street
(University of Virginia Press 2006)
Click here for Video Archive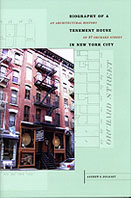 "I trace my ancestry back to the Mayflower," writes Andrew S. Dolkart. "Not to the legendary ship that brought the Pilgrims to Plymouth, Massachusetts, in 1620, but to the more prosaic tenement on the southeast corner of East Broadway and Clinton Street named the Mayflower, where my father was born in 1914 to Russian-Jewish immigrants." Architectural and urban historian Andrew S. Dolkart presents a precise and informative biography of a typical tenement house at 97 Orchard Street in New York City that in 1988 became the remarkable Lower East Side Tenement Museum. He documents and interprets the architectural and social history of the building beginning in the 1860s when it was erected, in to the late nineteenth and early twentieth centuries when the neighborhood started to change, and in the present as the building is reincarnated as the museum.
Andrew S. Dolkart is the James Marston Fitch Professor of Historic Preservation at Columbia University's Graduate School of Architecture of Architecture, Planning, and Preservation. He has written extensively about the architecture and development of New York, including the award-winning
Morningside Heights: A History of Its Architecture and Development and the Guide to New York City Landmarks
. He has curated numerous exhibitions and is well-known for his walking tours of New York City neighborhoods.
APRIL 29
Jean Parker Phifer
Photographs by Francis Dzikowski
PUBLIC ART NEW YORK
(W.W. Norton 2009)
Click here for Video Archive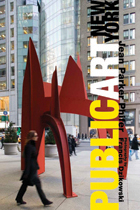 A guided tour of the best public art in all five boroughs of New York City, from outdoor sculpture in public plazas to murals and works of art in lobbies accessible to the public, to outstanding landscapes, and even a few examples of artistic sidewalks and creative lighting, this book focuses on how exemplary works of public art enrich urban public space. Organized by neighborhood, it covers Lower Manhattan, Soho to Lower Midtown, Midtown Manhattan, the Upper West Side, Central Park, the Upper East Side, Upper Manhattan, The Bronx, Queens, Brooklyn, and Staten Island. Illustrated with Francis Dzikowski's striking photos and colorful maps, it makes a perfect walking guide. in the words of Kent Barwick, this book is "an invitation to hit the streets." Sponsored by the Municipal Art Society, Public Art New York is organized by neighborhood, with maps suitable for walking tours.
Architect Jean Phifer specializes in planning, renovation and sustainable design projects for cultural institutions and has designed or restored over fifty distinguished buildings, public spaces, and landscapes, primarily in New York. She was president of the Art Commission of the City of New York, now the Public Design Commission, from 1998 to 2003. Ms. Phifer is a Fellow of the American Institute of Architects and teaches Environmental Design at New York University. She lives in Manhattan.
Francis Dzikowski is an architectural photographer based in New York City.
The evening's introduction will be given by Michele H. Bogart, author of
Public Sculpture and the Civic Ideal in New York City, 1890-1930
(University of Chicago Press, 1989), which received the Smithsonian Institution/ Museum of American Art's Charles C. Eldredge Prize in 1991; and of
The Politics of Urban Beauty: New York and Its Art Commission
(University of Chicago Press, 2006). From 1998 through 2003 she served as a member of the Art Commission of the City of New York, the City's design review agency, and for four years was its Vice President. She is presently a member of the Art Commission's Conservation Advisory Group and of the Board of Directors of the Fine Arts Federation. Ms. Bogart is a Professor and the Graduate Program Director of the Art Department at Stony Brook University.
FEBRUARY 26
Michael Rockland

THE GEORGE WASHINGTON BRIDGE: Poetry in Steel
(Rutgers University Press 2008)
Click here for Podcast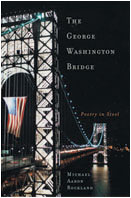 Intimate and engaging, Michael Rockland's rich narrative presents perspectives on the GWB that span history, architecture, engineering, transportation, design, the arts, politics, and the post-9/11 mentality. Stunning archival photos, from the bridge's construction in the late 1920s through the present, powerfully complement the account of competition between the GWB and the Brooklyn Bridge that parallels the rivalry between New Jersey and New York City. Rockland profiles the Swiss immigrant structural engineer Othmar Ammann and explains how the Depression dictated the iconic, uncovered steel beams of its towers so admired today. Tales of accidents, an airplane crash, and suicides off its span; the appearance of the bridge in media and the arts; and the author's own adventures scaling its massive towers on a cable animate the story of what Le Corbusier called "the most beautiful bridge in the world."

Michael Rockland founded the American Studies Department at Rutgers while serving as Assistant Dean of Douglass College (1969-1972). Earlier, he had another stint in academic administration when he served as Executive Assistant to the Chancellor of Higher Education, State of New Jersey (1968-1969). This followed his years in the United States diplomatic service as a cultural attache at our embassies in Argentina and Spain (1962-1967).
2008 Book Talks
DECEMBER 16
Gail Fenske

THE SKYSCRAPER AND THE CITY: The Woolworth Building and the Making of Modern New York (University of Chicago Press)
Click here for Video Archive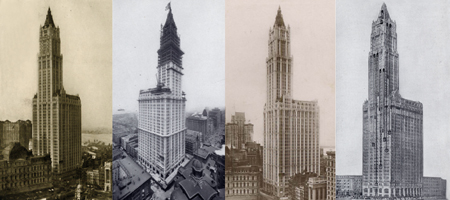 Images: The Skyscraper Museum Collection
In the first history of this great urban landmark, The Skyscraper and the City:
The Woolworth Building and the Making of Modern New York (University of Chicago Press), author Gail Fenske illuminates how the Woolworth Building is a compelling lens through which to view the distinctive city culture of Progressive Era New York.
2007 BOOKTALKS
DECEMBER 12
Jim Rasenberger

America 1908: The Dawn of Flight, the Race to the Pole, the Invention of the Model T and the Making of a Modern Nation. (Scribner)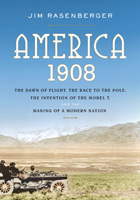 Hearkening to the historical moment, Jim Rasenberger probes parallels between our time and America 1908. In this brand-new book, the author of High Steel: The Daring Men who Built the World's Greatest Skyline explores a moment in American history filled with great optimism and hope for the future. "1908, by whatever quirk of history or cosmology, was one hell of a ride around the sun," writes Rasenberger, shedding new light on familiar stories—from the Wright Brothers' flight to Ford's Model T, and of course, skyscrapers.
NOVEMBER 13
Suzanne Wasserman, Rebecca Lepkoff

Life on the Lower East Side: Photographs by Rebecca
Lepkoff, 1937-1950 (Princeton Architectural Press)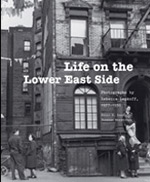 Rebecca Lepkoff's photographs of the late 1930s and 1940s captured the dynamic and diverse life of the Lower East Side neighborhood bounded by the Brooklyn and Manhattan bridges and the Bowery to the East River. In this first collection of Lepkoff's work, historian and award-winning filmmaker Suzanne Wasserman will speak with Rebecca Lepkoff, discussing the rich texture and detail of both the photographs and the altered urban and social fabric of the continually changing Lower East Side.
OCTOBER 23
Alice Sparberg Alexiou

Jane Jacobs: Urban Visionary (Rutgers University Press)
Alice Sparberg Alexiou provides the first biography of the late, great urbanist and author, Jane Jacobs, best known for her classic 1961 book Death and Life in Great American Cities. Drawing on interviews and an analysis of Jacobs' writings, Alexiou traces the urban advocate's life from Scranton, Pennsylvania to New York City and her beloved Greenwich Village, and eventually to Toronto, illuminating Jacob's keen observations of city life that have influenced students of the city for more than four decades.
SEPTEMBER 18
David Friend
Watching the World Change (Picador)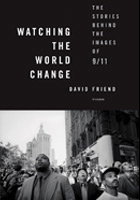 Vanity Fair Editor David Friend's work is an examination of the iconic, appalling, and moving images from 9/11 and the week that followed. The terrorist attacks were the "most universally observed news event in human history." Friend will explore the nature of tragedy, image-making, and censorship in the age of digital media through a richly illustrated presentation.
NOVEMBER 15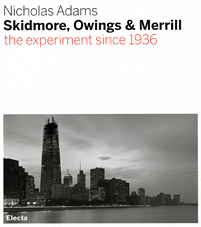 NICHOLAS ADAMS
Skidmore, Owings & Merrill
The Great Experiment Since 1936
(Electa)

Nicholas Adams presents his impressive survey of one of America's most well-established architecture firms, Skidmore, Owings & Merrill. Established in 1936, SOM has designed some of the world's foremost skyscrapers, including Lever House, One Chase Manhattan Plaza, and the AOL/Time Warner center in New York, Chicago's Sears Tower and John Hancock building, and an array of international towers such as Shanghai's 88-story Jin Mao. SOM continues to lead as the designer of the world's tallest buildings, including the China World Trade Center in Beijing, Burj Dubai, and Freedom Tower.
OCTOBER 5
TIMOTHY J. GILFOYLE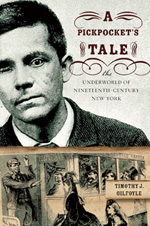 A Pickpocket's Tale: The Underworld of Nineteenth-Century New York
(W.W. Norton)

Historian Timothy Gilfoyle recounts 19th century New York through the eyes of George Appo, a master pickpocket, sometime con artist, and opium addict. Appo's lifestyle of lifting was lucrative, as he often earned more in a night than the annual salary of many workers of the day. Join Gilfoyle as he rescues the hidden history of an emblematic character of the 19th century industrial city.
September 21
JEWEL STERN & JOHN A. STUART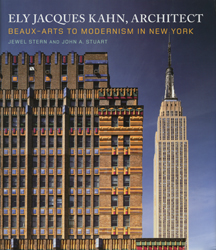 Ely Jacques Kahn, Architect:
Beaux-Arts to Modernism in New York
(W.W. Norton)

Ely Jacques Kahn (1884-1972) was one of the most prolific architects in New York City, most known for his work within the 1920s New York building boom. An early exponent of modern polychrome building facades, Kahn evolved an abstract, geometric decorative style that alluded to his classic training at the Ecole des Beaux-Arts and was inspired by such diverse sources as the machine and exotic cultures. Jewel Stern and John A. Stuart are co-curators with Janet Parks of an exhibition on Kahn at the Wallach Art Gallery, Columbia University (2006).
August 2
TONI SCHLESINGER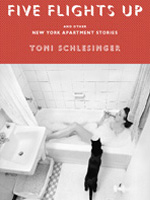 Five Flights Up and other New York Apartment Stories
(Princeton Architectural Press)
Toni Schlesinger, a columnist for The Village Voice and a New York–based fiction writer and theater artist, tells the extreme stories of New York's rental community in her recent book, Five Flights Up. Individuals of all professions and incomes come alive when they discuss where they came from and where they're going. Each interview is a vivid and insightful portrait, revealing the creative energy, camaraderie, desperation, and hope that fuel the daily lives of people in New York and everywhere.
July 19
KATE ASCHER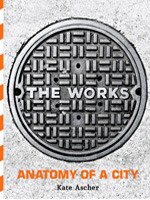 The Works: Anatomy of a City
(Penguin Press)
The Works: Anatomy of a City offers a cross section of the hidden infrastructure of New York City, using beautiful, innovative graphic images combined with short, clear text explanations to answer all the questions about the way things work in a modern city. Executive Vice President of NYC's Economic Development Corporation, Kate Ascher describes the technologies that keep the city functioning, as well as the people who support them—the pilots that bring the ships in over the Narrows sandbar, the sandhogs who are currently digging the third water tunnel under Manhattan, the television engineer who scales the Empire State Building's antenna for routine maintenance, and the electrical wizards who maintain the century-old system that delivers power to subways.
June 28
MARK CALDWELL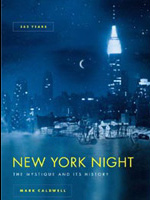 New York Night: The Mystique And Its History
(Scribner)

Critic, historian, and Fordham University professor Mark Caldwell chronicles the story of New York nightlife from 1643 to the present, featuring the famous, the notorious, and the unknown who have long walked the city's streets and lived its history. New York Night is a spellbinding social history of the day's dark hours, when work ends, secrets reveal themselves, and the unimaginable becomes real.
May 31
CAROL WILLIS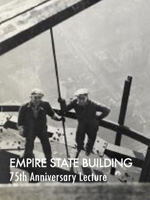 75 Years Later: The Empire State Building
(Illustrated Lecture)
Museum Director and Architectural Historian, Carol Willis, will commemorate the 75th Anniversary of the Empire State Building with an illustrated lecture. In addition to articles in books and scholarly journals,Willis is the editor for "Building the Empire State," a book on the construction of New York's signature skyscraper, published by W.W. Norton in 1998. The Museum's latest web project, VIVA2 is an interactive interface providing access to the Museum's unique collection of more than 1,000 photographs of the construction of the Empire State Building and the World Trade Center towers

-----
In conjunction with the Spring 2006 exhibition GREEN TOWERS FOR NEW YORK: From Visionary to Vernacular, The Skyscraper Museum sponsored an 8-part lecture series GREEN TEAMS, at the Donnell Library.
December 5
Jayne Merkel
Eero Saarinen (Phaidon Press)
Author Jayne Merkel will outline Eero Saarinen's life and career, which includes 14 years of practice with his father and 10 years of practice as head of Eero Saarinen and Associates. Saarinen is best known for the St. Louis Arch, TWA Terminal at JFK and Dulles Airport, General Motors Technical Center, and American Embassy in London. Merkel will also concentrate on Saarinen's father, Eliel, and his entry to the Chicago Tribune Tower contest which won second place and fine critical reviews (and brought the family to America). Harold Roth, a New Haven architect, will join Merkel to discuss Saarinen's only skyscraper, CBS / Black Rock. As a young architect in the Saarinen office, Roth saw the building through construction after Eero died suddenly in 1961 (at age 51).

November 22
Jeff Byles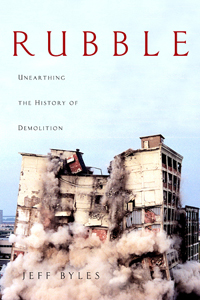 Rubble: Unearthing the History of Demolition (Harmony Books)
From the straight boulevards that "demolition artist" Haussmann smashed through rambling old Paris to the frenzied implosion of Las Vegas hotel towers, demolition has long played an ambiguous role in the architectural
imagination. Author Jeff Byles will survey the evolution of unbuilding techniques, as old-school wreckers evolved into highly adept practitioners of "structural jujitsu." Highlights will include pioneering figures such as Jacob Volk (the colorful New York City "destructionist" who crumbled skyscrapers in the Wall Street area) and epochal unbuilding feats such as the implosion of the Pruitt-Igoe housing complex in St. Louis. As ever grander structures topple to make way for the new, Byles examines the profound impact the "disappearance" of tall buildings makes on the skyline and the urban psyche.


October 18
Roberta Moudry
The American Skyscraper: Cultural Histories (Cambridge University Press)
Historian of American Architecture and Urbanism, and editor of The American Skyscraper: Cultural Histories, Roberta Moudry will discuss the concepts behind the anthology, which looks at the multiple dimensions of the skyscraper in an urban American landscape. Focusing on New York and Chicago between 1870 and 1960, the studies in this volume address aspects of the skyscraper through an array of disciplines, including planning and public policy, art and architectural history, labor and business history, and American studies.

September 27
Eric P. Nash & Norman McGrath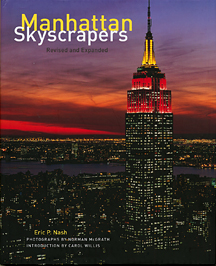 Manhattan Skyscrapers (Princeton Architectural Press)
New York Times contributor and author of Manhattan Skyscrapers, Eric P. Nash will give a talk entitled, "Making Manhattan Modern: The Evolution of Skyscraper Style." Together with photographer Norman McGrath, Nash will discuss the development of skyscrapers from early eclecticism and Art Deco setbacks to the emergence of the International Style and beyond. Demonstrative examples will include the Park Row Building, the American Radiator Building, the Seagram Building, and Norman Foster's Hearst addition.


June 8
Stephen Fraser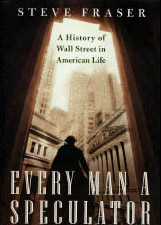 Every Man a Speculator: A History of Wall Street in American Life. (Harper Collins.)
Historian Steve Fraser will discuss Every Man a Speculator, his new history of Wall Street. Fraser's book approaches the powerful and unpredictable nature of The Street with regard to politics, business, religion, and popular culture, as well as gender identity and the American concept of freedom. Fraser, who has appeared in the LA Times, The American Prospect, and the Nation, is the author of Labor Will Rule: Sidney Hillman and the Rise of American Labor.
May 3
Christopher Gray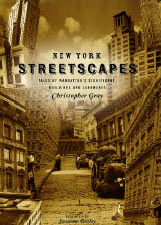 New York Streetscapes: Tales of Manhattan's Significant Buidlings and Landmarks. (Harry N. Abrams, Inc.)
Architectural historian and New York Times columnist Christopher Gray will discuss his most recent book, a compilation of 190 of his "Streetscapes" columns for the Times. Gray illuminates the architectural and social history of Gotham in his study of local buildings and sites and the human intrigues which accompany them. Follow Gray as he takes us for a stroll down the streets of old New York.
March 29
Mary Beth Betts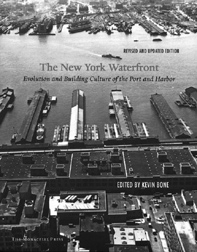 The New York Waterfront: Evolution and Building Culture of the Port and Harbor.
(Monacelli Press.)
Mary Beth Betts, Kevin Bone, and Stanley Greenberg have co-authored an unprecedented documentation of the rise and fall of the New York waterfront. The book traces the waterfront's architectural, technological and commercial existence over the last 150 years. Betts will discuss her essay, entitled MASTERPLANNING: Municipal Support of Transport and Commerce 1870-1930, which covers the development of planning, as well as the formation and eventual dissolution of The Department of Docks.
March 1
Philip Nobel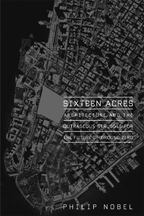 Sixteen Acres: Architecture and the Outrageous Struggle for the Future of Ground Zero.
(Metropolitan Books.)
Philip Nobel presents a no-holds-barred look at the collision of interests behind the ambitious attempt to raise a new national icon at Ground Zero. Tracing redevelopment of the World Trade Center Site from graveyard to playground for high design, he strips away the hyperbole to reveal the secret life of the Century's most charged building project.
February 8
Fred W. Clarke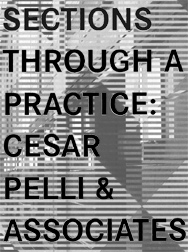 Sections Through a Practice: Cesar Pelli & Associates.
(Hatje Cantz.)
Pelli & Associates partner Fred W. Clarke spoke about the revolutionary new book, SECTIONS THROUGH A PRACTICE. Though there have been many other volumes published on the architecture of Cesar Pelli, this book is a radical departure from a traditional monograph. This is the first book to present a completely original viewing of the buildings themselves. The book also recognizes and describes the working processes among CP&A's principals and collaborators.
January 18
Douglas Levere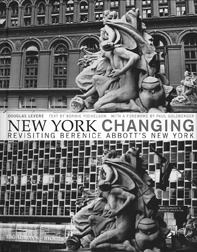 New York Changing: Revisiting Berenice Abbott's New York
. (Princeton Architectural Press.)
More than six decades after Berenice Abbott documented New York City monuments in Changing New York, photographer Douglas Levere has meticulously rephotographed many of the same scenes captured by Abbott in the 1930s. Contrasting black and white images by both photographers are displayed side by side throughout the book. Levere discussed his work and offered a visual presentation.