The Skyscraper Museum is devoted to the study of high-rise building, past, present, and future. The Museum explores tall buildings as objects of design, products of technology, sites of construction, investments in real estate, and places of work and residence. This site will look better in a browser that supports web standards, but it is accessible to any browser or Internet device.
Tuesday, February 24, 2015 6:30-8 pm

Vicky Ward Book Talk
The LIAR'S BALL:THE EXTRAORDINARY SAGA OF HOW ONE BUILDING BROKE THE WORLD'S TOUGHEST TYCOONS
Wiley 2014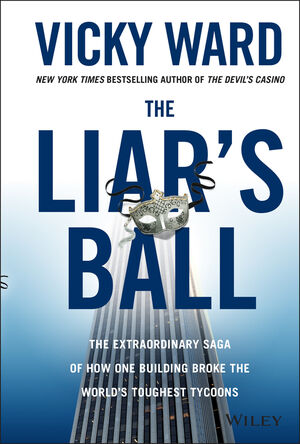 The Liar's Ball describes the desperate scramble that ensued when the world's most expensive building went on the auction block. The iconic GM Building brought out the best and worst in New York's real estate royalty, and led a few of them to ruin.
A story of naked, unregulated capitalism, of the sometimes bloody free-for all of the free market, The Liars Ball is tale of brilliant and enormously ambitious billionaires fighting bare-knuckled to get what they want. And they all wanted the GM Building. Through over 200 interviews with real estate's best and brightest—Donald Trump, Harry Macklowe, Samuel Zell, Mort Zuckerman and many more—Ward exposes the lies and schemes and insecurities behind the deals made by some of the world's biggest egos.
Vicky Ward is the New York-based, British-born author of the New York Times bestseller The Devil's Casino: Friendship, Betrayal and the High-Stakes Games Played Inside Lehman Brothers (Wiley, 2010). A former contributing editor to Vanity Fair for 11 years, she is the former executive editor of Talk and the former news features editor of the New York Post. She holds a master's in English literature from Cambridge University.
Visit our Programs Archive Video Index!
The exhibitions and programs of The Skyscraper Museum are supported by public funds from the New York City Department of Cultural Affairs and the New York State Council on the Arts, a State Agency.