The Skyscraper Museum is devoted to the study of high-rise building, past, present, and future. The Museum explores tall buildings as objects of design, products of technology, sites of construction, investments in real estate, and places of work and residence. This site will look better in a browser that supports web standards, but it is accessible to any browser or Internet device.
SUPERTALL!
July 27, 2011 through February 19, 2012.
Take a virtual tour of the exhibit here!
See Press Coverage of Supertall!
Download Exhibition Press Release
SUPERTALL! is an international survey of superlative towers featuring projects that have been completed since 2001, are under construction, or are expected to top out by 2016. This recent generation of giants, generally 100 stories or higher, represents a new paradigm of slender mixed-use towers that explore innovative approaches in engineering, curtain-wall and construction technologies, energy efficiency and sustainability, and concepts of vertical communities.
To distinguish the rarified air of the super- from the merely very tall, the Museum made the benchmark 380 meters/ 1,250 feet-the height of the Empire State Building-rather than the common standard of 300 meters. Worldwide, 48 projects measure up, including six towers of 600 meters or taller, six of 500+ meters, and twenty-four exceeding 400 meters. The world's tallest building, Burj Khalifa, rises 828 meters/ 2,717 feet above the sands of Dubai. It will hold the record for at least five years- the typical time it takes to construct a supertall.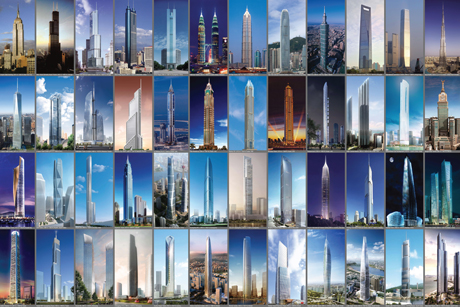 The new spheres of architectural ambition are in Asia, especially China and South Korea, as well as in the Middle East. India also promises to be a future center of high-rise aspirations. When the Twin Towers were destroyed in the terrorist attacks of 9/11, many predicted the end of the skyscraper era. They were wrong. As the exhibition shows, supertalls are a significant building type of the 21st century.

The 2007 Supertall Survey, at left, is compared, at right, with the 2011 Census.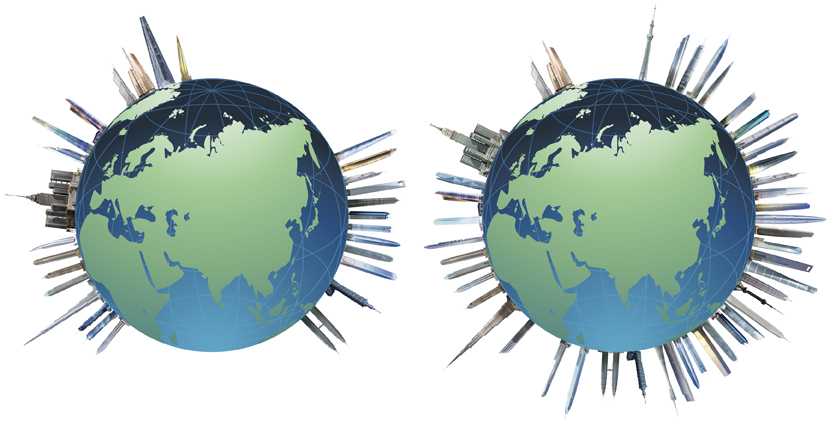 * * *
SUPERTALL! is presented with generous support from Turner Construction Company.

SUPERTALL! is supported, in part, by public funds from the New York City Department of Cultural Affairs in partnership with the City Council.

SUPERTALL! is supported, in part, by public funds from the New York State Council on the Arts, a State Agency.