The Skyscraper Museum is devoted to the study of high-rise building, past, present, and future. The Museum explores tall buildings as objects of design, products of technology, sites of construction, investments in real estate, and places of work and residence. This site will look better in a browser that supports web standards, but it is accessible to any browser or Internet device.
SUPERTALL SURVEY: GLOBAL SKYSCRAPERS
These globes represent a survey of supertall towers that The Skyscraper Museum compiled in 2007 for its exhibition World's Tallest Building: Burj Dubai. This map includes both 20th and 21st century towers of 1250 feet/ 380 meters or taller, represented at the same scale. The proliferation of new supertalls in Asia and the mideast reveals a shifting paradigm. As William F. Baker, the chief structural engineer of Burj Dubai, has stated: "If skyscraper construction had stopped in 1990, one would say that the tallest skyscrapers are made of steel, built in the United States, and are office buildings. Today, though, the tallest towers are made of concrete or composite, erected in Asia or the Middle East, and likely to be residential or mixed use."
SUPERTALLS
Inspired by the superior height of Burj Khalifa, the Museum measured supertall skyscrapers according to a higher standard than the common 300 meters, as part of its 2007 exhibition World's Tallest Building: Burj Dubai. Our 380+ meter benchmark was set by the Empire State Building's 86 occupiable stories and 1,250-foot height to the top of its original 1931 mooring mast. Buildings that matched or exceeded these markers in 2007 were included in this global survey.
Represented here are 20th and 21st century supertalls, grouped by city, that were completed, under construction, or proposed and approved by local authorities. The towers are scaled 1: 2,400, with 20th-century buildings in black and white and 21st-century in color. The survey revealed new geographies of supertall ambitions, shifting from the U.S. to Asia and the Mideast. This trend reflects those regions' expanding economies and desire to compete for international status and business.
SIGNIFICANT SKYLINES
The world maps highlight 24 skyscraper cities, either with major supertalls or many high-rises. Statistics here rely on two excellent websites, emporis.com and skyscraperpage.com, which channel the efforts of volunteer editors and contributors to track tall buildings by city. Emporis counts any building over 12 stories. By this measure, Hong Kong's total of 7,661 skyscrapers exceeds any other metropolis; New York is second with 5,560. They also calculate a world skyline ranking based on a complex formula favoring taller buildings; the top five cities are Hong Kong, New York, Seoul, Chicago, and Singapore.
Many cities, especially in Europe, restrict building heights. Our maps include five with significant skylines, but no buildings above 380 meters. Caracas and Johannesburg have the tallest skyscrapers on their continents. Toronto has nearly 1,700 high-rises and the 553-meter CN Tower, but its tallest skyscraper is only 298 meters. Singapore, with 3,763 high-rises, limits height to 280 meters and São Paulo with 4,541, has only one tower over 200 meters.

2007
2011
#
THE AMERICAS

CHICAGO
Chicago Spire: 610m, (2000 ft)
1
Sears Tower: 442m, (1450 ft)
2
Trump International Hotel & Tower: 423m, (1389 ft)
3
John Hancock Center: 344m, (1127 ft)
4
NEW YORK
Empire State Building: 381m (1250 ft)
5
One World Trade Center (Formerly Freedom Tower): 541m, (1776 ft)
6
LAS VEGAS
Las Vegas Tower: 575m, (1888 ft)
7
PANAMA CITY
Ice Tower: 381m, (1250 ft)
8
EASTERN EUROPE

MOSCOW
Russia Tower: 600m, (1969 ft)
9
Mercury City Tower: 380m, (1247 ft)
10
Federation Tower: 360m, (1,182 ft) Roof; 448m, (1,470 ft) to antenna
11
ST. PETERSBURG
Okhta Center (formerly Gazprom Tower): 396m, (1300 ft)
12
THE MIDDLE EAST

DUBAI
DAMAC Heights II: (formerly Ocean Heights II): 420m, (1378 ft)
330m, (1082 ft)
13
Princess Tower: 414m, (1358 ft)
14
Marina 101: 412m, (1352 ft)
15
23 Marina: 395m, (1296 ft)
16
Emirates Tower Park 1 and 2: 376m, (1233 ft)
17
Elite Residence: 380m, (1247 ft)
18
Burj Khalifa: 828m, (2,717 ft)
19
DOHA
Doha Convention Center Tower: 400m, (1,312 ft)
20
Dubai Towers Doha: 437m, (1434 ft)
21
KUWAIT CITY
Al Hamra Tower: 412m, (1352 ft)
22
MAKKAH (MECCA)
Abraj Al Bait Hotel Tower: 601m, (1,972 ft)
23
EAST ASIA

BUSAN
Busan Lotte Tower: 510m, (1674 ft) (New Design by SOM)
24
SEOUL
Lotte Super Tower 123:: 555m, (1821 ft) (New Design by KPF)
25
GUANGZHOU
Guangzhou Twin Towers, West Tower: 442m, (1444 ft)
26
CITIC Plaza: 390m, (1283 ft)
26
HONG KONG
International Commerce Centre: 484m, (1588 ft)
27
Two International Finance Centre: 415m, (1362 ft)
28
KUALA LUMPUR
Petronas Towers: 452 m, (1483 ft)
29
NANJING
Nanjing Greenland Financial Center: 450m, (1476 ft)
30
SHANGHAI
Jin Mao: 421m, (1380 ft)
32
Shanghai World Financial Center: 492m, (1614 ft)
33
SHENZHEN
Shun Hing Square: 384m, (1260 ft)
34
TAIPEI
Taipei 101: 509m, (1671 ft)
35
The 2007 Supertall Survey, at left, is compared, at right, with the 2011 Supertall Status.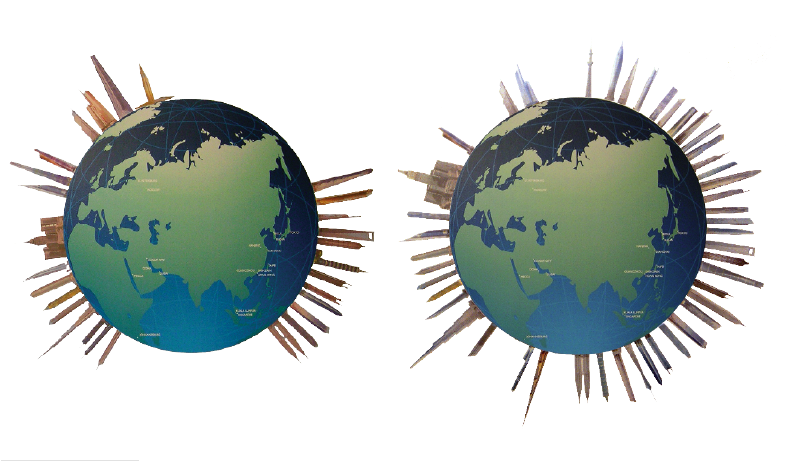 Related Links: The World's Tallest Towers