The Skyscraper Museum is devoted to the study of high-rise building, past, present, and future. The Museum explores tall buildings as objects of design, products of technology, sites of construction, investments in real estate, and places of work and residence. This site will look better in a browser that supports web standards, but it is accessible to any browser or Internet device.
Lecture Series Winter/Spring 2008
Nearly four hundred years after its founding, New York, the city that grew and grew through "creative destruction," is a mature metropolis. If New York were a forest, we would describe it as having reached its climax species in many areas, whether in skyscrapers built to their maximum zoning envelope, or in a prevailing belief in many neighborhoods that growth, at least in scale, is undesirable. New York of the future will likely look much the same as it does today-just as Rome, Paris, or London have set their essential identities.
Yet, as change and growth of population are certain, how can the city adapt and advance in the twenty-first century? Recognizing the need for a great majority of New York's buildings to be modernized, but not replaced, the Museum examined "greening" the city by spotlighting a range of innovative projects that feature landmark preservation, adaptive re-use, reinvented industrial sites, and sustainable development.
---
The first evening in our series, presented by The Skyscraper Museum and DOCOMOMO-New York/Tristate:
Greening the Glass Box
Preserving Midtown Modernism
February 5, 2008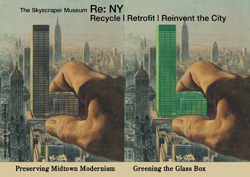 Nina Rappaport
Chair, DOCOMOMO-New York/Tristate
Carl Galioto
Technical Partner, SOM/New York
Hormoz Houshmand
Vice President, Werner Sobek/New York
Laurie Kerr
Senior Policy Advisor on Sustainability, City of New York, Mayor's Office
Manny Patino
JPMChase
In 1961, the gleaming new headquarters of Union Carbide crystallized the image of corporate modernism transforming Park Avenue and midtown. Fifty years later, such paragons of progress define an era, but their materials and mechanical systems need an update. How does the 21st century "green" the glass box?
A panel of experts address the challenges of renewing the monuments of Modernism to LEED standards while preserving their historic character. A case study of the retrofit of 270 Park Avenue by SOM and MEP engineers AKF will detail best practices. An examination of curtain wall technology, landmarking, and citywide sustainability expand the discussion into the realm of public policy.
---
Bond Street Reborn
March 6, 2008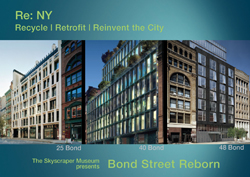 Moderator:
Justin Davidson
Critic, New York Magazine
Deborah Berke
Deborah Berke & Partners Architects, Commissioner, NYC Landmarks Preservation Commission
Donald Capoccia
Managing Director, BFC Partners
Romy Goldman
President, Gold Development
Tony Goldman
President & CEO, Goldman Properties
Harry Kendall
Partner, BKSK Architects
George Schieferdecker
Partner, BKSK Architects
The coolest block in New York? A motley stretch of Bond Street, between Bowery and Layfayette, east of the NoHo designated historic district, is now home to some of the most innovative reinterpretations of 19th century New York architecture and the chicest apartments in the city. Developers and architects of the super-hip properties will discuss their individual inspirations and the synergy of the street, where modern design and historic character play with landmark status and urban identity.
---
Williamsburg Waterfront


April 22, 2008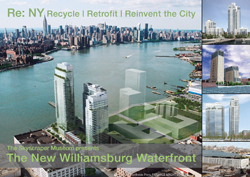 Shaun Donovan
Commissioner, NYC Department of Housing Preservation and Development

Stephen B. Jacobs
President, The Stephen B. Jacobs Group
Dan Kaplan
Senior Principal, FXFOWLE Architects, PC
Jeffery E. Levine
Principal, Douglaston Development
Tom O'Gara, Principal
JMH Development
Ron Moelis, Principal
L&M Equity Participants
Robert Powers
Powers & Company, Inc.
Philip Tugendrajch
E T Partners, LLC, consultant to L&M/BFC Development, LLC
The richly historic, once-thriving industrial zone of the Williamsburg waterfront is witnessing a rapid transformation as a burgeoning residential neighborhood. New condominium developments, large and small, such as The Edge, Northside Piers and Palmer's Dock, and Schaefer Landing, along with adaptive reuse of landmark structures such as the Austin Nichols warehouse, offer an impressive range of goals of sustainable urbanism: brownfield reclamation, public parks and waterfront access, a percentage of affordable housing, and LEED-certified design and construction.
The presentations and panel will feature the developers of the major residential projects and public officials who conceived and crafted the rezoning effort in a discussion of what is going right and where there is room for improvement.
---
New Verizons


July 22, 2008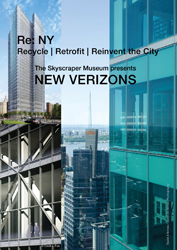 Douglass Winshall
Executive Vice President, Taconic Investment

Rick Cook
Partner, Cook + Fox Architects LLP
Frank Frankini
Senior Vice President, Equity Office Properties
Dan Shannon
Partner, Moed de Armas & Shannon Architects
Douglas Mass
President, Cosentini Associates
Nearly four hundred years after its founding, New York, which grew and grew through "creative destruction," is a mature metropolis. How can the city adapt and advance in the 21st century? "New Verizons" looks at the high-value real estate portfolio of buildings erected for 20th-century telephone technology and how developers, architects, and engineers are retrofitting and re-positioning these properties.
Project teams present two case studies:
375 PEARL STREET
1095 AVENUE OF THE AMERICAS