Click here for Notable New Yorkers 1999 to present
Notable New Yorkers 2015

Making New York History Award
honoring
GERALD D. HINES

Founder and Chairman of Hines
JUNE 16, 2015 6:00 - 8:00 PM
At The Skyscraper Museum, 39 Battery Place

On June 16th, The Skyscraper Museum paid tribute to Gerald D. Hines, Founder and Chairman of Hines, with the 2015 Making New York History Award. More than two hundred guests, representing all aspects of the development, design, and building professions, gathered to salute his extraordinary career of more than five decades as an urban developer and skyline builder. Offering personal reminiscences of their work with Mr. Hines were an all-star line-up of his skyscraper architects: Cesar Pelli, David Childs, Gene Kohn, Helmut Jahn, Jon Pickard, and Robert A.M. Stern, as well as critic Paul Goldberger. Although he was prevented from traveling to New York at the last minute, Mr. Hines watched the speeches on a live feed, and his daughter accepted the award on his behalf.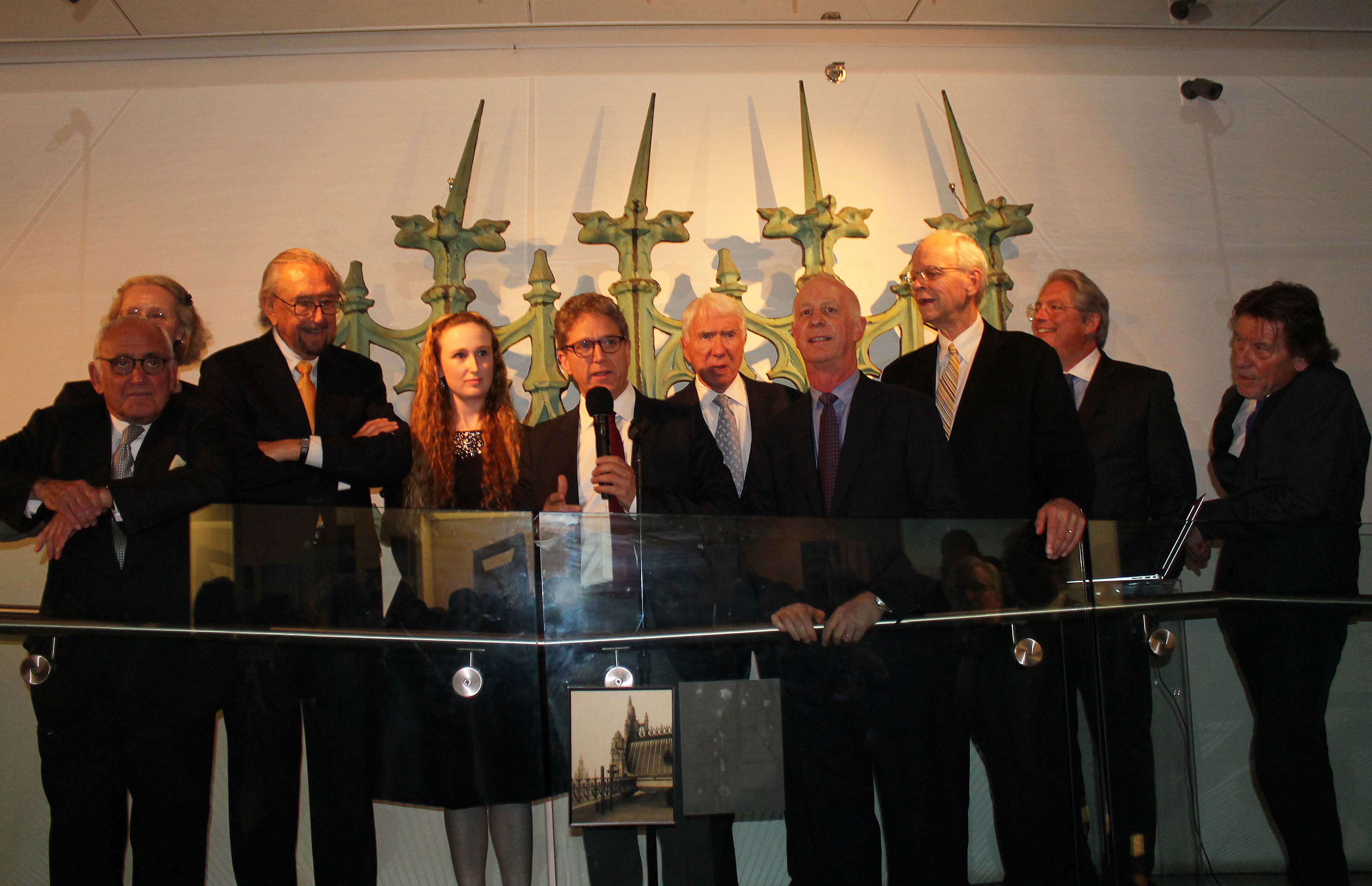 From left: Robert A.M. Stern, Cesar Pelli, Jamie Von Klemperer, Eugene Kohn, Paul Goldberger, David Childs, Jon Pickard, & Helmut Jahn.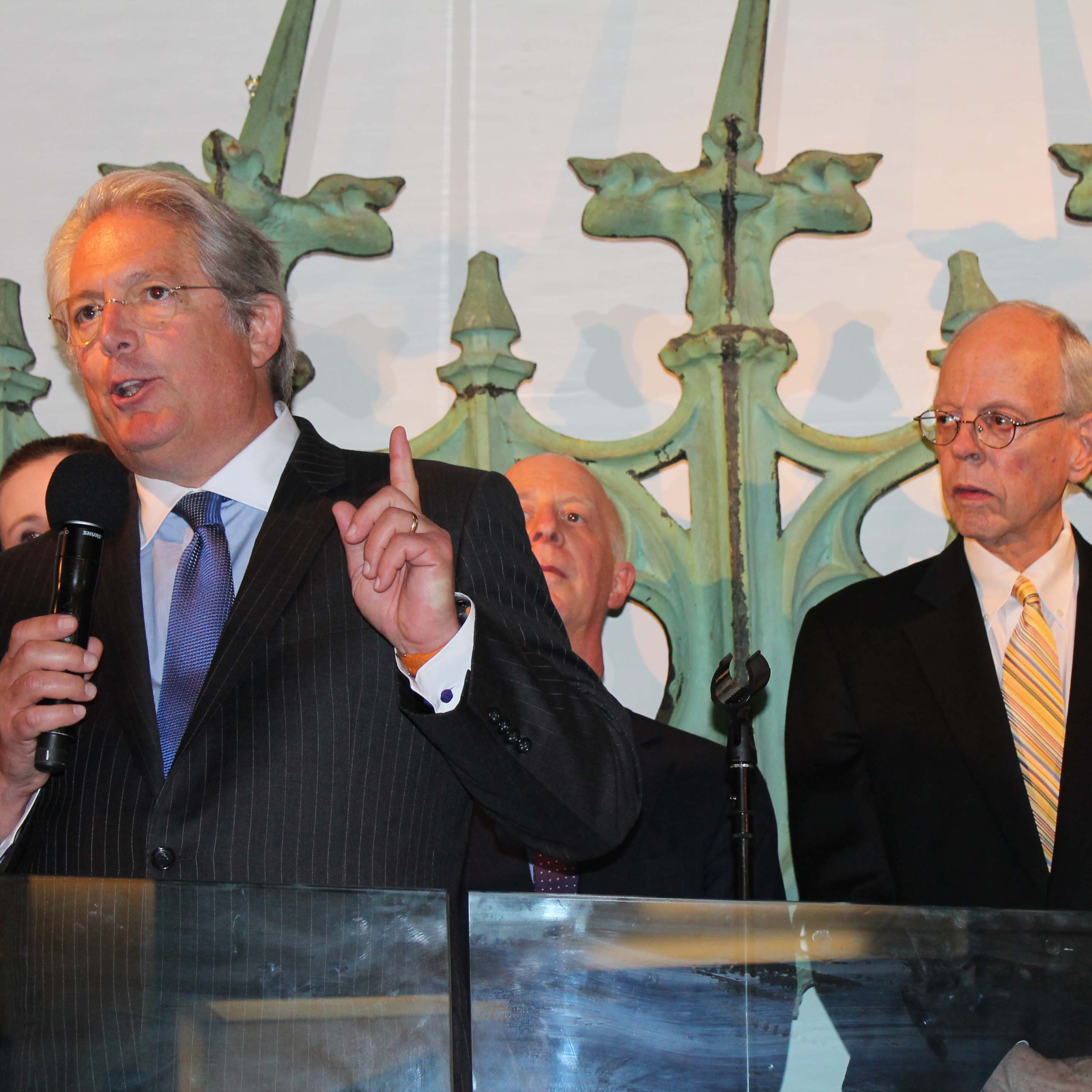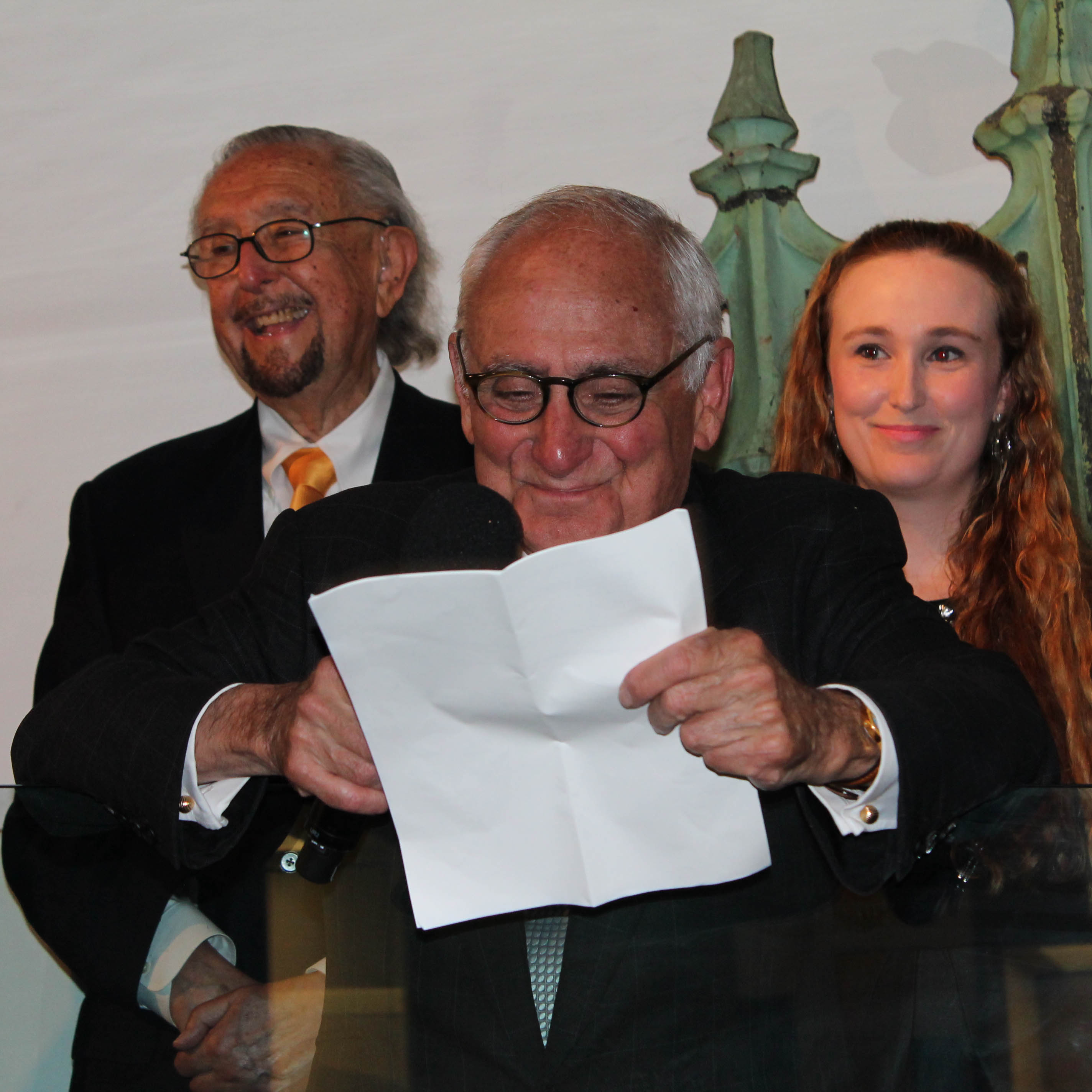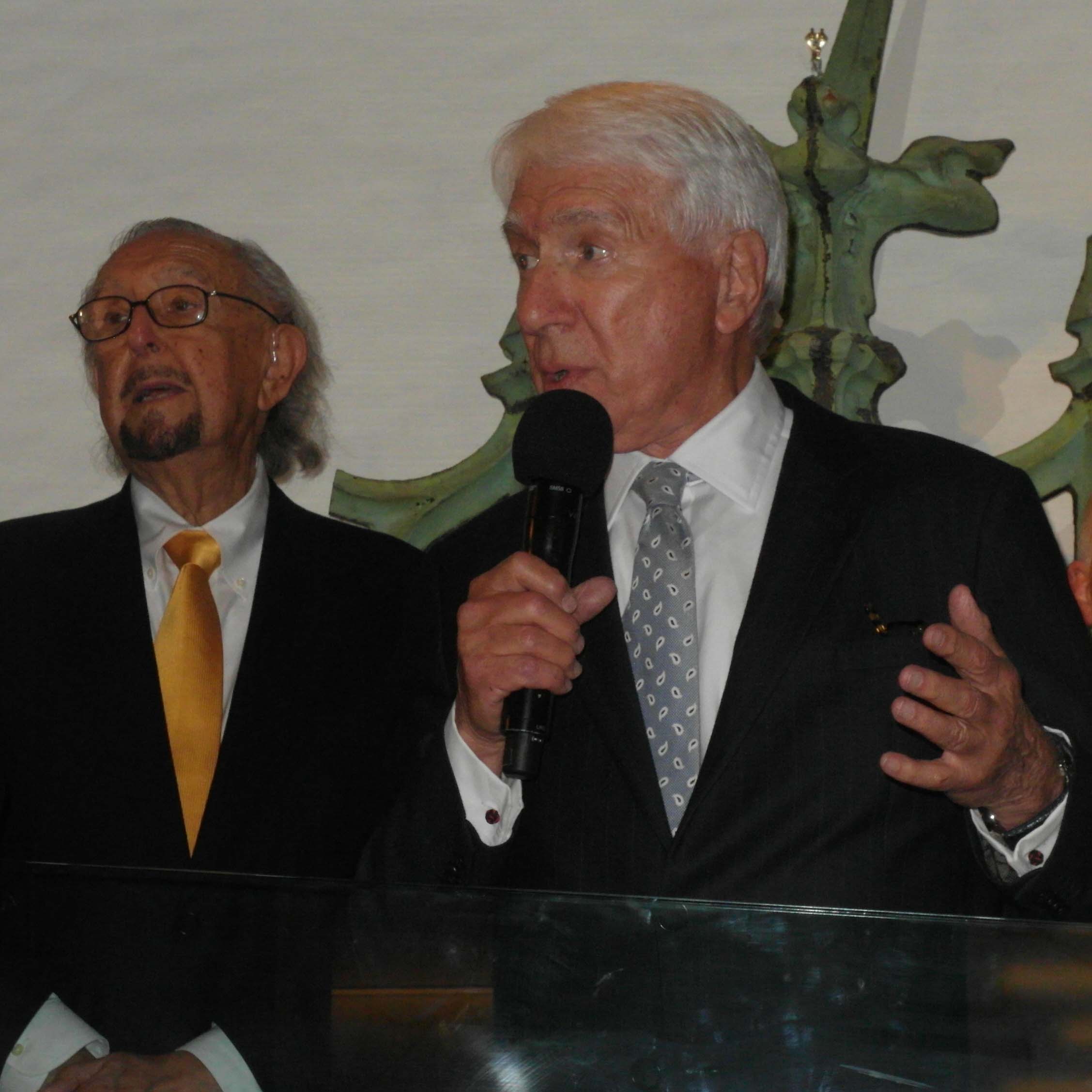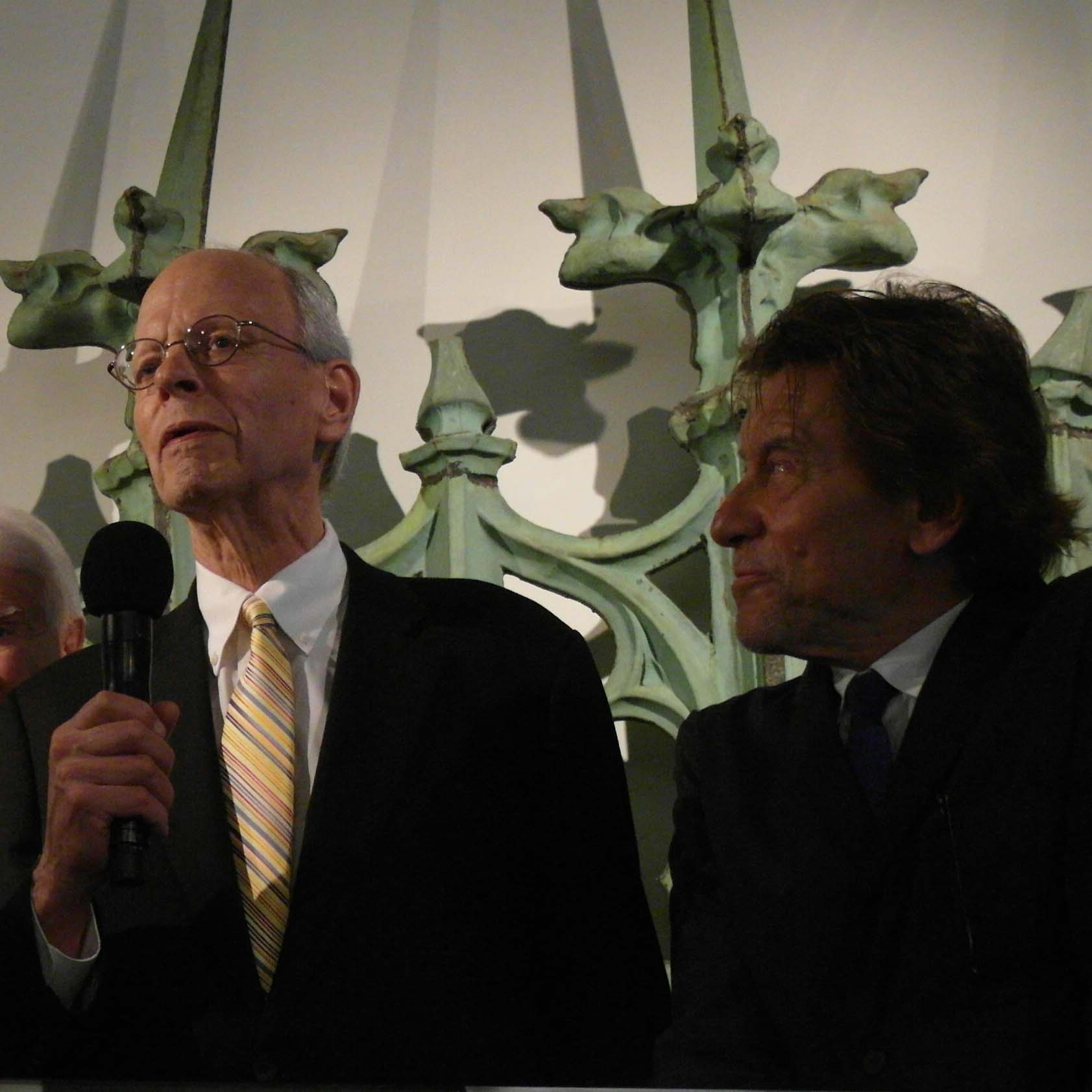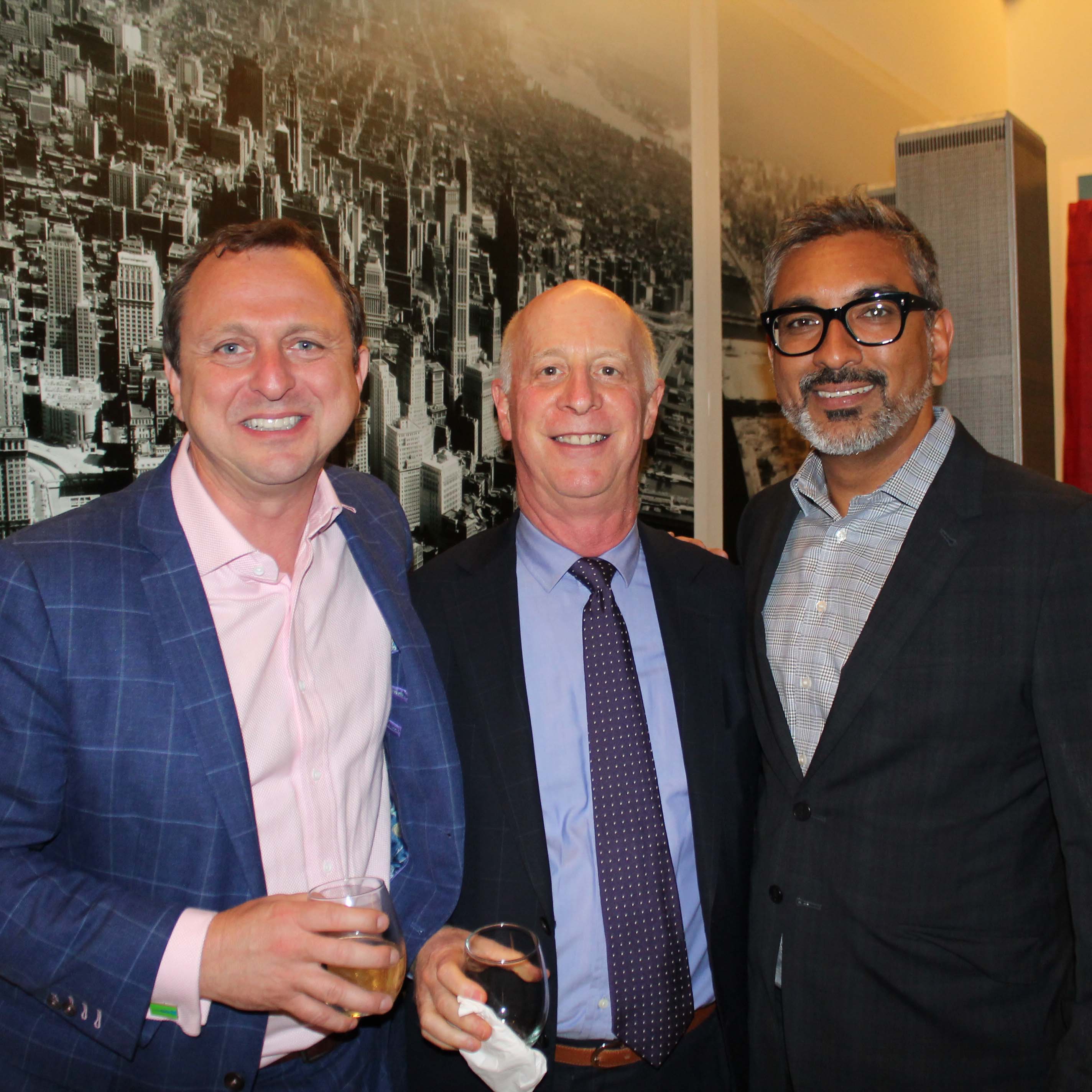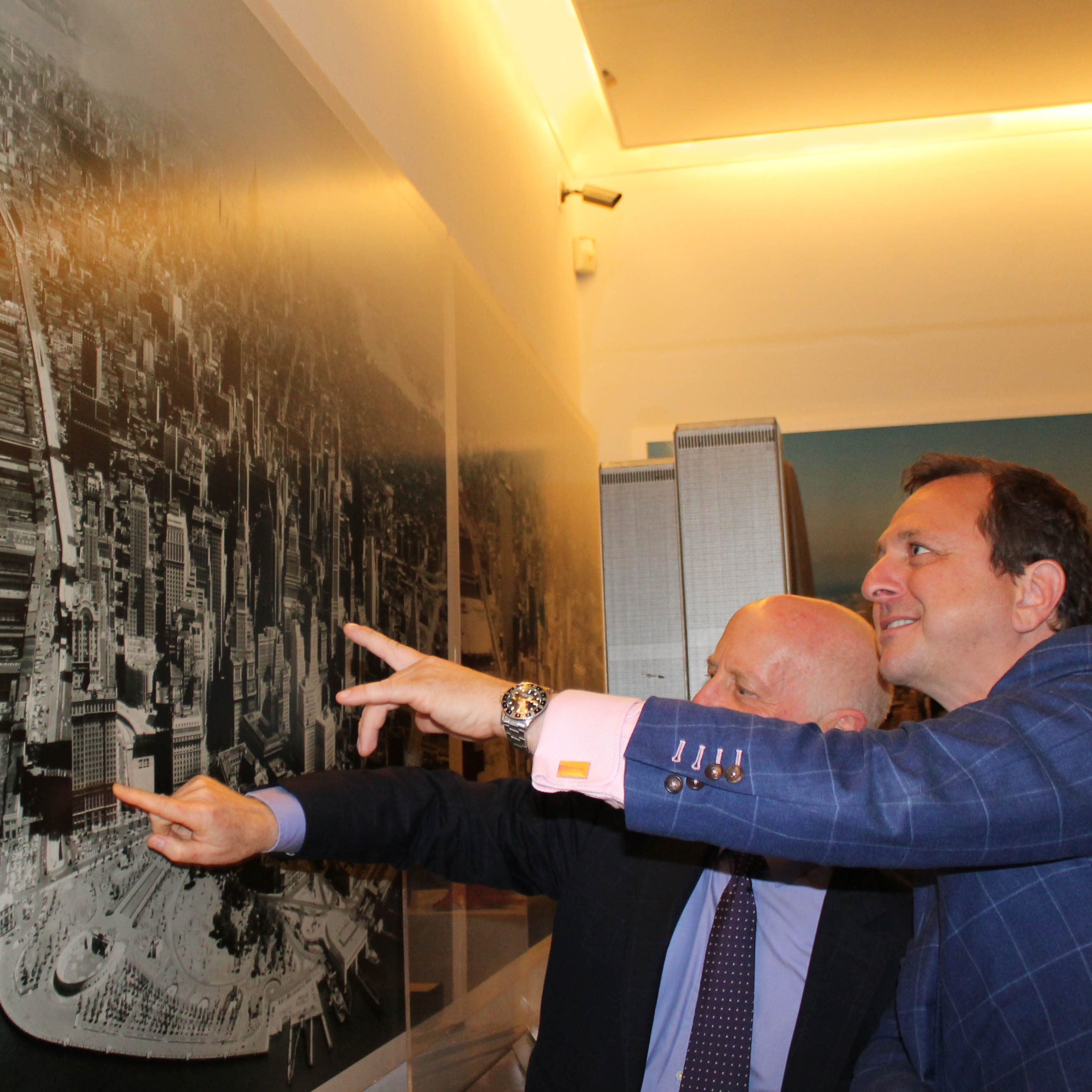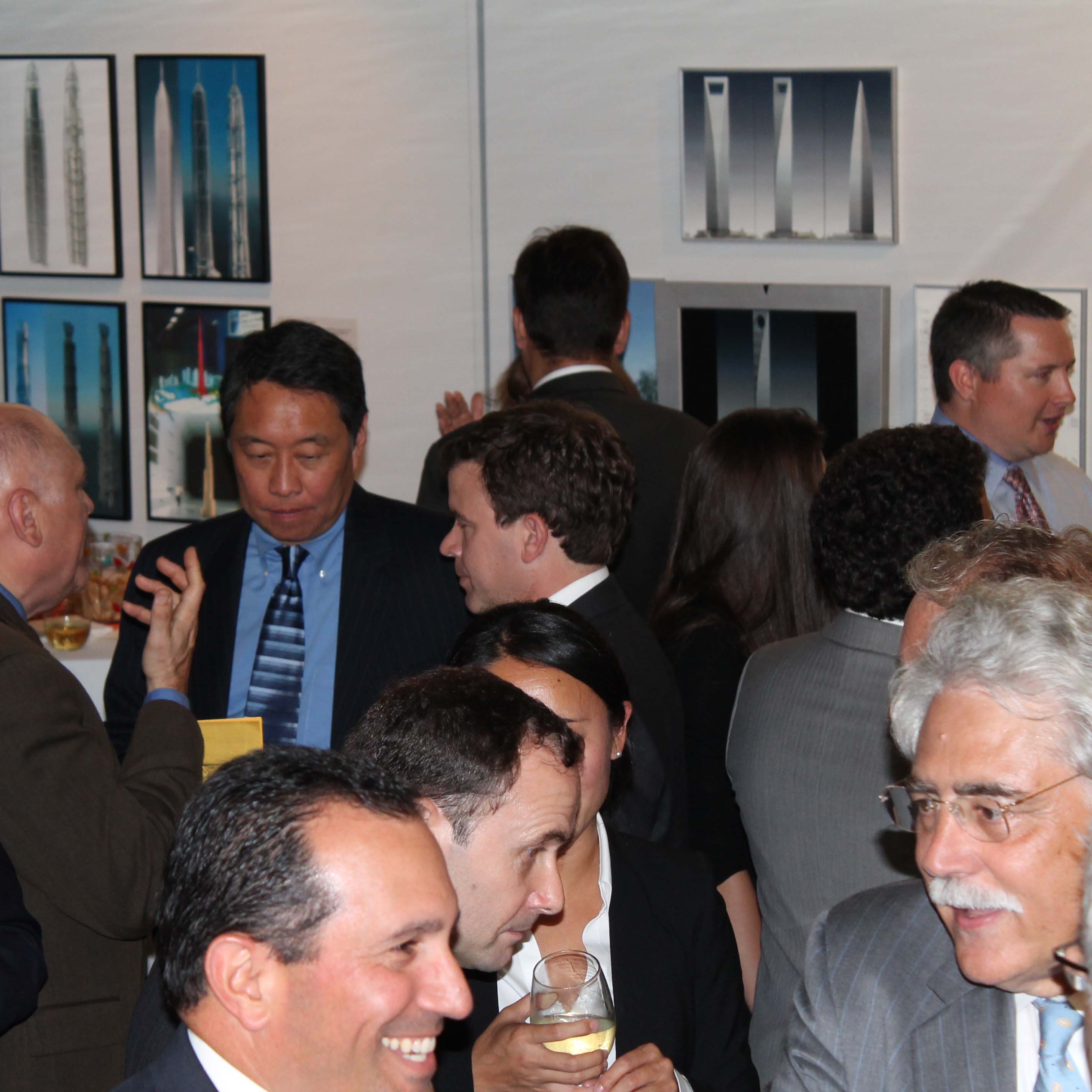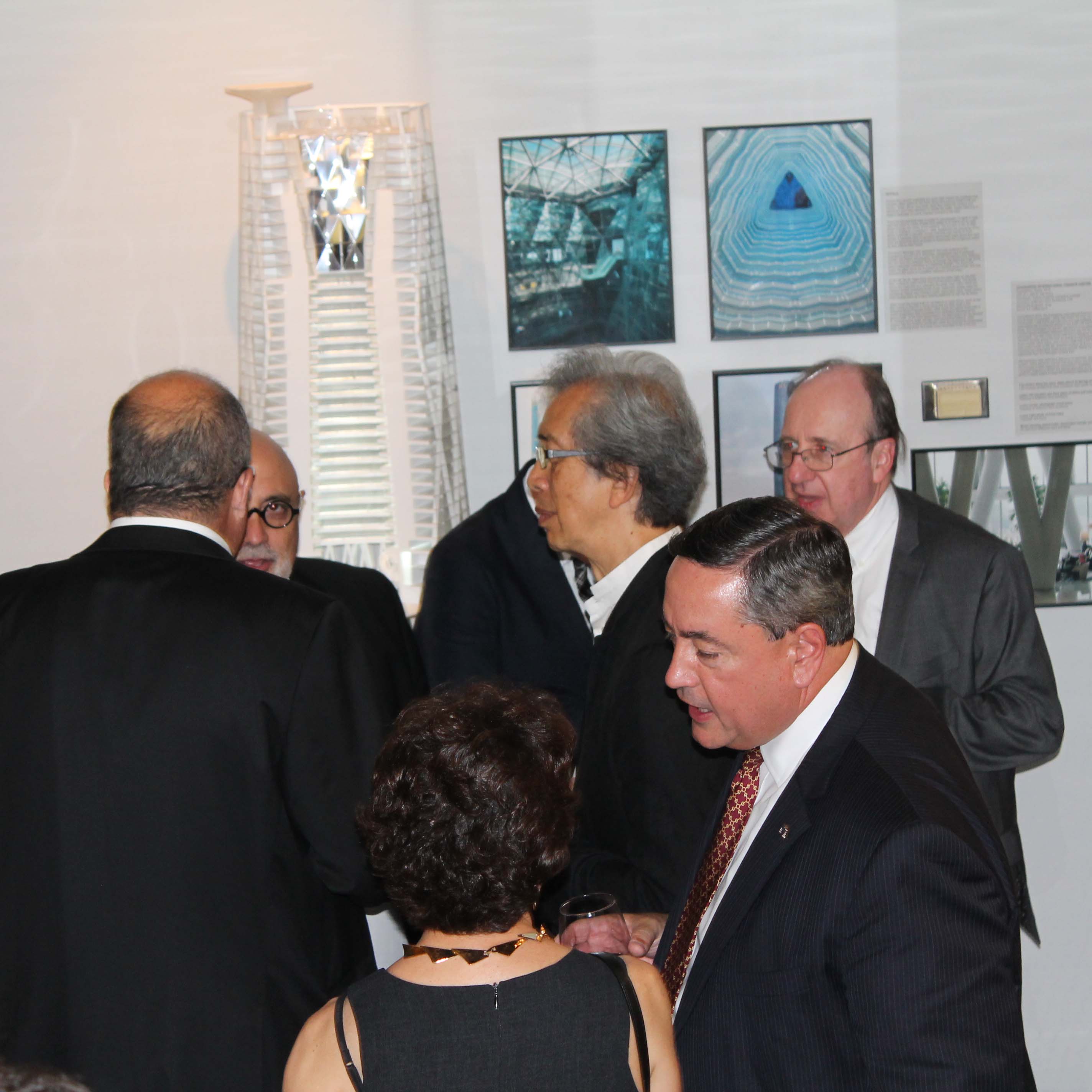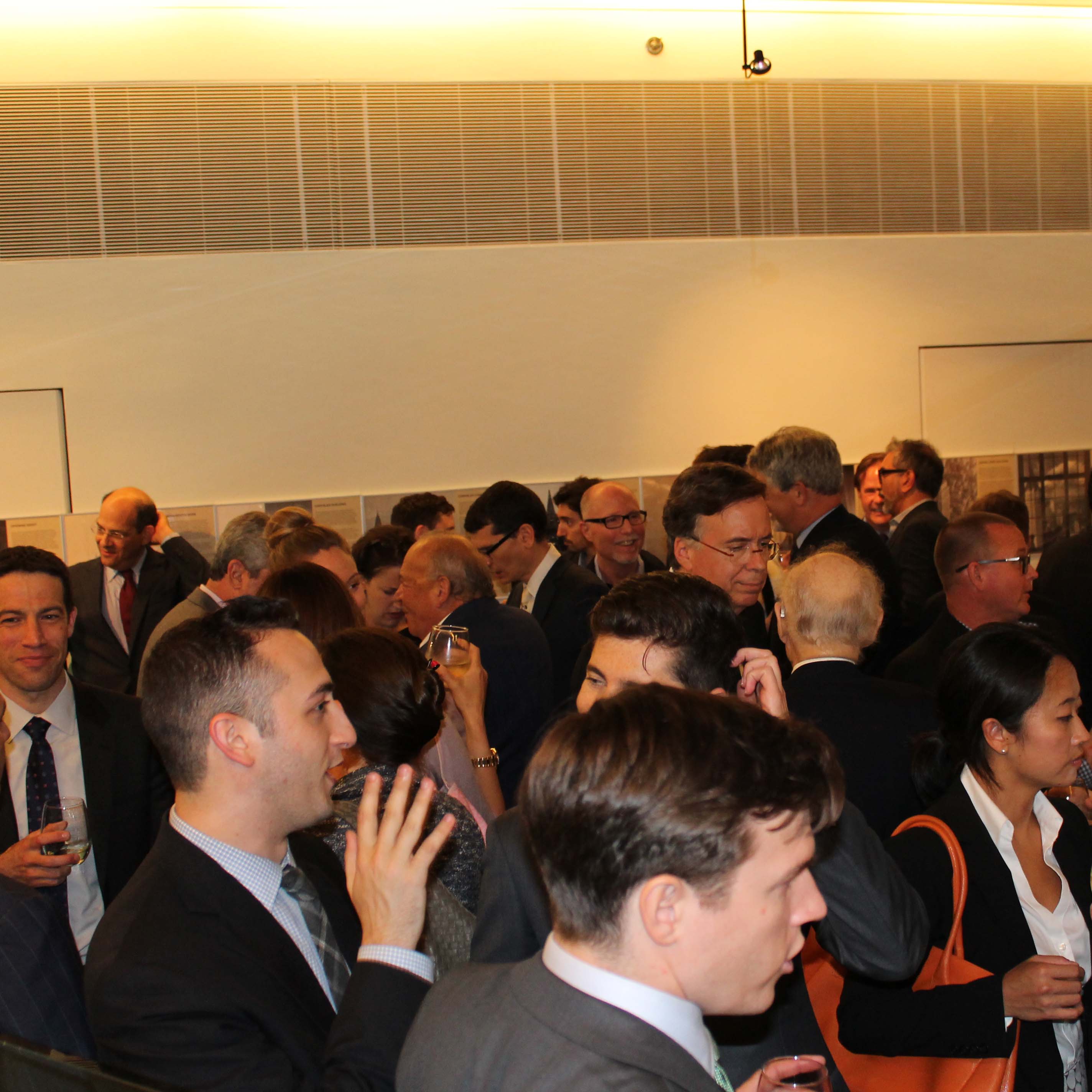 Since forming his namesake firm in 1957, Gerald D. Hines has been a leading American and international urban developer and skyline builder. Through his personal vision and commitment to architectural quality, he has created a company and defined a brand recognized worldwide as a leader on creating buildings that balance function, beauty, and sustainability.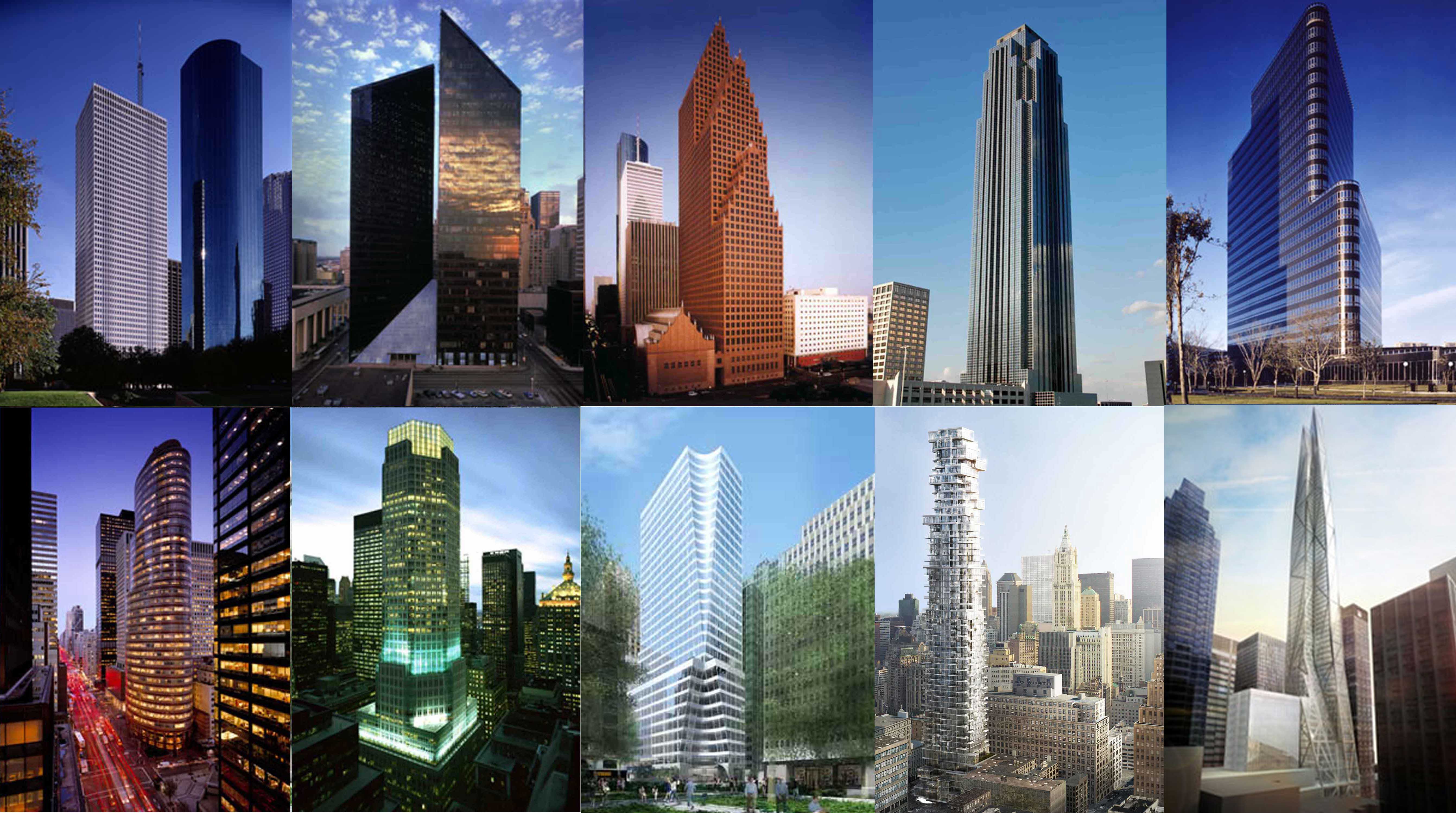 Images left to right: in Houston: One Shell Plaza: Pennzoil Place: Bank of America Center; Williams Tower; One Post Oak Central; in New York: 53rd At Third; 383 Madison Avenue; 7 Bryant Park; 56 Leonard; 53W53.
Today, Hines has a presence in more than 120 cities worldwide, offices in 19 countries, and a portfolio of more than 1,350 properties, including skyscrapers, corporate headquarters, mixed-use centers, industrial parks, medical facilities, and master-planned resort and residential communities.
Hine's history in New York City dates back thirty years to a series of notable skyscrapers, beginning in 1986 with the striking "Lipstick Building" designed by Philip Johnson. A succession of significant midtown towers followed in the Eighties and Nineties, including 31 West 52nd St., 450 Lexington, 383 Madison, and 745 Seventh Avenue. Extraordinarily active on the skyline and streets of Manhattan today, Hines is currently completing a new office tower at 7 Bryant Park, the luxury lofts tower at 56 Leonard, and the iconic "MoMA Tower" at 53W53.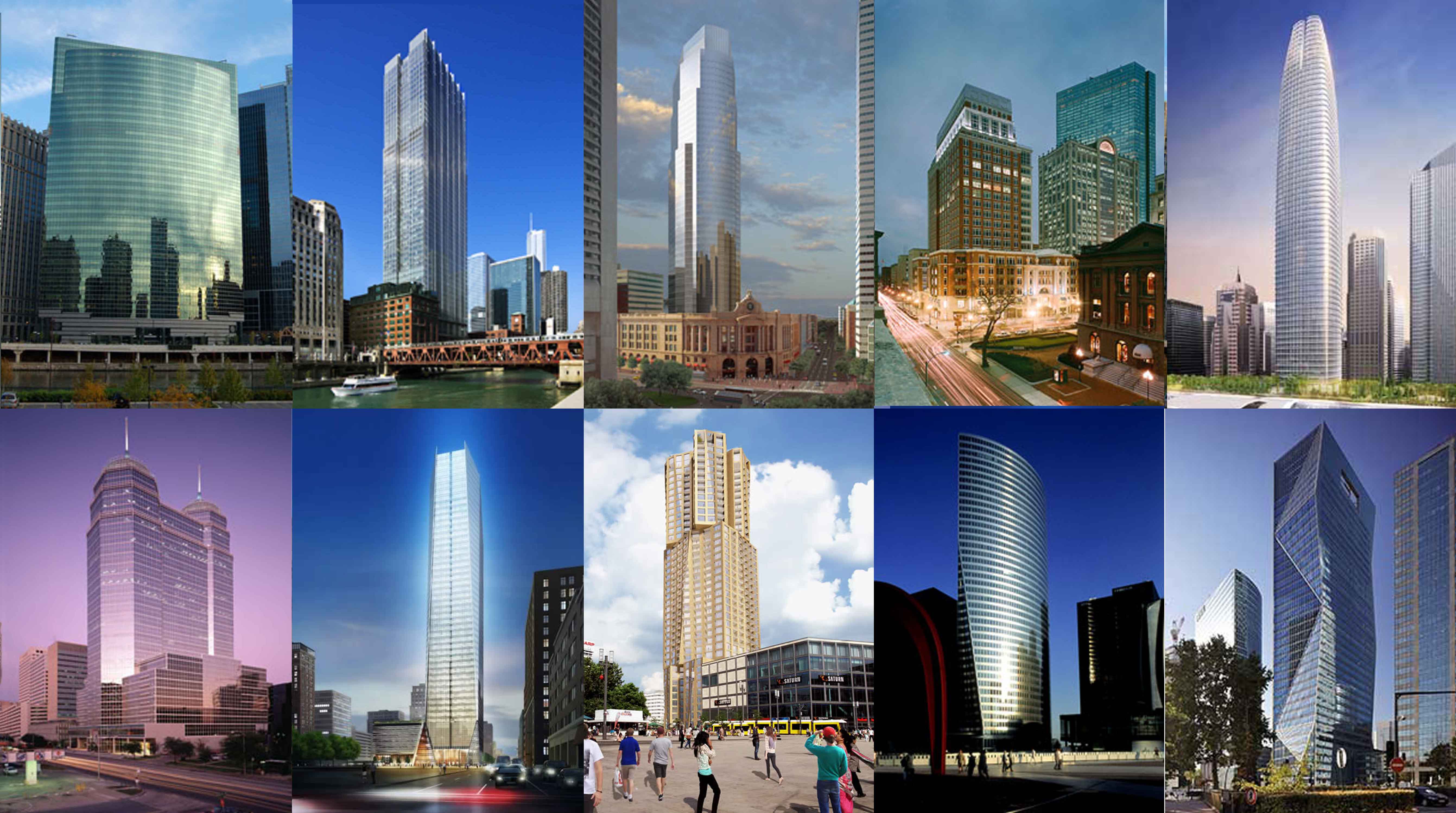 Images left to right: In Chicago: 333 West Wacker Drive; 300 North LaSalle; in Boston, South Station; Two Twenty Two Berkeley; in San Francisco: Salesforce Tower; in Houston: The O'Quinn Medical Tower at St. Luke's; 609 Main at Texas; in Berlin: Alexanderplatz Residential Tower; in Paris: EDF Tower; Tour Carpe Diem.
Contributors to The Skyscraper Museum
in honor of Gerald D. Hines
The Skyscraper Museum gratefully acknowledges the generous support of the following companies and individuals in honoring Gerald D. Hines:

Benefactor
Hines
Kohn Pedersen Fox Associates PC
Pelli Clarke Pelli Architects, LLP
Pickard Chilton
Carol & Mark Willis

Platinum
Boston Properties
CBRE
Goldstein, Hill & West Architects
Hudson Yards, a Related Oxford venture
Pei Cobb Freed & Partners Architects LLP
Pontiac Land Group, Singapore
Proskauer
Schindler Elevator Corporation
SL Green Realty Corp.
Stephen M. Ross
Tishman Speyer
Turner Construction Company

Gold
Architectural Record
Benchmark Hospitality International
Bloomberg Philanthropies
Corcoran Sunshine Marketing Group
Eastdil Secured
Jaros Baum & Bolles
Kramer Levin Naftalis & Frankel
Magnusson Klemencic Associates
MG Properties
Morgan Stanley
Park Tower Group
Robert A.M. Stern Architects
SHoP
Skidmore, Owings & Merrill
Robert Steel
Thornton Tomasetti
WSP

Silver
ABM
Adamson Associates
Ann Buttenwieser
Fried, Frank, Harris, Shriver & Jacobson LLP
Gensler
HOK
Ismael Leyva Architects, P.C.
Kasirer Consulting
Langan
Lend Lease
McNamara Salvia
Pavarini McGovern
Savills Studley, Inc.
Schneider Electric
Shearman & Sterling LLP
SLCE Architects, LLP
STUDIOS Architecture
Tishman, an AECOM Company
Van Deusen and Associates
Vidaris

Steel
Atlantic Engineering Labs Inc.
Hilary Ballon
Capalino + Company
CCA Construction Consulting Associates
Michael De Chiara
DeSimone Consulting Engineers
Douglaston Development
Enclos
Five Star Electric
Greenberg Traurig
Owen Gutfreund
George S. Kaufman
L&L Holding Company LLC
Loews Hotels
Mechoshade Systems
Marcus Attorneys
MdeAS Architects
Protec Documentation Services, Inc.
R&R Scaffolding Ltd
Stantec Consulting Services, Inc.
Starr Associates LLP
Tener Consulting Services LLC
Trinity Real Estate
Lynne B. Sagalyn
Shen Milsom & Wilke
Troutman Sanders
Waldorf Demolition
Zetlin & De Chiara LLP
William L. Zeckendorf
Mortimer Zuckerman


The Museum gratefully acknowledges additional support from: A. Esteban & Company, AKRF, Bramco Plus LLC, Brandon Haw Architecture, Cerami & Associates, DBOX, Harold Fredenburgh, FXFOWLE, Gene Kaufman, James Carpenter Design Associates, Johnson Fain, JP Morgan Chase, KPMG LLP, Michael Krupa, Don Lebowitz, Ken and Ronnie Lowenstein, Leslie E. Robertson Associates, Nicholas Lembo, Ronnette Riley, R&R Scaffolding, Schneider Electric, Silvercup Studios, Steven Emmanuel, STV Construction, Urban Foundation Engineering, and WCD.
Click here to view past events.
Beginning in 1998, our distinguished honorees of the MAKING NEW YORK HISTORY AWARD have been: Kenneth T. Jackson & Robert A.M. Stern, John L. Tishman and Daniel R. Tishman, Douglas Durst, Larry Silverstein, The Port Authority of NY and NJ with Anthony R. Coscia and Christopher O. Ward, The Battery Park City Authority, The Empire State Building in honor of--in the tower's 79th year--the glorious restoration of its original Art Deco lobby and the beginning of a transformative "green" rejuvenation, 1 Chase Manhattan Plaza with Frank J. Bisignano and Skidmore, Owings & Merrill, Daniel L. Doctoroff, CEO & President of Bloomberg and former NYC Deputy Mayor for Economic Development and Rebuilding, Brookfield Office Properties, on the 25th anniversary of The World Financial Center, and Stephen M. Ross.