The Skyscraper Museum is devoted to the study of high-rise building, past, present, and future. The Museum explores tall buildings as objects of design, products of technology, sites of construction, investments in real estate, and places of work and residence. This site will look better in a browser that supports web standards, but it is accessible to any browser or Internet device.

Central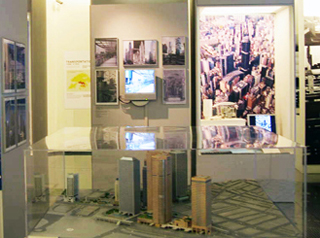 On the mountainside above Central, rising steeply up the slope of Victoria Peak is the Mid-levels, a residential district that is perhaps the most densely developed square kilometer in the world. Slenderness is a characteristic of many of its apartment towers, which due to liberal zoning codes were built on small lots at a ratio of up to 18 times the area of the lot.
In the 1980s and 1990s, Central, the key business and administrative district, expanded both eastward-- and upward-- with a new generation of skyscrapers that captured world attention. The first was the 47-story HSBC Bank, designed by Norman Foster and completed in 1985. The serene geometry of the 72-story Bank of China by I.M. Pei, completed in 1990, was soon crowded in with a cluster of large towers, including the Cheung Kong Centre by Cesar Pelli.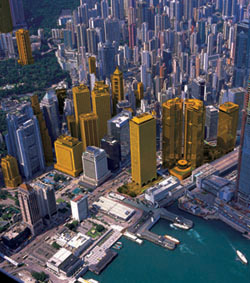 The siting of these towers, as well as multi-building complexes such as the group of hotels and commercial space at Pacific Place, bore little relation to the streets they faced, as do New York buildings, and observed the Chinese tradition of feng shui.