The Skyscraper Museum is devoted to the study of high-rise building, past, present, and future. The Museum explores tall buildings as objects of design, products of technology, sites of construction, investments in real estate, and places of work and residence. This site will look better in a browser that supports web standards, but it is accessible to any browser or Internet device.

Housing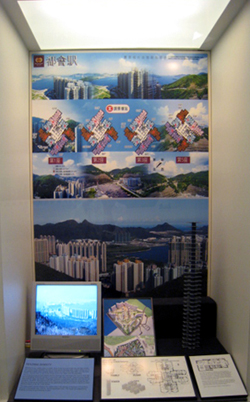 Whether luxury, middle-class, or public, Hong Kong housing is high-rise and high density. The Hong Kong government leases land for development and keeps the value of land high by encouraging residential density in conjunction with mass transit. These housing estates were built by major real estate companies, working in cooperation with the mass-transit rail company, the MTR. Rail stations form the hub for a multi-level commercial shopping mall that also serves as the podium base for the apartments that often number a dozen or more identical towers of 40, 50, or 60 stories.
The Taikoo Shing towers, or "mansions" as housing estates are often called, are typical of the first generation of middle-class private housing projects. An average unit is sized at 860 square feet and comprises 2-3 bedrooms, 1-2 bathrooms, 1 kitchen, and 1 living or dining space. Typically, 8 units interlock around a central core to form a symmetrical plan, which is then repeated 27 to 30 times to create the standard residential tower.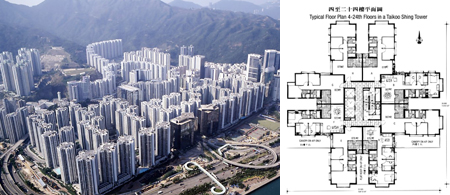 Taikoo Shing


Modular in both the plan, and often, prefab construction, the tower is unrelated to its site and context. Composing an estate, the towers sit on a podium base, which offers controlled access through security gates and provides retail and recreational spaces.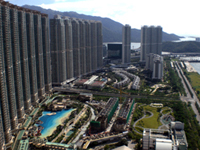 Tung Chung