The Skyscraper Museum is devoted to the study of high-rise building, past, present, and future. The Museum explores tall buildings as objects of design, products of technology, sites of construction, investments in real estate, and places of work and residence. This site will look better in a browser that supports web standards, but it is accessible to any browser or Internet device.

Hong Kong | New York Maps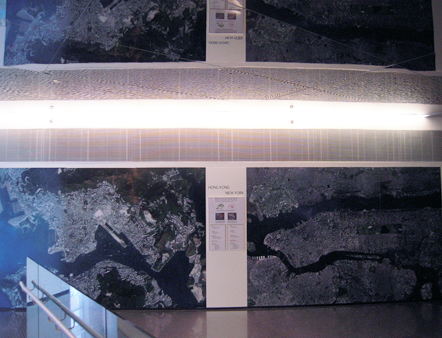 Google Maps Aerial Comparison of Hong Kong and New York.
These two aerial views of Hong Kong and New York, principally Manhattan, were taken at a distance of 14.1 kilometers or 8.75 miles from the Earth's surface.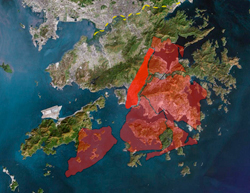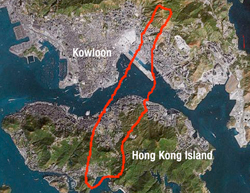 Hong Kong refers to the territory called the Special Administrative Region (SAR) and to the island of Hong Kong, as well as to its urban identity. Like New York's five boroughs, the Hong Kong territory is a large area - 1,104 square kilometeres or 426 miles -- about one-third larger than New York City.
More than three-quarters of the mountainous Hong Kong SAR is reserved for nature or agriculture. Only 100 square miles is built environment.

New York City and Manhattan both have the opposite ratio: three-quarters is built area and only one-quarter is reserved as parks and open space.

Kowloon, the area north of Hong Kong Island and part of the Chinese mainland, is Hong Kong's most populous and densely-built district.