The Skyscraper Museum is devoted to the study of high-rise building, past, present, and future. The Museum explores tall buildings as objects of design, products of technology, sites of construction, investments in real estate, and places of work and residence. This site will look better in a browser that supports web standards, but it is accessible to any browser or Internet device.

Vertical Shopping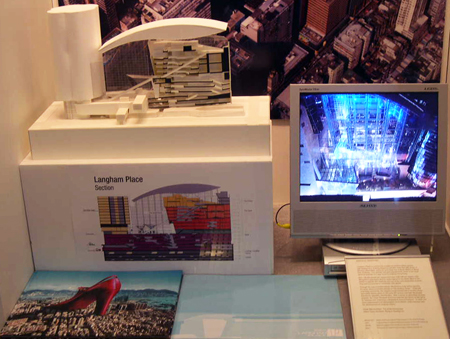 Langham Place, a commercial complex of nearly 2 million square feet shoehorns a 15-story shopping mall with more than 300 shops, a 59-story office tower, and a 42-story hotel into a dense district of Mong Kok, Kowloon. This vertical mall and entertainment center is the most extreme example of a type found throughout Hong Kong.
With 130,000 people per square kilometer (336,788 per square mile) Mong Kok's population density ranks highest in the world, packed into relatively low-rise shops and restaurants at street level and commercial or residential units above.
Through its numerous transformations, Mong Kok's long history upholds its name, which translates literally to "the bustling corner." Originally a farming community, the neighborhood transitioned to laundry shops and textile dyeing plants in the early 20th century, and further developed districts for specialty merchandise. After a series of piecemeal renewal projects, the Urban Renewal Authority selected two blocks of MongKok to "cleanse and modernize a dilapidated area of Kowloon." In 2004, the area experienced a re-interpretation of its historic retail character with the development of Langham Place.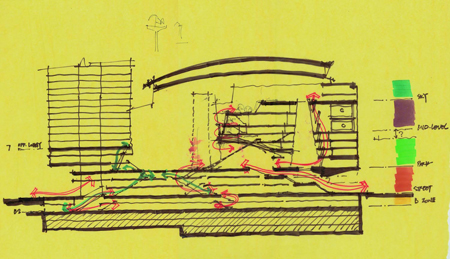 Retail Mall Architect: The Jerde Partnership
Office Tower Architect: Wong & Ouyang Ltd.