The Skyscraper Museum is devoted to the study of high-rise building, past, present, and future. The Museum explores tall buildings as objects of design, products of technology, sites of construction, investments in real estate, and places of work and residence. This site will look better in a browser that supports web standards, but it is accessible to any browser or Internet device.

Slender Towers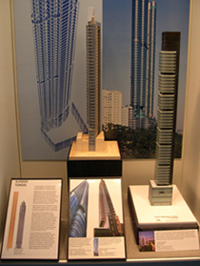 Extreme slenderness is characteristic of Hong Kong's tall buildings, and the city has more pencil-thin towers than any place in the world.
Beginning in the 1970s, Hong Kong's high land values and liberal zoning laws spawned whole districts of extraordinarily slender and densely-packed apartment towers, such as the Mid-levels, as well as dramatic individual towers such as the luxury apartments, Highcliff and The Summit. The 72-story, 828-foot / 252 meter Highcliff, which has a slenderness ratio of 1:20, holds the title for the most slender skyscraper in the world.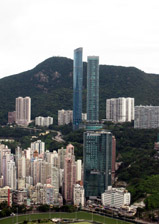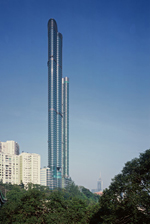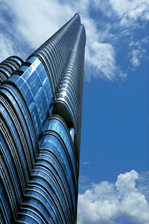 Left: Highcliff and The Summit, photo by Carol Willis; Center: Highcliff and The Summit, courtesy of Colin Hamilton; Right: Highcliff, courtesy of Magnusson Klemencic Associates.
Slenderness is the ratio of the building's base to its height. Engineers consider a ratio of 1:12 or greater to be slender, and special measures are required to counteract the exaggerated forces of wind and sway.


Left: Bush Building, slenderness ratio, 1:9.7; Right: A ruler, slenderness ratio, 1:12.
Many of New York's early twentieth-century skyscrapers were very tall and thin, because developers wanted to create as much rentable space as possible and no laws yet constrained them. After 1916, though, zoning laws limited "extruded" towers on small lots and encouraged the "wedding cake" setback form of a broad base. After a new zoning law in 1961, towers could take any shape, but were limited by a numerical FAR, the floor-area ratio. Generally today, the highest permissible FAR that can accrue through various bonuses or purchase of air rights is 15 to 18.
Recently in Manhattan, several pencil-thin residential towers have been added to the skyline using purchased air rights. The models of 785 Eighth Avenue and One Madison Park displayed here demonstrate the various forms of this new generation of buildings. Each building illustrates a different type of slenderness, based on their sites and context--785 8th Avenue is a thin wedge, varying in shape, while One Madison Park is a modern interpretation of the pencil tower.
One Madison Park rises 621 feet and 51 stories on East 23rd Street, at the corner of Madison Square. The all-glass apartment tower uses the air rights of adjacent buildings to achieve an FAR of 1:18 and has a slenderness ratio of 1:12. It is slightly shorter, but slimmer, than the stately Metropolitan Life Tower, which upon completion in 1909 was the world's tallest office building. Today, the most slender towers in New York, Hong Kong, or anywhere are residential buildings, which require far fewer elevators than business towers.
Of Hong Kong's many pencil-thin towers, none match the drama of the 72-story Highcliff and its companion, the 65-story Summit, which cling to the mountainside above the Happy Valley district. At 1:20, Highcliff's slenderness ratio holds the world record.