The Skyscraper Museum is devoted to the study of high-rise building, past, present, and future. The Museum explores tall buildings as objects of design, products of technology, sites of construction, investments in real estate, and places of work and residence. This site will look better in a browser that supports web standards, but it is accessible to any browser or Internet device.

Luxury Housing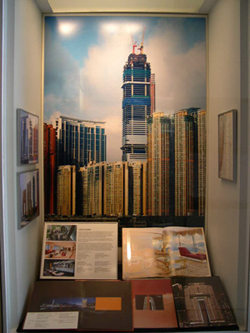 Many of Hong Kong's most up-scale new residential developments are clusters of very tall towers on the Kowloon waterfront. The most imposing group is the fortress-like complex at Union Square, where more than 8,000 residential units in 15 buildings-- generally ranging from 60 to 75 stories - ring a landscaped courtyard that is also the roof of the multi-level shopping mall and express train station below.
The major buildings are: The Arch; the turquoise Harbourside with its aperture sky gardens; the twin all-glass Cullinan towers; the multiple cylinders of the Sorrento; and the lower-rise Waterfront.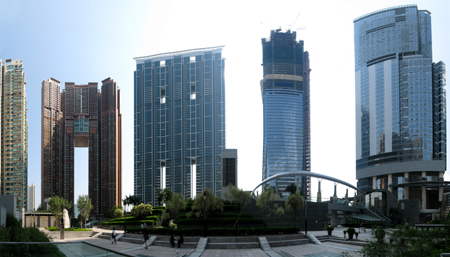 Key marketing feature of these giants include amenities such as upper-level club houses, spas, restaurants, swimming pools, and shared "sky gardens" for elevated outdoor views. The sales brochures below illustrate the opulent amenities of some of these buildings. Prices for apartments, which generally range in size from 800 to 4,000 square feet (74 to 372 square meters), are said to sell for around HK $15,000/ US $2,000 per sq ft, and the penthouse in The Arch recently sold for US $28.8 million.