The Skyscraper Museum is devoted to the study of high-rise building, past, present, and future. The Museum explores tall buildings as objects of design, products of technology, sites of construction, investments in real estate, and places of work and residence. This site will look better in a browser that supports web standards, but it is accessible to any browser or Internet device.

Mid-Levels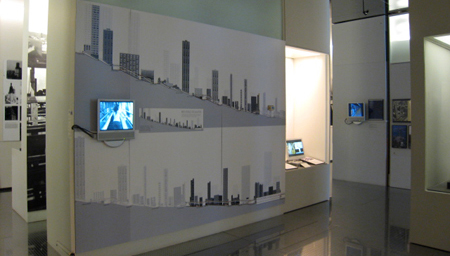 At 800 meters long, Hong Kong's Mid-Levels Escalator is the world's longest system of its kind. In operation since October 1994, it is a detailed transit solution of elevated stairs, ramps and pedestrian walkways that carries commuters along its half-mile climb. Its route takes it from the downtown Central district, up to Conduit Road in the Mid-Levels, a residential neighborhood of high-rises and commercial life set against the green mountain of Victoria Peak. The Escalator also serves as a tourist attraction, offering visitors a tour through Hong Kong's popular SoHo neighhorbood of luxury residential districts and once the top is reached, exciting views.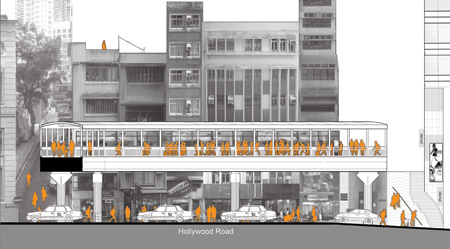 Urban life thrives in the Mid-Levels, and housing is predominantly within high-rise apartment blocks, many enjoying harbour views and tree-lined public walks. The Escalator runs daily downhill from 6 AM to 10 AM, and uphill from 10:30 AM to midnight, alleviating vehicular traffic along the hairpin roads that climb the Peak. Pedestrians traveling in the opposite direction are able to ascend or descend using the adjacent stairs and footpaths. Shopping, restaurants, and other conveniences are accessible directly from the Escalator that snakes between buildings and city infrastructure.
The installation in the exhibition by Laurence Liauw Wie-Wu, UK-registered architect and Associate Professor at the Department of Architecture, Chinese University of Hong Kong, celebrates Hong Kong's 800-meter escalator. His main area of specialty is in Chinese contemporary urbanism and typological parametric design through research, professional practice, and publications. Mr. Liauw's work was selected as one of the eight team of exhibitors representing Hong Kong in the city's debut appearance in the 10th Venice Biennale International Architecture Exhibition 2006.