The Skyscraper Museum is devoted to the study of high-rise building, past, present, and future. The Museum explores tall buildings as objects of design, products of technology, sites of construction, investments in real estate, and places of work and residence. This site will look better in a browser that supports web standards, but it is accessible to any browser or Internet device.

Harvey Wiley Corbett
Corbett became the most outspoken and widely quoted apologist for the skyscraper in the debate over the relation of tall buildings and traffic congestion that was argued in the press in the mid-1920s. The volumes stacked here represent some of the many professional journals in which Corbett promoted his thoughts on skyscrapers, setback zoning, and city planning in more than thirty articles in the 1920s.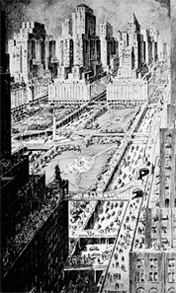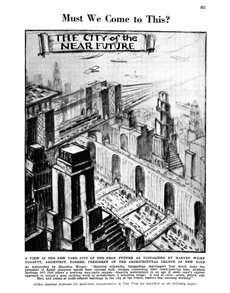 Left: Separation of Traffic, V. Hagopian (based on the designs of Harvey Wiley Corbett) 1931. Right: "The City of the Near Future" by Walter Oltar-Jevsky, based on the ideas of Harvey Wiley Corbett The American City Magazine, June 1927
Corbett's rhetoric was communicated principally in writing and lectures, not drawings. None his visionary proposals were in his own hand, and after he stopped using Ferriss as his preferred delineator around 1926, the illustrations of his schemes were generally uninspiring and often awkward, as the renderings of ideas for multilevel traffic and various setback towers below. At the left is a rendering signed by a delineator named Hagopian, prepared for the Regional Plan; at the right, a cartoonish drawing of a Corbett scheme that was published in The American City in 1927 as an implicit critique of its impracticality.
Traffic Studies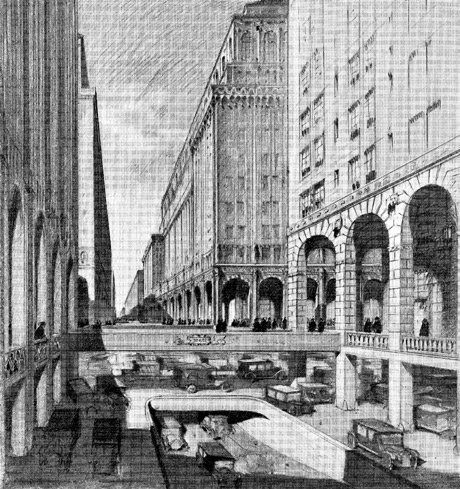 Caption ID: Traffic Study Prepared by Corbett for Regional Plan, 1924.
In 1923, Harvey Wiley Corbett chaired the Regional Plan of New York's committee on "Fifty-ninth Street and Traffic Studies," which considered innovative ways to relieve traffic congestion in the central business districts. Rather than building new streets or widening existing ones-which Corbett and others on the committee found impractical-they recommended segregating and layering traffic: rail lines would run underground, vehicles at street level, and pedestrians above on elevated sidewalks. His plan would shelter pedestrians beneath arcaded sidewalks connected by bridges. The area formerly occupied by sidewalks could then be used exclusively by automobiles. Without increasing the size of the street, he argued, his plan would increase both space and safety.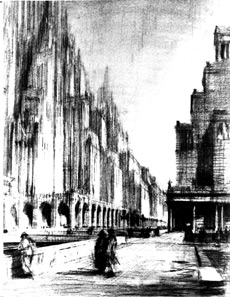 Traffic Study Prepared by Corbett for Regional Plan Association Hugh Ferriss, Deliniator
Corbett lectured widely on the topic and published his writings, with the accompanying illustrations by Hugh Ferriss, in numerous magazines, including Architectural Forum, The American City, and The Saturday Evening Post.