The Skyscraper Museum is devoted to the study of high-rise building, past, present, and future. The Museum explores tall buildings as objects of design, products of technology, sites of construction, investments in real estate, and places of work and residence. This site will look better in a browser that supports web standards, but it is accessible to any browser or Internet device.

Popular Culture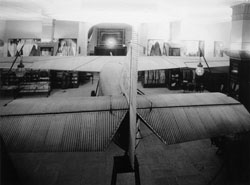 In the 1920s, exhibitions played an important role in introducing modern design to the American public. One of the earliest showcases for visions of New York's future was the October 1925 exhibition at the John Wanamaker department store, entitled "The Titan City, a Pictorial Prophesy of New York, 1926-2026," which was part of a larger tri-centennial celebration of the founding of New York.
The Titan City was another collaboration of the dynamic duo, Hugh Ferriss and Harvey Wiley Corbett, who wrote to the delineator in August 1925 that the exhibition seemed "a most interesting opportunity to get someone to pay for the futuristic ideas we have discussed."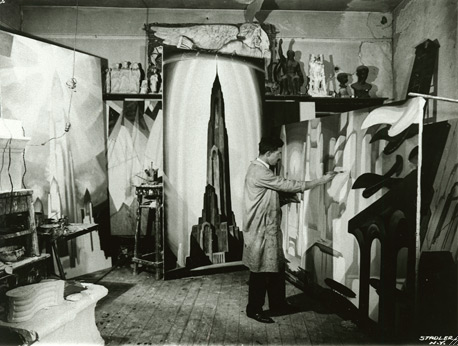 Hugh Ferriss Painting in his Studio, from "Titan City" brochure, New York: John Wanamaker, 1927
Ferriss painted a series of large black and white murals that included soaring cathedral towers, airship landings, and abstract evocations of the zoning envelope drawings, which were arrayed throughout the store's selling floors. Other Corbett proposals for superblock towers and multilevel traffic separation were illustrated by the artist Robert Chandler, and drawings for his committee for the Regional Plan were also exhibited.
The show drew large crowds and also received acclaim in the press. Critic Leon Solon praised it as "the first organized professional expedition into the future, a statement of structural ideals, and a proof that no problem is so vast that it is beyond the imaginative limits of the American architect." He added, "The sudden realization was brought to us that the future of architecture has become a matter of public concern."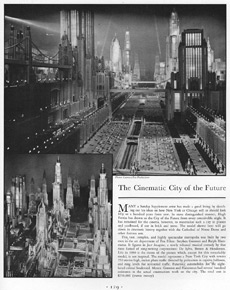 Photograph of film set from Just Imagine. 1931
In 1930, Twentieth Century Fox released the early talkie film "Just Imagine," a light-hearted "science-fiction musical" that fantasized a New York fifty years hence in 1980. Created at a time before computerized special effects, the Hollywood set designers constructed a massive model inside a blimp hanger. Visually, the movie city closely resembled the predictions of architects and planners of the twenties, and the artistic directors Stephen Goosson and Ralph Hammeras cited Ferriss as a major influence. Their set-back towers, multi-level transport, and skyscraper bridges illustrate the spread of the architects' visions into mainstream culture.