The Skyscraper Museum is devoted to the study of high-rise building, past, present, and future. The Museum explores tall buildings as objects of design, products of technology, sites of construction, investments in real estate, and places of work and residence. This site will look better in a browser that supports web standards, but it is accessible to any browser or Internet device.

Rockefeller Center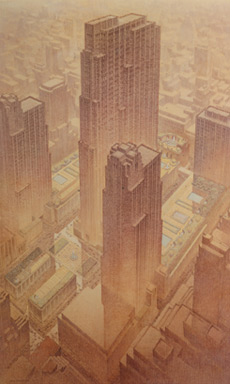 Proposed Aerial View of Rockefeller Center with Extensive Roof Gardens Delineator: John Wenrich
Rockefeller Center has a visionary dimension: it materialized a microcosm of the twenties' ideal, rationalized city of the future. Unprecedented in its sweeping scale of "urban renewal" (decades before the term was invented), Rockefeller Center replaced three full city blocks of low-rise, low-rent buildings, stretching from Forty-eighth to Fifty-first Streets between Fifth and Sixth Avenues, with a skyscraper complex of more than a dozen mixed-use buildings, with its multiple towers, widely spaced for sunlight and views.
The centerpiece of the harmonious architectural ensemble was the seventy-story RCA Building, a tower that took the new form of a "slab," rather than the stepped pyramid produced by the zoning law, and that achieved a titanic scale, a volume of more than two million square feet, that was matched only by the Empire State Building.
Raymond Hood and Harvey Wiley Corbett collaborated as key senior figures on the Center's larger team of designers, called the Associated Architects of Rockefeller Center. In the earliest stages of the design, Corbett advised on the overall site plan, advocating for plazas and arcades, a two-story commercial mall that bridged the cross streets, and separate pedestrian and vehicular zones, as in his visionary proposals.
Hood's major contributions to Rockefeller Center were the massing of the RCA Building and the introduction of roof gardens throughout the complex.xtensive development of roof areas as interlocking gardens and a lofty observation deck created a romantic landscape in the sky that surpassed the visionary drawings by Hugh Ferriss of the early 1920s.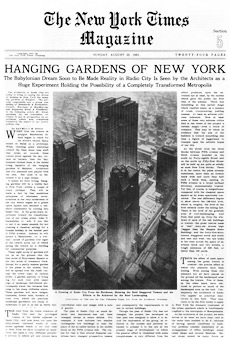 Raymond Hood, "Hanging Gardens of New York," The New York Times Magazine, August 21, 1931. p. 1-3.
Raymond Hood saw roof gardens as a transformative element in the modern metropolis. He objected to ýthe dirty-brown cluttered waste of unrelieved ugliness which is the roof view of New York we have accepted as inevitable.ţ Instead, as he wrote in "Hanging Gardens of New York," The New York Times Magazine article shown here, tower occupants could enjoy "a picture to which art and nature have contributed color and design with a note of gayety." Hood proposed nearly seven acres of gardens for Rockefeller Center, covering two thirds of the total roof area.
To sell this idea to his businessmen clients, Hood emphasized the gardens' economic value. Water H. Kilham Jr., who worked on the project, recounted how Hood approached the developmentÝs manager J. R. Todd, disingenuously inquiring how much rental value might be gained if the Center's towers overlooked an open space like Bryant Park. When Todd replied "Around an additional dollar per square foot." Hood exclaimed:
"A dollar, Mr. Todd! . . .Do you know there will be about seven acres of roof over the lower parts of Radio City? A lot of office space will look out over those roofs. At a dollar more per square foot extra you could afford to landscape those roofs like the hanging gardens of Babylon."
Not long afterward, Kilham recalled, "the architectural sculptor Ren╚ Chambellan was indicating foliage in plasticine on the model of the roofs, and I was working out a system of wire netting that would retain the roots of trees so they wouldnÝt blow over in the relatively shallow soil." About four acres of gardens were actually constructed at Rockefeller Center.