The Skyscraper Museum is devoted to the study of high-rise building, past, present, and future. The Museum explores tall buildings as objects of design, products of technology, sites of construction, investments in real estate, and places of work and residence. This site will look better in a browser that supports web standards, but it is accessible to any browser or Internet device.

42nd Street Now!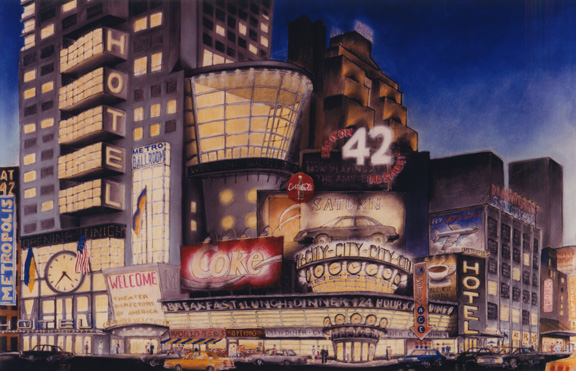 Courtesy Robert A.M. Stern Architects

After years of negotiating agreements and battling scores of lawsuits, the 42DP - the public development corporation formed in 1981 to redevelop the blocks of W. 42nd St. from Seventh to Eighth Avenues - collapsed and the tower projects of Park Tower Realty and Prudential were cancelled and not revived until 1996.
However, work to renovate theaters on 42nd St. and to reduce crime and the presence sex shops, continued. In September 1992, a revised government-guided plan, named, emphatically, 42nd Street Now!, was announced. The design guidelines, published in September 1993, were based on the consulting work of the firm Robert A.M. Stern Architects (RAMSA), led by their eponymous head and partner Paul Whalen, as well as the graphic designer Tibor Kalman. The large rendering (above) pictures their recommendations for vibrant signage and a mix of entertainment and retail uses.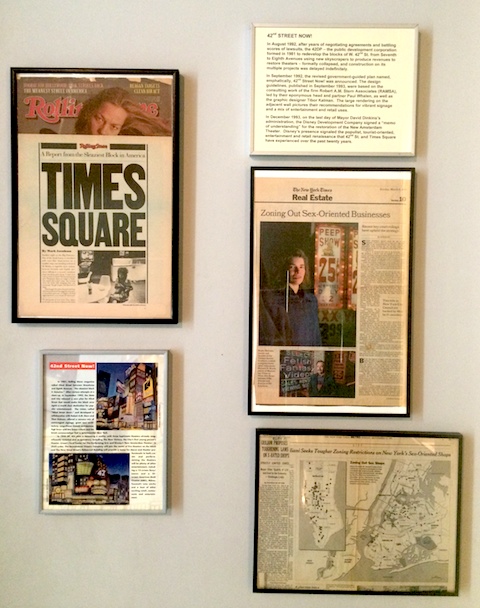 Installation View

In December 1993, on the last day of Mayor David Dinkins's administration, the Disney Development Company signed a "memo of understanding" for the restoration of the New Amsterdam Theater. Disney's presence signaled the populist, tourist-oriented, entertainment and retail renaissance that 42nd St. and Times Square have experienced over the past twenty years.