The Skyscraper Museum is devoted to the study of high-rise building, past, present, and future. The Museum explores tall buildings as objects of design, products of technology, sites of construction, investments in real estate, and places of work and residence. This site will look better in a browser that supports web standards, but it is accessible to any browser or Internet device.

PARK TOWER REALTY, JOHNSON & BURGEE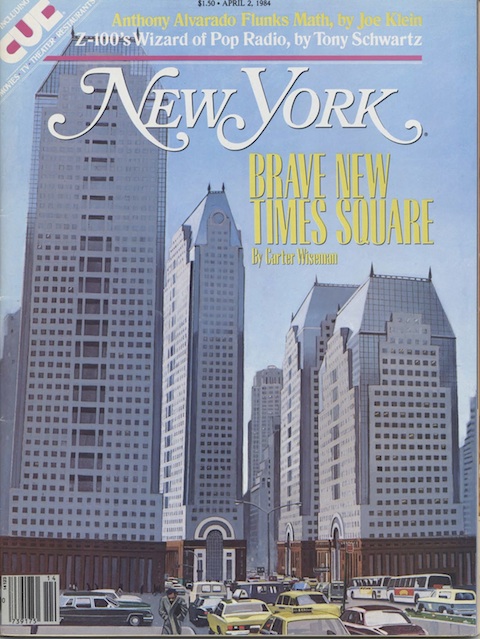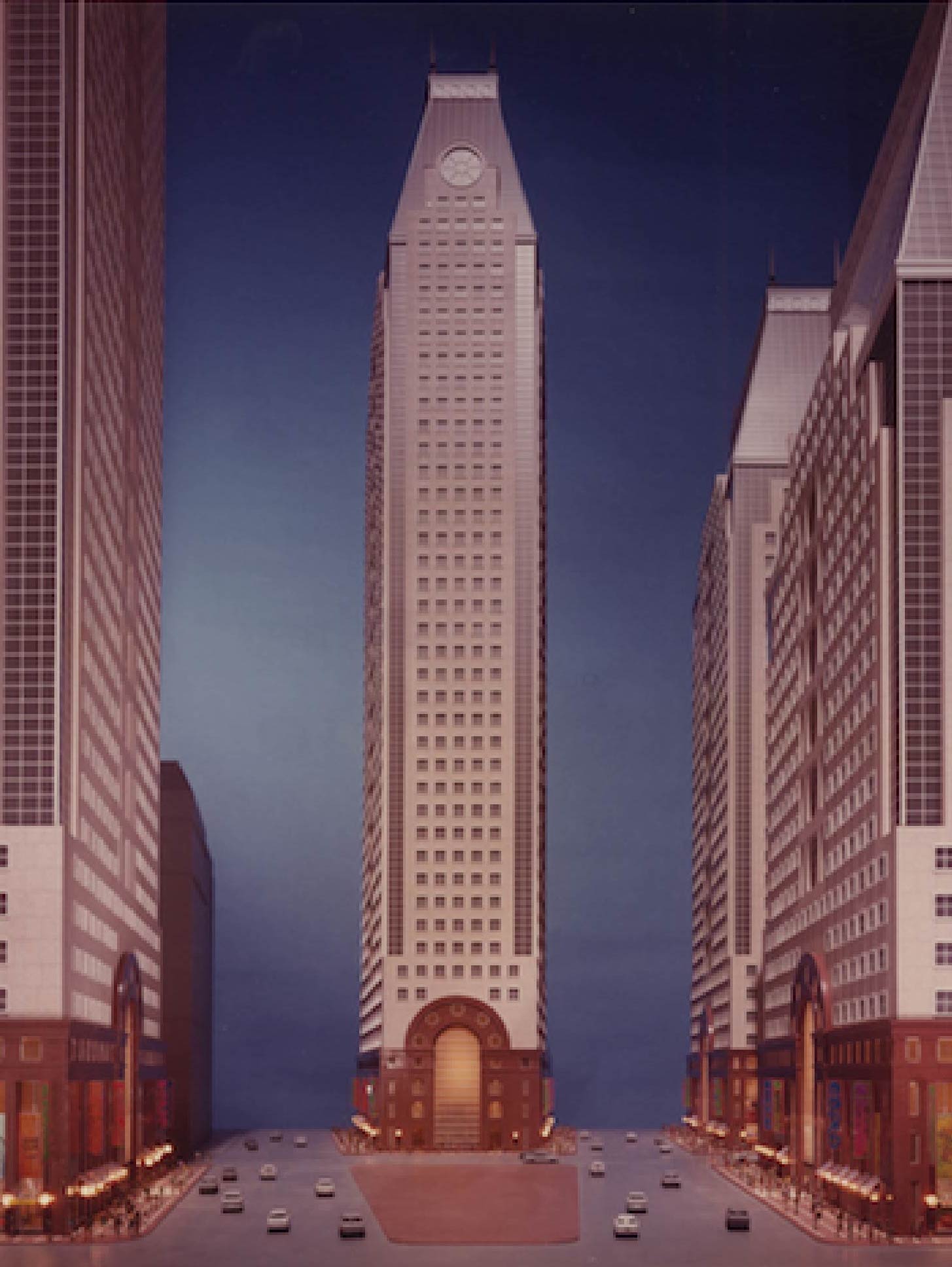 LEFT: New York Magazine, "Brave New Times Square" April 2nd 1984. Collection of The Skyscraper Museum.
RIGHT: Phase 1 of the Johnson & Burgee, Park Tower Realty office towers, 1984. Courtesy of Alan Ritchie Architects
In 1983, the developer George Klein and his company Park Tower Realty was selected as the sole developer for the four skyscraper sites at the crossing of 42nd St., Broadway, and Seventh Avenue. The 42nd St. Development Project (42DP), a public development corporation representing both NYS and the City, had established the sites and sizes of the towers - a total of 4.1 million sq. ft. of commercial space - and it had the authority to oversee design decisions.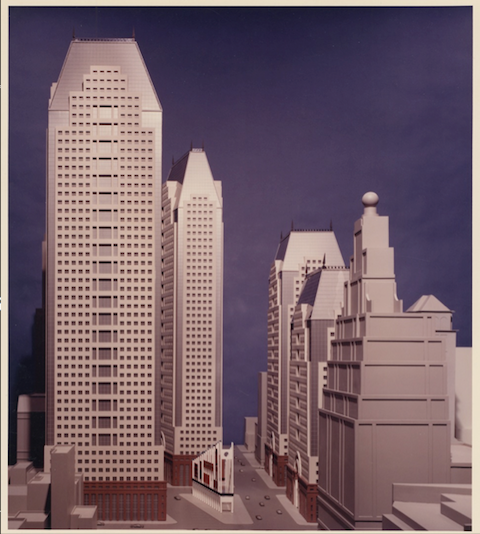 Phase 1 of the Johnson & Burgee, Park Tower Realty office towers. Courtesy of Alan Ritchie Architects


The first design by Johnson and his partner John Burgee for a matched set of four masonry-clad towers topped with mansard-like glass roofs sought to create a sense of place through its monumentality and harmony of materials.  The controversial scheme was unpopular with critics and many in the architectural community, as well as with the officials at 42DP, who consistently pressed for more diversity among the towers and much larger areas for electric signage, as their guidelines required.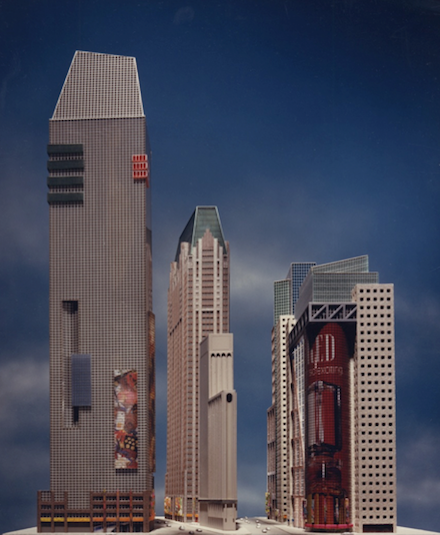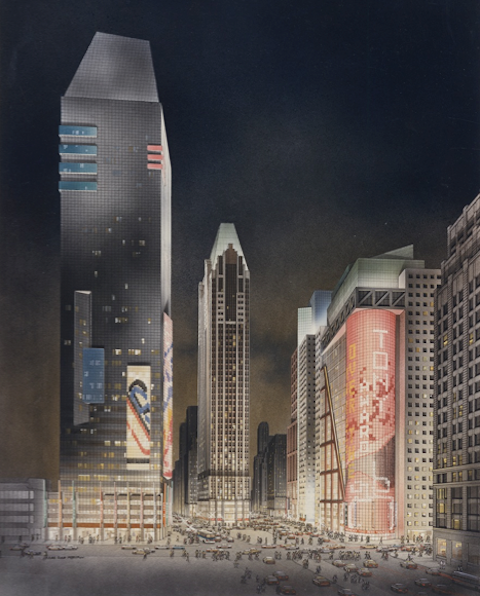 Model (left) and rendering (right) of Johnson and Burgee Times Square Center redesign in 1989. Courtesy Alan Ritchie Architects.
In 1992, after scores of lawsuits against the 42DP that delayed the project and difficulties faced by Park Tower Realty in securing tenants and financing, the 42DP formally collapsed and plans for the office towers were postponed indefinitely.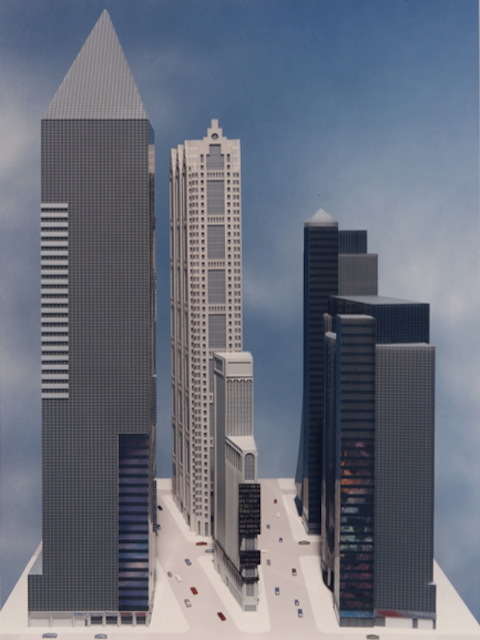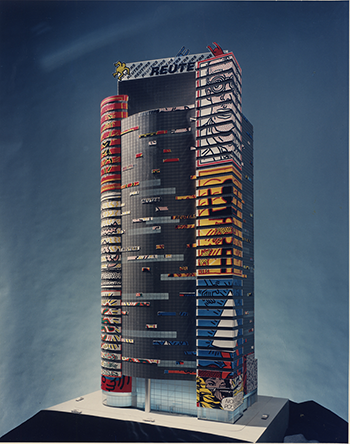 LEFT: Model of Times Square Center Phase III, 1991. Courtesy Alan Ritchie Architects
RIGHT: Phase III North-East Tower
Several years later, with a reviving office market and new investment by Disney and others on W. 42nd St., new developers took control of the sites. The small models shown below, placed on an enhanced copy of the site map reproduced from the MAS Times Tower Site Competition packet, represent a late version of the Johnson design in 1997, prepared with his then partner Alan Ritchie, as a speculative effort to finally re-secure the commission.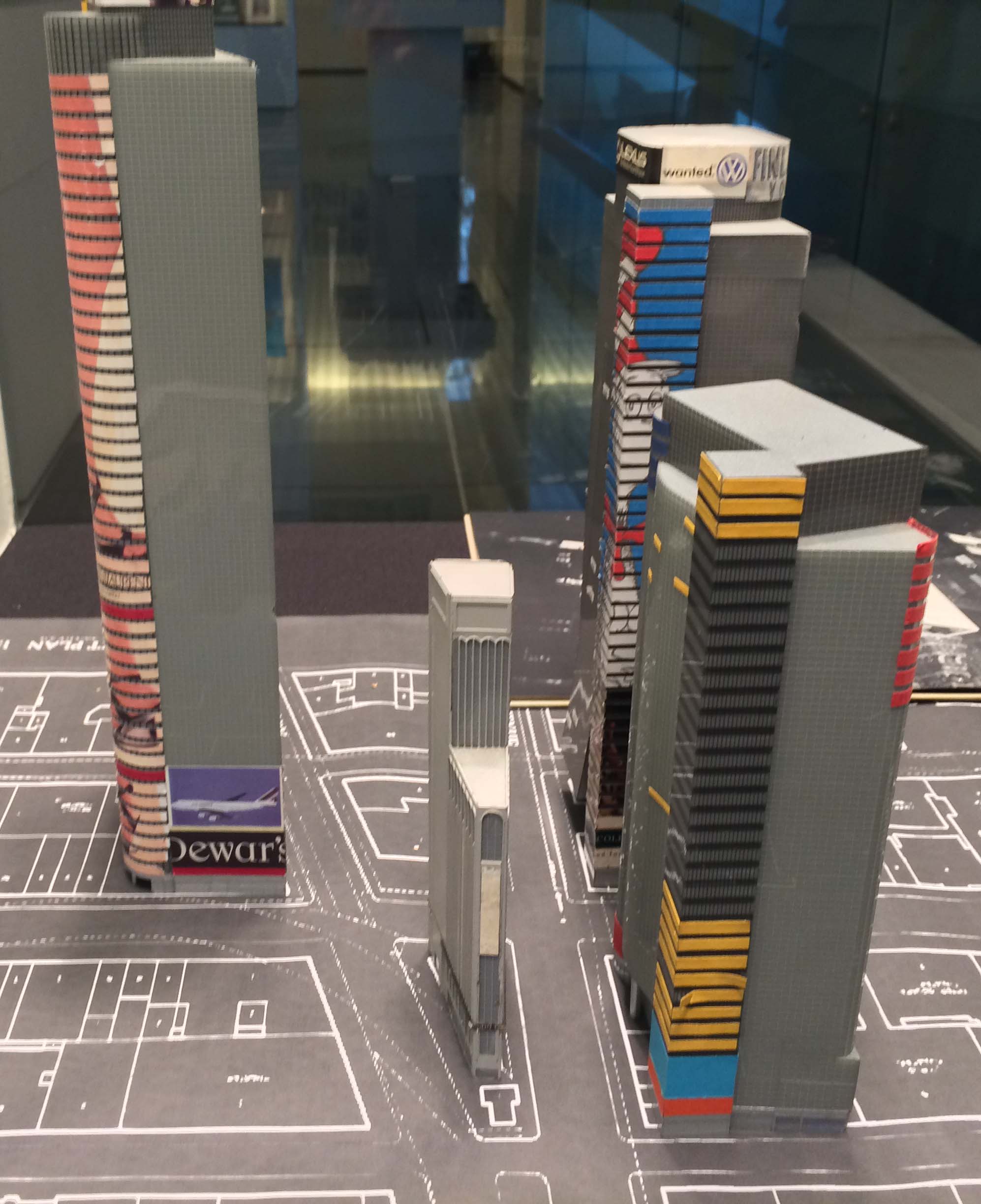 Installation view. Models of the final proposal for Times Square Center, 1997. Collection of Alan Ritchie Architects.
The small models and photographs in this case represent multiple stages in more than a decade of designs by the architect Philip Johnson and his partners. None of the towers were built, and none of the many large models created for the project have survived.