The Skyscraper Museum is devoted to the study of high-rise building, past, present, and future. The Museum explores tall buildings as objects of design, products of technology, sites of construction, investments in real estate, and places of work and residence. This site will look better in a browser that supports web standards, but it is accessible to any browser or Internet device.
THE GARMENT CENTER CAPITOL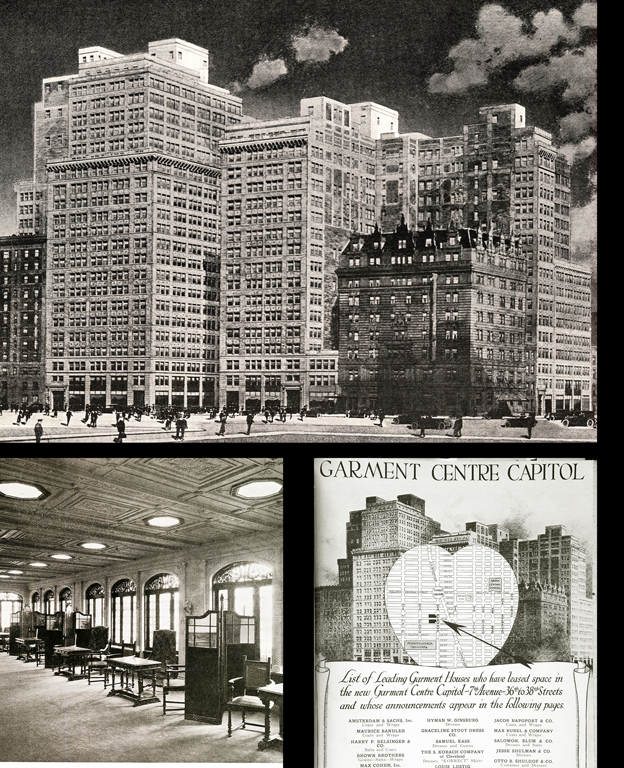 Top: Garment Center Capitol drawing. Architecture and Building, September 1920. Collection of Andrew S. Dolkart.

Bottom left: Garment Center Capitol, Max Cohen showroom. Architecture and Building, December 1921. Courtesy of Avery Architectural and Fine Arts Library, Columbia University in the City of New York.

Bottom right: Garment Center capitol advertisement, American Cloak and Suit Review. Fashion Institute of Technology.
The new center for the garment industry, built in 1919-21, was the Garment Center Capitol, a pair of enormous buildings on Seventh Avenue flanking 37th Street. The Capitol was built as a cooperative venture sponsored by many of the largest firms in the industry. The idea was that of Saul Singer, a cloak manufacturer, and Mack Kanner, a dressmaker. Promoted as the "greatest needlework trade centre in the world," the Capitol buildings were 17 and 24 stories tall, with a combined floor area of 1,500,000 square feet. Shops were located at street level, showrooms on the next three floors, and company offices and factories above.
The Garment Center Capitol was carefully planned to maximize the efficiency of production and comfort of the factory owners as well as, to a lesser extent, the environment of the workers. Spaces could be subdivided to provide for two or more tenants on a floor. The buildings were of modern steel-frame construction with concrete floors that would easily support the machinery of the industry. The design met all the required safety and sanitary codes, with sprinklers, fireproof stairways, windows with fireproof hollow-metal sash, modern toilets, and efficient elevators. Modern electrical equipment was provided, and, by 1925, the two buildings were the largest single consumer of power provided by the Edison Electric Company. Packages were sent by spiral shoots to the basement for loading onto trucks. Driveway ramps running through each building permitted vehicles efficient access to loading and delivery areas off the congested streets. The cooperative's manufacturers enjoyed a rooftop club with a gym and lavish Neo-Classical dining room. For the workers, the coop provided a medical clinic and a dentist.
The buildings opened with great fanfare in 1921. Even before the completion of the complex, its eventual success was evident to other developers who began loft construction on nearby sites.