The Skyscraper Museum is devoted to the study of high-rise building, past, present, and future. The Museum explores tall buildings as objects of design, products of technology, sites of construction, investments in real estate, and places of work and residence. This site will look better in a browser that supports web standards, but it is accessible to any browser or Internet device.
TRANSFORMING A NEIGHBORHOOD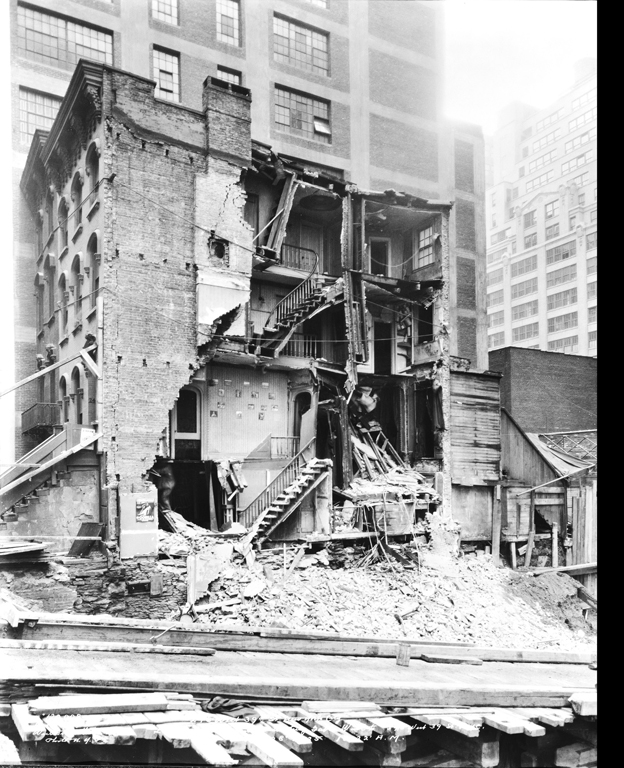 Wurts Brothers. "246 West 39th Street Looking Southwest at Westerly Gable Wall to 246 West 39th Street, 28 November 1925." Courtesy of Museum of the City of New York.
At the time of the construction of Pennsylvania Station in 1910, the future Garment District north of 34th Street was a lively neighborhood of tenements, row houses converted into tenements, and a few modern loft buildings (mostly used by the printing industry) known as the Tenderloin. Commentators who extolled the virtues of the new garment buildings, completely ignored the fact that these lofts replaced a diverse neighborhood of working-class European immigrants and African-Americans. Indeed, The New York Times described the area as "mainly waste space." Additional loft buildings began springing up even before the completion of the Garment Center Capitol. Construction continued in the area between Broadway and Ninth Avenue, 35th to 41st Streets, until the onset of the Depression, almost completely transforming the old residential neighborhood into an industrial enclave. In the 1925 photograph at right a group of old row houses on West 39th Street, already surrounded by garment lofts, are being demolished for a new industrial building. The area changed so rapidly that when the Roman Catholic Church of the Holy Innocents on 37th Street closed its school in 1925, The New York Herald Tribune proclaimed, "Old Midtown District Has Been Turned Into Childless Village."
The speed of redevelopment in the area was extra-ordinary. As one real estate journal quipped, "old-time dwellings and buildings that served their usefulness long ago are rapidly being replaced with modern skyscrapers devoted to one or more of the industries most identified with the glorification of femininity." The typical lofts were 16 or 17 stories on the side streets and as high as 43 stories for the showroom and office buildings on the avenues. Early development centered on Seventh and Eighth Avenues and their side streets. By 1924, new lofts were rising to the west, as far as Ninth Avenue. All of these new buildings incorporated the setbacks required under the city's 1916 zoning code.