The Skyscraper Museum is devoted to the study of high-rise building, past, present, and future. The Museum explores tall buildings as objects of design, products of technology, sites of construction, investments in real estate, and places of work and residence. This site will look better in a browser that supports web standards , but it is accessible to any browser or Internet device.
RESIDENTIAL ARCHITECTURE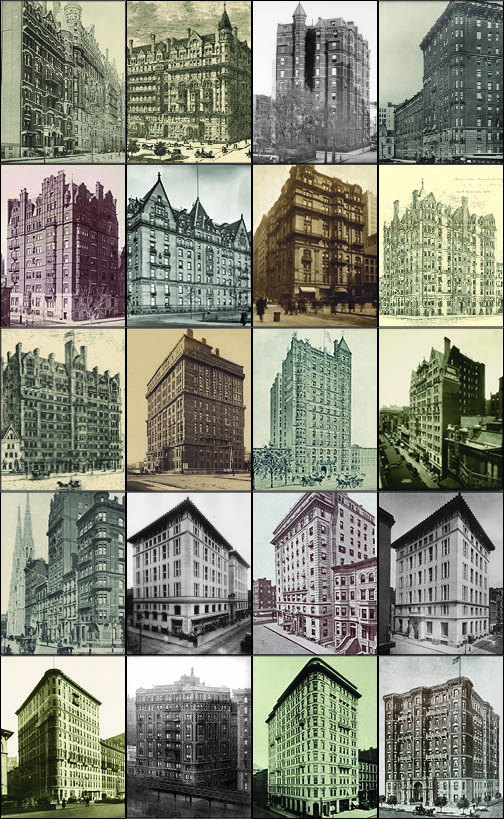 Click here for imgae credits
Each of the cases with a building GRID background concentrates on a category of use and a geography of their construction from the 1880s through 1900. As the Taylor Map of 1879, seen in a reproduction at the right, shows, most of Manhattan Island was built over with low-rise structures. The exception was the Upper West Side from Central Park to the Hudson River, Harlem, Washington Heights, and some parts of the Upper East Side.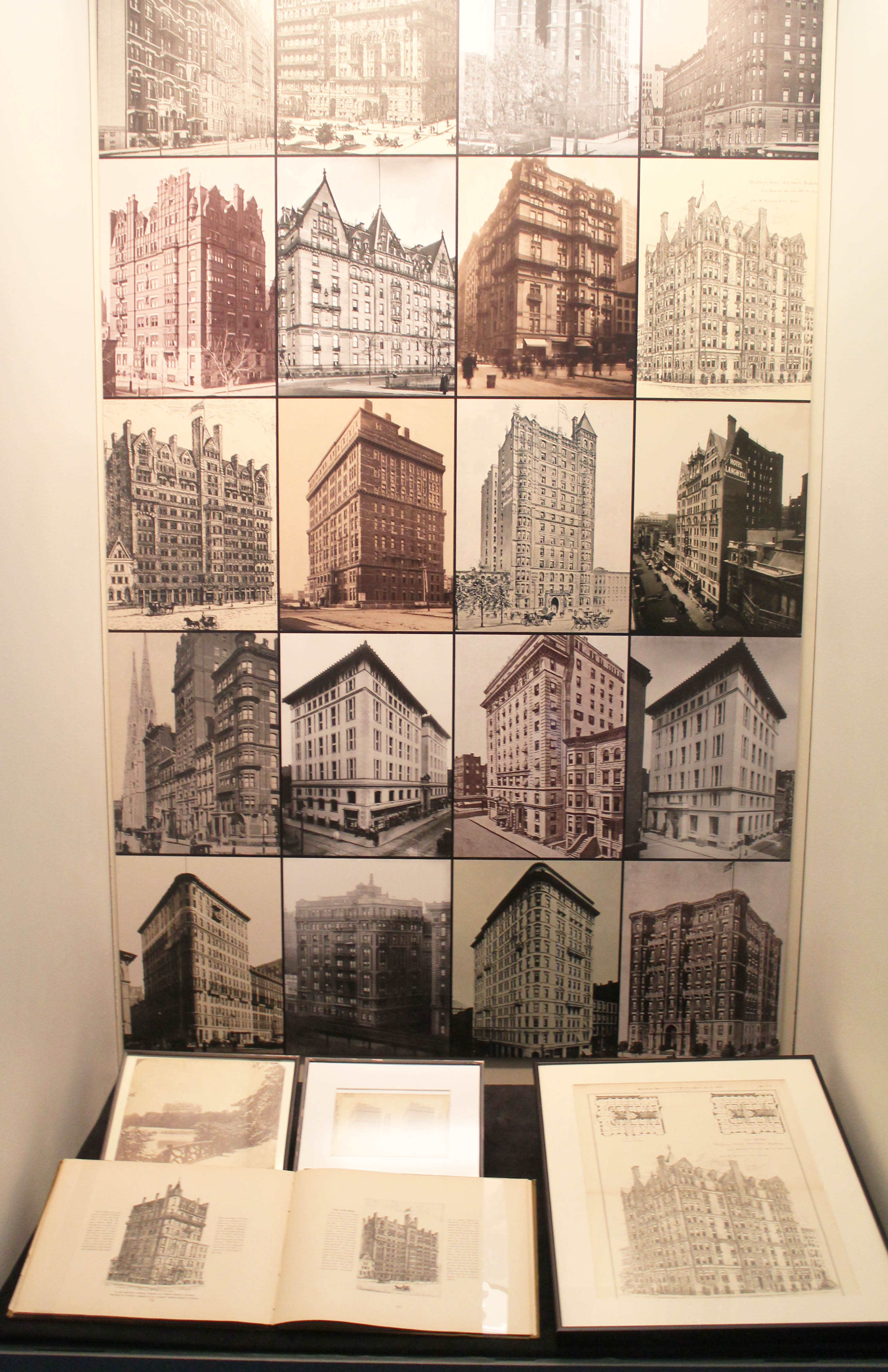 Installation view of residential case.
This case examines residential architecture, principally apartments – although the definition of apartment and the distinction from hotels is often complicated. As Robert A.M. Stern and his co-authors in New York 1880 have lucidly summarized the residential landscape of the period:
By the 1880s virtually all classes of New Yorkers were living in multiple-unit dwellings. Fairly precise terms had been developed to describe and define the various and subtle architectural and social distinctions in what was essentially one building type. For example, if no central "hotel-type" services were provided, such as meals centrally prepared and served in a private flat or in a common dining room, a multifamily residence was either a tenement, French flat, or an apartment house. If a building was a walk-up of five stories or more and contained small rooms and shared toilets and bathing facilities, it was a tenement. A walk-up with larger rooms arranged in full self-contained suites was called a flat house or French flat. An apartment house had four or more stories and contained generously sized and luxuriously appointed self-contained suites, usually augmented by separate servant rooms in the attic. Apartment hotels generally contained central dining rooms, but also always had full kitchens within each individual apartment. Thus the Dakota (1882-84), which had a dining room, might have been considered an apartment hotel because the dwellings were cooperatively owned, and there was no expectation of transience.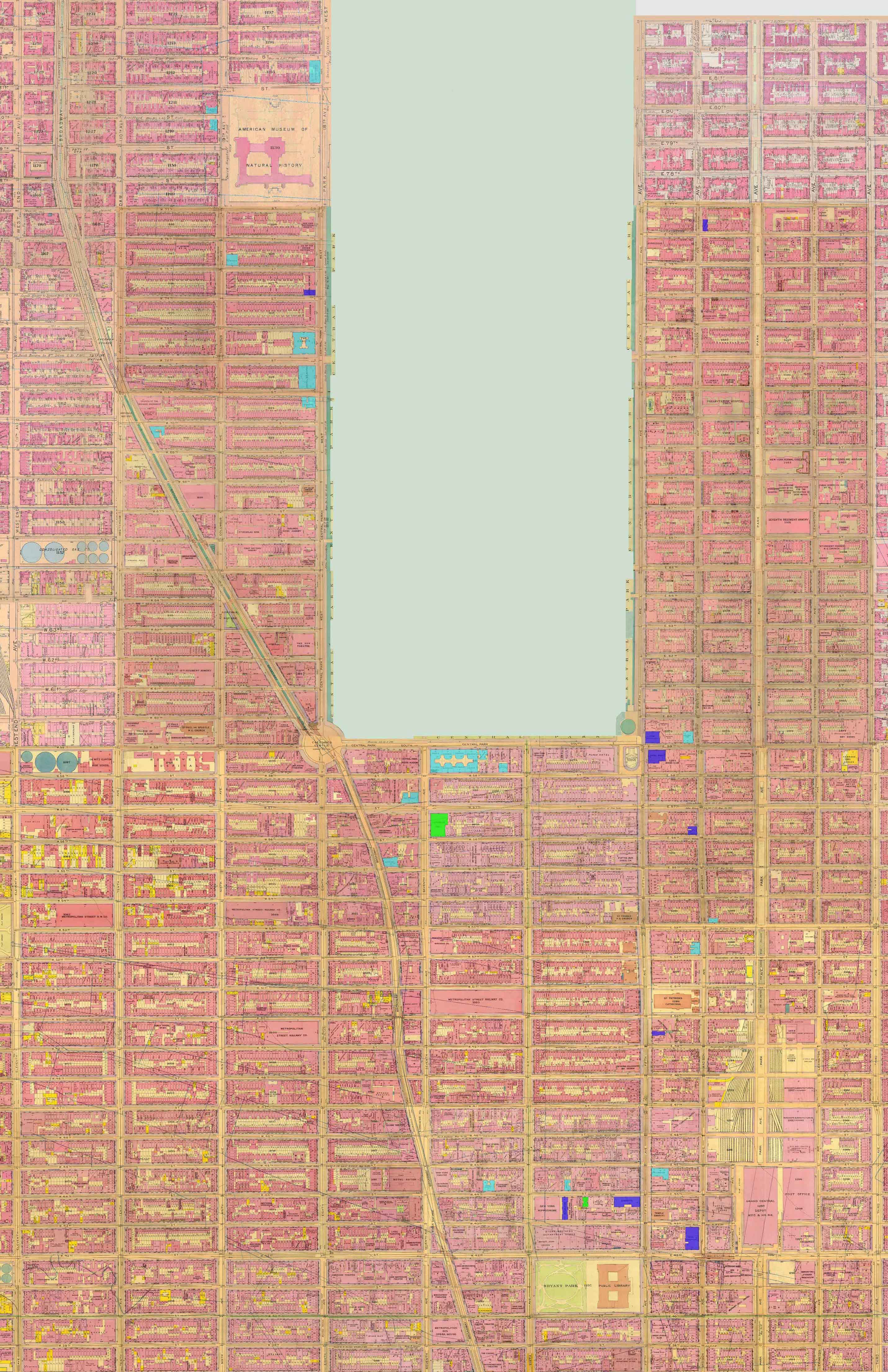 Map showing location of residential buildings in Midtown and the Upper West Side.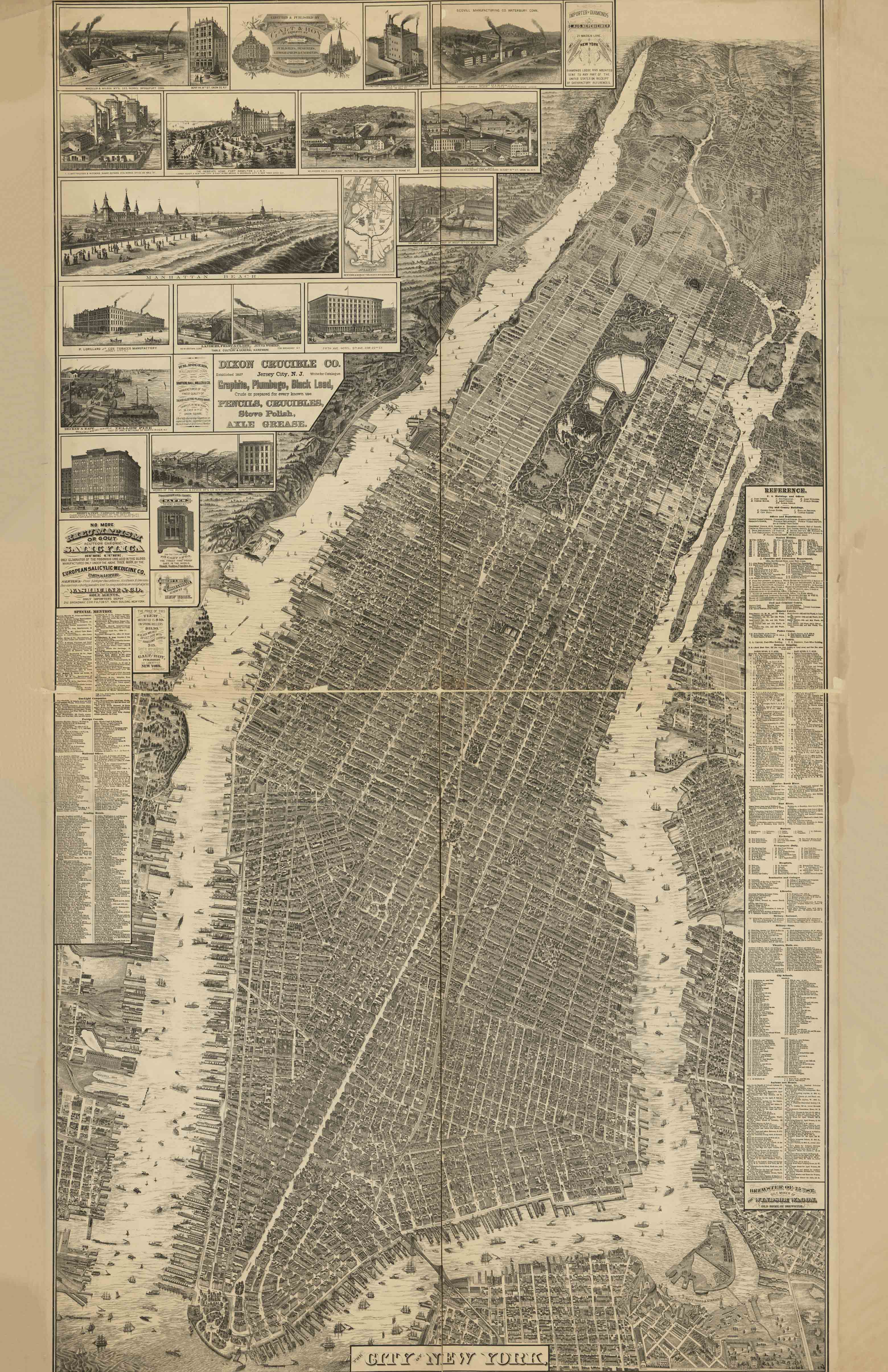 Taylor Map of New York City, produced by Will L Taylor for Galt & Hoy, 1879.
Relatively few dwellings reached ten stories. The first large apartment buildings were erected in the early 1880s at or near the southern edge of Central Park, on Madison and Fifth Avenues, as well as on Gramercy Park and the Chelsea on West 23rd Street. The portion of the pink land map created for our survey below shows the location of all the ten story, or taller, apartments and hotels north of 42nd Street.
The earliest in our survey were The Hawthorne and neighboring Central Park Apartments of 1882 and 1883, respectively. Both were examples of the Hubert Home Club model of co-operative apartments and were designed by the architects Philip Gengembre Hubert and his partner James Pirsson. The firm also frequently acted as the developer for the projects, as in the Hubert Home Club at 121 Madison Avenue at 30th Street and at The Chelsea. In 1892, Hubert & Pirsson published their own book in 1892, Where and How to Build, seen in the adjacent case.
Height Limits on Residential Buildings
On June 9, 1885, the New York State Legislature passed a law limiting the height of apartment buildings in New York City to 70 ft maximum on narrow streets and 80 ft on wide streets. The law covered all classes of residential buildings from tenements to luxury apartments. As a result, there were no multi-family dwellings of ten or more stories. Hotels – even long-term residences – were considered commercial structures and thus were exempt from height caps.
Revised legislation passed by the New York State Legislature on April 23, 1897, raised the height cap to a maximum of 100 ft for buildings on narrow streets and 150 ft for buildings on wide streets.
In December 1899, New York City adopted a new code that allowed residential buildings to rise 125 ft, or 10 stories, on narrow streets and 150 ft, or 12 stories, on wide streets. In addition to height caps, the law also regulated slenderness, ruling that any buildings exceeding 100 ft must have at least 40 ft frontage.