The Skyscraper Museum is devoted to the study of high-rise building, past, present, and future. The Museum explores tall buildings as objects of design, products of technology, sites of construction, investments in real estate, and places of work and residence. This site will look better in a browser that supports web standards, but it is accessible to any browser or Internet device.
Puxi: The Bund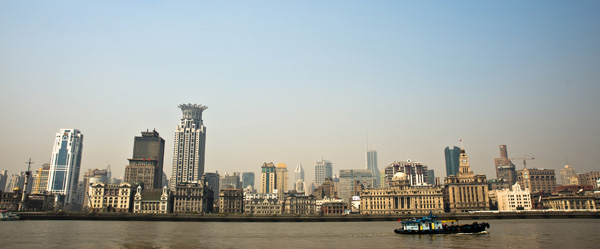 The Bund, 2009, (c) Jakob Montrasio
The Bund is Shanghai's prestige address. The landmark buildings that line the famous waterfront skyline were erected in the early 20th century as colonial-era trading houses, banks, consulates, and clubs. After decades of decline, today most have been restored as business buildings or repurposed for retail and tourism.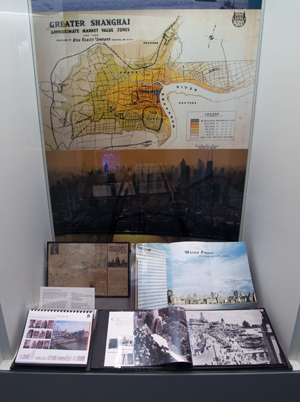 The Bund, case installation in gallery

The municipal government has recently undertaken to expand the preservation and adaptive reuse of the North Bund area in partnership with the New York-based Rockefeller Group International, developers who have emphasized the cosmopolitan connections between Shanghai and Manhattan in the 1930s in their plans.
Shanghai's first generation of skyscrapers in the Thirties was inspired by New York's Art Deco towers. The chief proponent was the Hungarian architect Lazlo Hudec whose 22-story Park Hotel remained the city's tallest building until the modern towers of the 1980s.
1929 map of real estate values in the Bund and French and English Concessions. Note the circle of the Chinese walled city.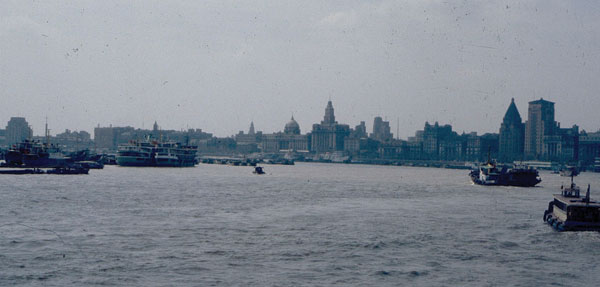 The Bund, 1980s