The Skyscraper Museum is devoted to the study of high-rise building, past, present, and future. The Museum explores tall buildings as objects of design, products of technology, sites of construction, investments in real estate, and places of work and residence. This site will look better in a browser that supports web standards, but it is accessible to any browser or Internet device.
Maps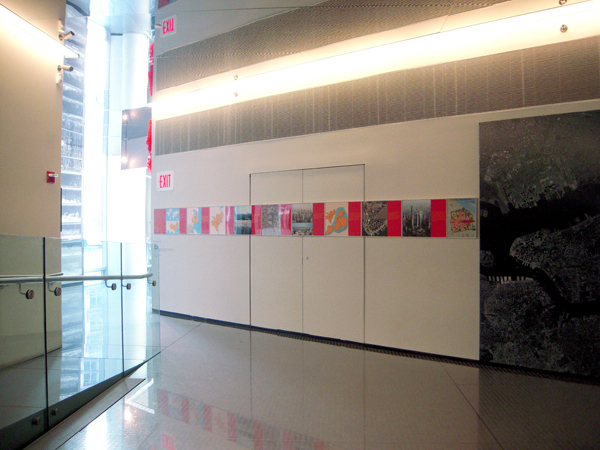 The rapid urbanization of China constitutes the largest mass migration in human history. Under government policies since the 1980s, more than 100 million rural people have moved to cities, a number that will grow to 350 million over the next 15 years. Five Chinese cites now exceed New York's population of 8.25 million. Shanghai is the largest, with more than 18 million residing within its expansive municipal boundaries and nearly 10 million packing its central core, an area about a third the size of New York City.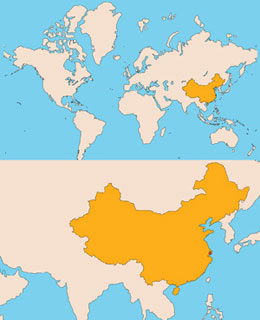 CHINA

China is the world's most populous nation with 1.6 billion people.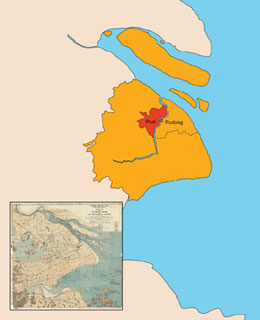 SHANGHAI REGION

There are several ways to measure Shanghai's size. The administrative region comprises 2448 square miles, an area eight times the size of New York City. The core districts of Puxi and a portion of Pudong encompass 112 square miles and 206 square miles respectively.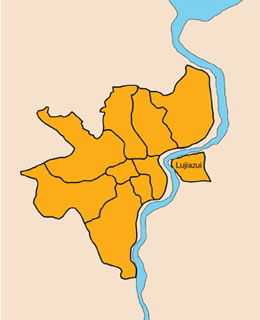 SHANGHAI CORE

The population of greater Shanghai is 18 million. Of these, 10 million occupy the dense historic core of Puxi; around 3 million are the non-registered floating population of migrant workers.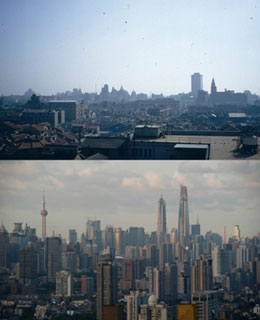 PUXI: 1983 AND 2006

Formerly a horizontal expanse of dense lilong neighborhoods, Puxi has expanded vertically, with more than four hundred high-rises of twenty stories or taller. The photograph above shows an unobstructed view across Puxi to the Bund in 1983; the lower image contrasts the view today.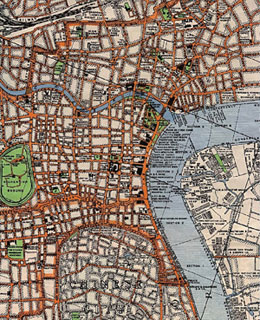 ORIGINS: 1933

The origins of Shanghai are clear on this 1933 map, which shows the circle of walls of the 16th century Chinese city, the Bund, and the colonial concessions west of the Huangpu River.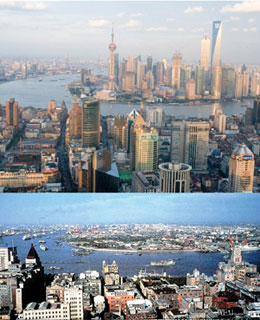 LUJIAZUI

Since 1992, on the flat agricultural and industrial land of Pudong, Shanghai has grown a soaring skyscraper business district, Lujiazui, a center for international finance and trade.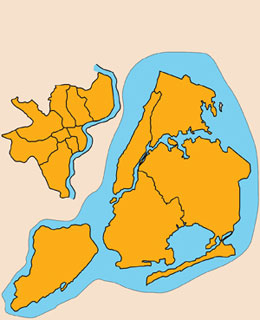 SHANGHAI AND NYC

Shanghai's population of 10 million in its central core compares to 8.25 million people in New York City's five boroughs. The average density of New York is 10,452 people per km2 (27,303 per sq. mi.) while greater Shanghai is 5,314 people per km2 (13,760 per sq. mi.). Shanghai is more dense than New York in its core, but half as dense overall.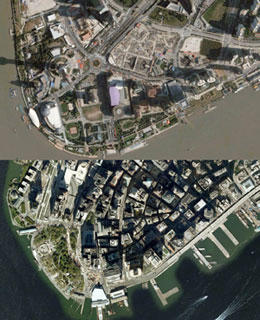 LUJIAZUI AND LOWER MANHATTAN

The scale of unfinished Lujiazui, top, matches that of lower Manhattan, below, in both area and high-rise architecture. The Shanghai district now boasts more than three dozen skyscrapers of forty stories and taller.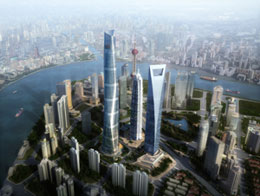 ICONIC TOWERS

The centerpieces of Luijiazui are the three iconic towers: the 88-story Jin Mao, the 101-story Shanghai World Financial Center, and the planned 128-story Shanghai Tower. According to the master plan, the towers stand in green park space, in stark contrast to the dense urban fabric of Puxi.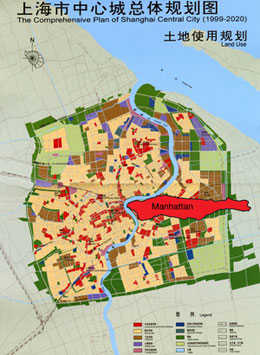 Click here to see a Google Map of all highrise buildings in Shanghai above 150 meters that are either proposed, approved, or under construction.