The Skyscraper Museum is devoted to the study of high-rise building, past, present, and future. The Museum explores tall buildings as objects of design, products of technology, sites of construction, investments in real estate, and places of work and residence. This site will look better in a browser that supports web standards, but it is accessible to any browser or Internet device.
Puxi: Xintiandi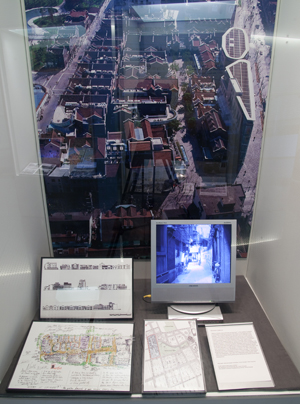 Rear panel: Aerial photograph of Xintiandi, Studio Shanghai, Shen Zhong Hai
"What is Chinese about Chinese architecture?" is the question scribbled on the bottom to the left by architect Ben Wood, in his drawing for the redesign. This question directed his restoration and re-definition of the former lilong or lane-housing neighborhood now known world-wide as Xintiandi--a two block commercial and residential district in Shanghai's French Concession. The name Xintiandi means "New Heaven and Earth" and refers to the adaptive reuse of historic buildings, while infusing western elements. Combining new architecture with historic buildings, the Xintiandi complex is not only lauded by Shanghai natives, but also praised by architectural critics throughout the world. Architect Benjamin Wood's innovative approach of urban design combines restoration, renovation and new construction of two city blocks in a historic Lon Tang. Hong Kong developer Vincent Lo financed the $150 million complex. As an active entertainment center, Xintiandi includes a cinema complex, book stores, cafes and restaurants. Very often the restaurants adopt western style indoor and outdoor dining echoing the dichotomous nature of this urban development.