The Skyscraper Museum is devoted to the study of high-rise building, past, present, and future. The Museum explores tall buildings as objects of design, products of technology, sites of construction, investments in real estate, and places of work and residence. This site will look better in a browser that supports web standards, but it is accessible to any browser or Internet device.
Future Shanghai: Expo 2010
Video: courtesy of Shanghai 2010 World Expo and Crystal CG
The theme of the Shanghai 2010 Expo, "Better City, Better Life," focuses on improving the urban future through constructing modern infrastructure and creating parks and green space throughout the city. The virtual visit on this screen has been used for several years to promote Expo 2010. It was created by the Fair's planners with Crystal CG, the Chinese computer animation company that dominates the industry. Crystal CG also works with many architects to create impressive fly-overs of the city that insert their designers' work into the existing Crystal model.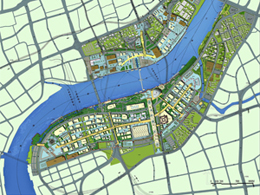 Shanghai 2010 World Expo masterplan, courtesy of Shanghai 2010 World Expo
The virtual tour of the Expo presents a vision of the future with strong parallels to the 1939 New York's World's Fair. The designers of Democracity and the Futurama imagined American cities in a car-based culture of efficient highways and widely-spaced skyscrapers surrounded by abundant open space.