The Skyscraper Museum is devoted to the study of high-rise building, past, present, and future. The Museum explores tall buildings as objects of design, products of technology, sites of construction, investments in real estate, and places of work and residence. This site will look better in a browser that supports web standards, but it is accessible to any browser or Internet device.
Puxi: Jing An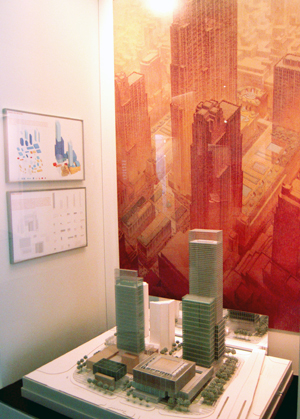 Model of Jing An, Painted paper and plexiglass
30" x 24 1/2" x 33 1/2"
On Puxi's major commercial corridors such as Nanjing Dong Lu, developers and their architects have taken an approach to large-scale high-rise projects that emphasizes and enhances the traditional urban values of the street-level pedestrian experience. Typically, these developments are mixed-use complexes that combine one or more office buildings, a hotel, multi-story retail, restaurants, and entertainment--in short, a varied urban experience. The challenge for designers is to draw pedestrians into the deep block and to create and activate new commercial and public spaces within the site. The model most frequently cited for such projects is Rockefeller Center, which is a specific inspiration for KPF's Jing An complex in the model case at the right. The 1930 John Wenrich rendering at the rear of the case makes clear the New York connections.
Architect: Kohn Pedersen Fox Associates PC
Associate Architect: Wong & Ouyang (HK) Ltd. Hong Kong
Structural: Ove Arup & Partners Hong Kong Ltd.
MEP: Parsons Brinckerhoff (China) Ltd.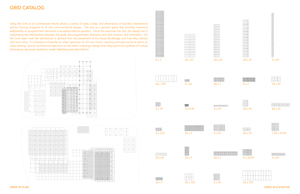 Mixed-Use Program diagram
Kohn Pedersen Fox Associates PC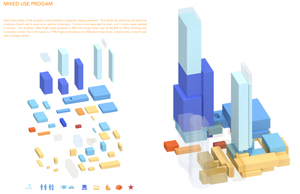 Grid Catalog diagram
Kohn Pedersen Fox Associates PC