The Skyscraper Museum is devoted to the study of high-rise building, past, present, and future. The Museum explores tall buildings as objects of design, products of technology, sites of construction, investments in real estate, and places of work and residence. This site will look better in a browser that supports web standards, but it is accessible to any browser or Internet device.
Pudong / Lujiazui: Overview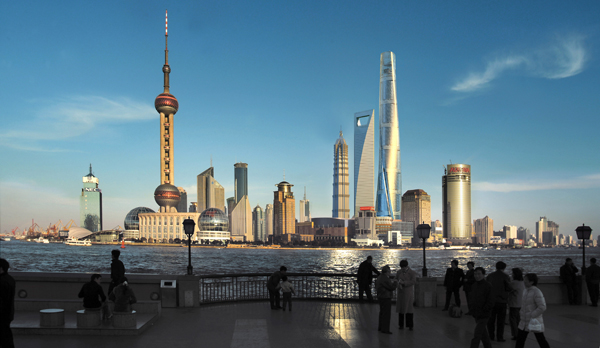 Rendering courtesy of Gensler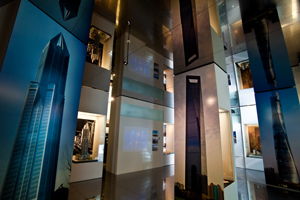 Photo by Jakob Montrasio
Pudong, the area on the east side of the Huangpu River was principally agricultural land and industrial waterfront until 1990, when the government's plan to expand the city created an ambitious master plan for greater Pudong and focused special development attention on a new business core directly across the river from the Bund. That section, called Lujiazui, is almost exactly the same shape and size as the financial district of lower Manhattan.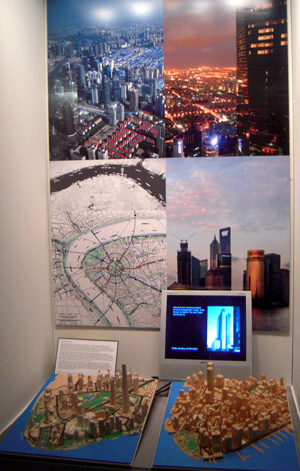 Models of Pudong (left), Lower Manhattan (right)
scale: 1:3200 or 3/8 inch = 100 feet
Permanent loan from Michael Chesko, model maker.
The master plan for Lujiazui envisioned landmark buildings that would establish a skyline identity for Shanghai. The first, completed in 1995, was the Oriental Pearl Tower, a TV antenna and Eiffel Tower-type tourist attraction. The trio of supertall skyscrapers- Jin Mao, Shanghai World Financial Center, and Shanghai Tower, now beginning construction- were designed through a competition process, all the work of American architects and engineers. The dozens of other high-rises in Lujiazui, both commercial and residential, have been designed by a wide range of international and Chinese firms.

These remarkable wood models of lower Manhattan and Lujiazui were created in 2007 and 2009 by an avocational model maker in Arizona, Michael Chesko. Having never visited New York or Shanghai, Mr. Chesko conducted extensive research in books and on the internet to make the model highly detailed and accurate. The scale for both models, 1:3200 or 3/8 inch = 100 feet, clearly demonstrates the dramatic contrast between the dense, organic development of most of lower Manhattan and the master plan of large island-like superblocks of Lujiazui.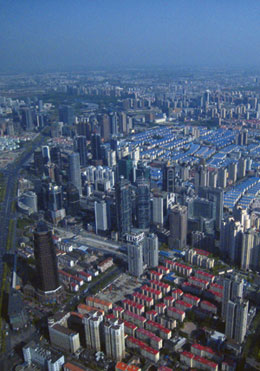 View from SWFC Observation Deck (101st floor), 2009

Pudong skyline, photograph by Staffan Holgersson
The photograph of skyscrapers under construction in Pudong illustrates a variety of structural systems. In the foreground, bundles of steel rebar for reinforcing concrete await placement in a building.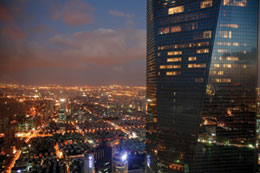 View of Pudong from Jin Mao, photograph by David Bank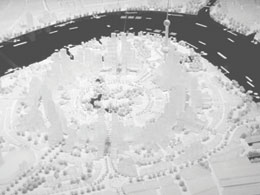 Masterplan for Pudong, model and diagrammatic drawing, Richard Rogers Partnership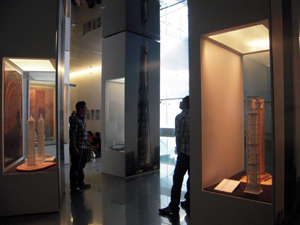 Photo by Mariel Villere
Landmark towers such as Jin Mao or Shanghai World Financial Center use innovative composite structural systems combining steel and reinforced concrete construction with advanced technologies such high strength concrete or high-strength fine-grained steel. However, most Shanghai high-rises use standard reinforced concrete structural systems that consist of larger than required columns and substantial beam-supported slabs that compensate for possible errors made by a less skilled workforce.