The Skyscraper Museum is devoted to the study of high-rise building, past, present, and future. The Museum explores tall buildings as objects of design, products of technology, sites of construction, investments in real estate, and places of work and residence. This site will look better in a browser that supports web standards, but it is accessible to any browser or Internet device.
Planning
Chinese cities are required by law to set up a comprehensive planning system and to create a master plan. Since all urban land is the property of the state and is leased for development, both land-use decisions and government revenues depend on the planning process.
The best place to fathom Shanghai's ambitious master plan and to comprehend the sprawling city is at the Shanghai Urban Planning Exhibition Hall, a monumental museum building in People's Square. The major feature among many displays is a 8,000 sq. ft. city model at 1:200 scale that includes thousands of existing buildings, as well as those approved for future construction. The immense model can be viewed at ground level or from a mezzanine above. Another highlight is Virtual Shanghai, a computer-generated flyover of the idealized city projected onto a 360-degree screen.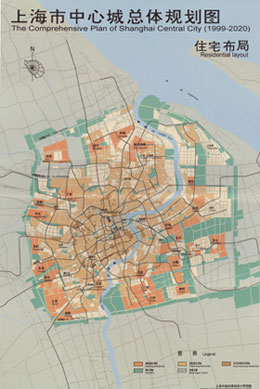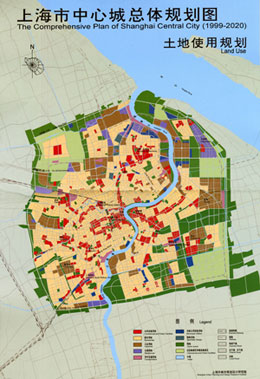 Land Use Plan and Residential Layout, Summary of the Comprehensive Plan of Shanghai (1999-2020)