The Skyscraper Museum is devoted to the study of high-rise building, past, present, and future. The Museum explores tall buildings as objects of design, products of technology, sites of construction, investments in real estate, and places of work and residence. This site will look better in a browser that supports web standards, but it is accessible to any browser or Internet device.
Preservation: Rockbund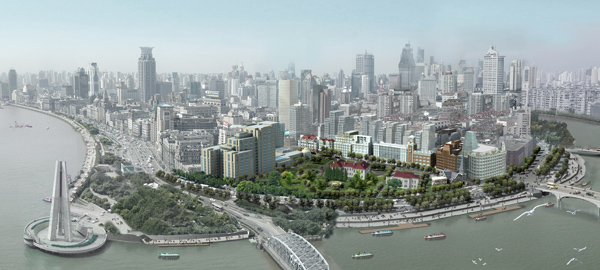 Rockbund Aerial Rendering, The Rockefeller Group International
ROCKBUND is a mixed-use redevelopment project that combines old and new buildings to develop the historic northern end of the Bund as a fashionable new neighborhood and luxury shopping area of boutique hotels, luxury retail, department stores, cultural venues, and residential spaces.
Since 2000, the Shanghai Government has been pursuing plans to develop the area, also known as Waitanyuan, as one step in the effort to protect Shanghai's remaining pre-1949 buildings. In 2005, the New York-based Rockefeller Group International and the Shanghai New Huangpu Group formed a joint-venture company to implement Waitanyuan's master plan. The site is the strategic location at the confluence of the Huangpu River and Suzhou Creek acquired by the British in 1848. There they built their consulate buildings, of which two remain and will be restored. Bordering the consulates' large park space is the Peninsula Hotel, the first new building on the Bund in sixty years.
The Rockbund site includes twelve protected Landmark Buildings: the Capitol Theatre (1928), the China Baptist Publication & Christian Literature Society Building (1930/32), the Lyceum Building (1927), the Associate Mission Building (1923), the Somekh Apartments (1927), the YWCA Building (1927-33), the Yuanmingyuan Apartment (1904), the Ampire Building (1908), Andrews and George (1900), the National Industrial Bank (1929), and the Royal Asiatic Society (1932).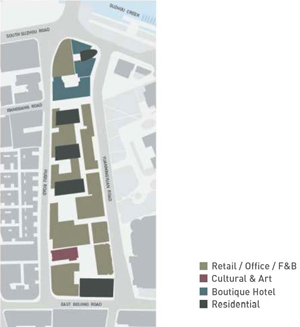 The Rockbund Masterplan adds new building to existing historical buildings. The site area totals at 16,880 square meters, with a building area of 94,000 square meters --allowing for public and green space. 42,000 square meters of historic building fabric will be preserved, with 52,000 square meters of new construction.