The Skyscraper Museum is devoted to the study of high-rise building, past, present, and future. The Museum explores tall buildings as objects of design, products of technology, sites of construction, investments in real estate, and places of work and residence. This site will look better in a browser that supports web standards, but it is accessible to any browser or Internet device.
From Clay to Kiln to City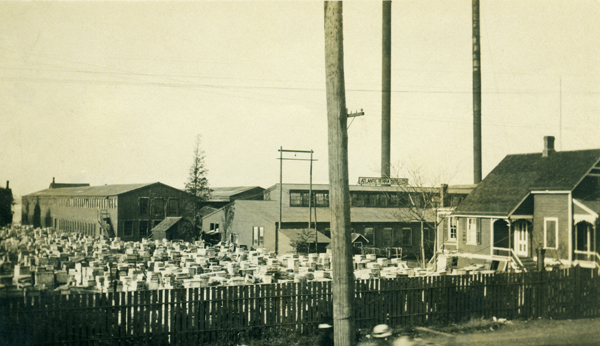 Atlantic Terra Cotta Company factory Tottenville, Staten Island, NY Collection of the Staten Island Museum
In 1912, the New York Labor Department statistics for Tottenville, Staten Island listed the Atlantic Terra Cotta Company as having 332 employees. This was a large operation: by 1907, the factory also had eight kilns (one large kiln could hold over 30 tons of fired terra cotta) and twenty buildings. Tight quarters at the factories limited permanent storage space, as evident in this photograph where plaster molds from old projects have been discarded outside of the factory. Over time, these molds will be moved to a "dumping ground" and new molds will be relocated to this area.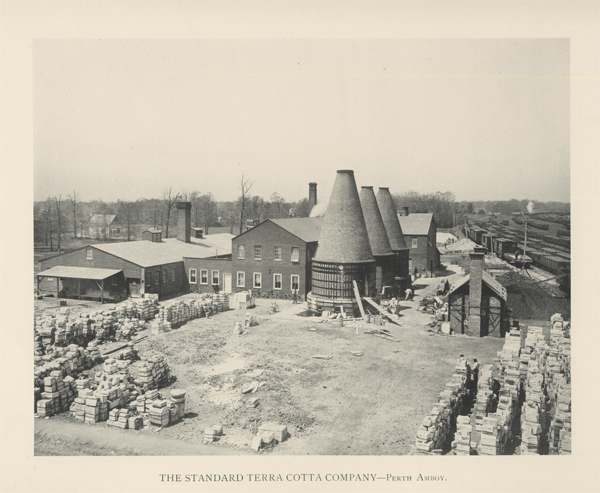 The Standard Terra Cotta Company, Perth Amboy, NJ Collection of The Friends of Terra Cotta
In 1907, the Standard Terra Cotta Company in Perth Amboy, NJ merged with the Atlantic Terra Cotta Company. This image shows the shipment yard and kilns of the Perth Amboy factory. While all of the Standard's factories were involved in the production of terra cotta for the Woolworth Building, the Perth Amboy factory played a critical role because of its proximity to Manhattan.
The stacked materials in the shipment yard are finished terra cotta pieces that are waiting to be shipped by rail to the construction site.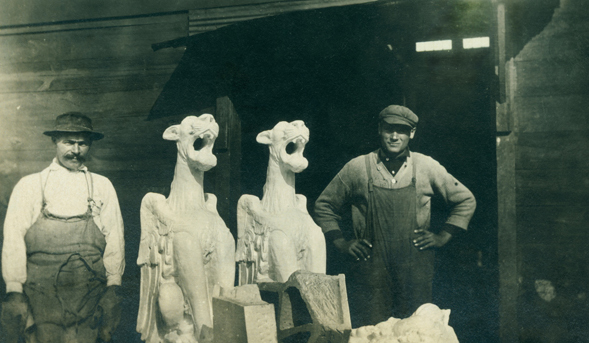 Atlantic Terra Cotta workers with gargoyles Tottenville, Staten Island, NY Collection of the Staten Island Museum
Two workers pose at the factory with ornamental gargoyles created for a theater in New York City. The large "mittens" of the worker on the left indicate the recent removal of the gargoyles from the kiln. After leaving the kiln room, the gargoyles will be numbered in black paint at the "fitting shop" to correspond with the installation drawings at the building's site.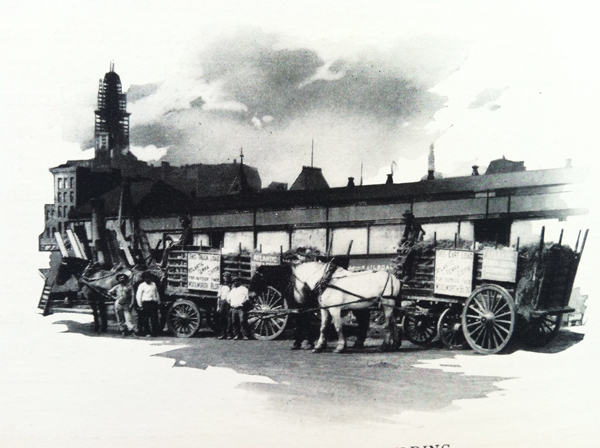 Delivery of terra cotta to construction site, June 1912, New York, NY. Collection of the Skyscraper Museum, negative
Coordinating the delivery of terra cotta from factory to site was as intricate as its manufacturing process. Multiple methods of transportation were utilized to transport the cargo and included horse carts, trains, and barges. According to a well-ordered and systematic work-flow schedule, the terra cotta for the Woolworth Building was ordered 2-3 days in advance of when the workers on site would need to install it. The pieces were then crated in straw, sent by train car, and unloaded onto a lightering barge used short-distance transport to ship directly to lower Manhattan around Staten Island via the upper bay and the Hudson River.